"Why can't we become the standard of excellence? Why can't we do that consistently? And the answer was… we can." – John Groce Illinois basketball's new hype video will give you chills, make you cry, or likely both. The video had one former Fighting Illini player wanting to suit up once again. THAT VIDEO GOT ME FEELING SOME TYPE OF WAY — Brandon Paul (@BP3) October...
Posted to Fighting IlliniFormer Fighting Illini superstar Brandon Paul has tweeted that he will not be able to play for the Chicago Bulls' summer league team. Unfortunately I will not be competing in Summer League. I've been sideline w/a right shoulder injury. I never question the man upstairs… — Brandon Paul (@BP3) July 11, 2014 ..I just ask him to guide me through tough...
Darius Paul Sophomore Gurnee, Illinois Warren High School 6'8″ 220lbs. Power Forward High School Career Darius Paul averaged 18.0 PPG and 9.7 RPG as a senior leading Warren to a 23-4 record. Darius was selected to First Team All-State by the Chicago Sun-Times, Champaign News-Gazette and Illinois Basketball Coaches Association. Darius averaged 11.2 PPG and 7.2 RPG as a junior...
March 2nd 1963. This was the day Assembly Hall was opened and ready for operation. For almost everyone reading this, Assembly Hall has been home to Illinois Basketball and numerous other events for the University Of Illinois. Well…. not anymore. This past April, University of Illinois trustees gave final approval to the Assembly Hall's new name — the State Farm Center. The...
The dynamic duo of Brandon Paul and DJ Richardson have been holding down the back court for the Illinois Fighting Illini basketball team for 4 consecutive years, but as we know, all good things must come to an end. The superstar athletes have given their blood, sweat and tears to the University of Illinois and it is now time for them both to find a new place to call home. For almost...
Brandon Paul of the Illinois Fighting Illini may have put a dagger in Minnesota's hopes of an NCAA Tourney berth with a buzzer-beater in the Big Ten Conference Tournament.
March Madness is here, and we get a little taste of Gus Johnson, thanks to Big 10 Network. The Illinois Fighting Illini and the Minnesota Golden Gophers are both on the bubble for the NCAA Tournament and battled today in the first game of the Big 10 Conference Tournament. It was tied 49-49 as time was ticking down and Brandon Paul launched a fadeaway jumper as the clock ticked down...
Now this is Big Ten basketball. With his Illinois' Fighting Illini team being tied up with the Minnesota Golden Golphers, Brandon Paul decided to take over the game and end it all with a buzzer beater. With the first game of the Big Ten tournament ending in classic fashion, I'm excited to see how the [...]
Tweet Illinois senior guard Brandon Paul has emerged as one of the best players in the country for an up-start Fighting Illini squad. He's averaging 18.5 points and 5.1 rebounds per game, has stepped up and performed at a high-level in key games and has earned his fair share of highlights this season. On Wednesday [...]
Last year's Illinois Fighting Illini started 10-0, just like this year's team. They finished an awful 17-15. But those were the Illini of Bruce Weber, not John Groce. With the 85-74 win at #10 Gonzaga last night, the first year coach has now produced the fastest start for a rookie coach in school history. 11 point underdogs, no one gave the Illini a chance. CBS' Doug Gottlieb...
MORE STORIES >>
College Basketball News

Delivered to your inbox

You'll also receive Yardbarker's daily Top 10, featuring the best sports stories from around the web. Customize your newsletter to get articles on your favorite sports and teams. And the best part? It's free!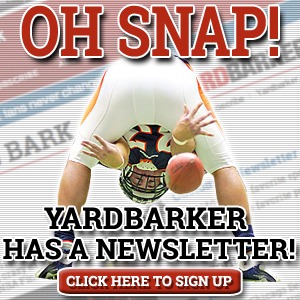 THE COLLEGE BASKETBALL HOT 10