Former Louisville basketball player Chane Behanan has had a tumultuous time since being dismissed from the program last December. He was set to transfer to Colorado State, but instead took a shot at the NBA draft, and went undrafted. However, as anyone that follows his Twitter or Instagram accounts can tell you, Behanan still has faith that he will carve out a basketball career,...
Former Louisville forward and NCAA champion Chane Behanan has decided to sign in the NBA Development League and enter its draft, a source told RealGM.After going unselected in June's NBA Draft, Behanan discussed deals with overseas teams and came close to signing with a club in Germany. In three seasons at Louisville, Behanan, 21, averaged 9.4 points, 6.9 rebounds and 1.1 steals...
Chane Behanan keeps finding trouble. Louisville TV station WAVE reported that Behanan was cited for marijuana possession early Wednesday after a traffic stop. A starter on last year's Louisville national championship team, Behanan was suspended last fall, reinstated, then ultimately dismissed. He tweeted at 2:16 a.m. that it was "time to make some changes" in his life...
Not much reason was given when Chane Behanan was dismissed from the Louisville Cardinals basketball program six weeks ago. The school vaguely said the dismissal was due to a violation of university policy.Now, the troubled forward has come clean, revealing that the reason he was kicked out of Louisville was because of marijuana usage.From Jason King of the Bleacher Report:Behanan...
Former Louisville forward Chane Behanan, who was dismissed from the Cardinals program in late December for a violation of university policy, is taking full responsibility for his actions – whatever they were. Behanan, who is rumored to have had drug issues while at Louisville, took to Instagram Thursday night to post a heartfelt message about his former teammates and admit that...
The University of Louisville can't say why Chane Behanan was dismissed from the school and the basketball team. Behanan isn't telling either. They don't have to give us the details. Fans are left to draw their own conclusions, taking less than five seconds for most to get the picture. Chane Behanan Apparently the University bent over backwards to give him second, third and...
Rick Pitino held a press conference this afternoon at 2 PM to announce that junior forward Chane Behanan has been suspended indefinitely and is no longer with the program. Behanan has been suspended by the University and not specifically the program. He is no longer living with the team in Minardi Hall. "We are very concerned about Chane Behanan and hope he can move forward and...
SLEEPYHEAD
Yesterday, the Louisville Cardinals received their sparkling championship rings from their April run to the national title. Today, the squad gets to tour the White House, and they even brought President Obama a custom Louisville jersey. Apparently the tour isn't that exciting though — Gorgui Dieng snapped this photo of former teammate Chane Behanan: Chane is sleeping at the...
THROW IT DOWN
Could this dunk by Louisville Cardinals sophomore Chane Behanan go down as the best dunk of the college basketball season?Leading 21-16 with just under five minutes to go in the first half, Behanan intercepts an errant pass around midcourt, takes a couple of dribbles, and proceeds to go full speed at the rim. The only thing standing in his way is Blue Demons senior Worrel Clahar...
Adam Himmelsbach of the Courier-Journal recently caught up with Chane Behanan's high school coach to get his thoughts on Behanan's suspension one game suspension. "Like any other teenager, he's probably put some things out there he regrets putting out there," Bowling Green High School coach D.G. Sherrill said in a telephone interview with the C-J. "His uncle or his mom...
MORE STORIES >>
College Basketball News

Delivered to your inbox

You'll also receive Yardbarker's daily Top 10, featuring the best sports stories from around the web. Customize your newsletter to get articles on your favorite sports and teams. And the best part? It's free!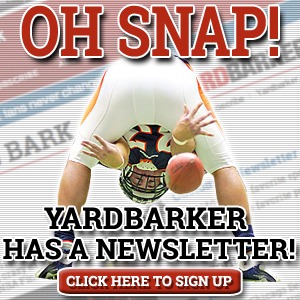 THE COLLEGE BASKETBALL HOT 10