Charlon Kloof and the Bonnies have struggled on the road to start the season. (AP Photo/The Jonesboro Sun, Saundra Sovick) Chris Johnson scored 19 points but it wasn't enough for St. Bonaventure on Saturday afternoon as the Bonnies fell on the road for the third consecutive time, losing to Arkansas State 73-70. St. Bonaventure trailed for the majority of the contest and was down...
Marquise Simmons finished with a double-double of 12 points and 10 rebounds to lead St. Bonaventure past Siena 58-43 Tuesday night in nonconference play. Demitrius Conger added 14 points and eight rebounds, and Chris Johnson chipped in with 10 points and seven rebounds for the Bonnies (5-2). Ahead by one, 39-38, with 12:41 left to play, St. Bonaventure finished the game on a 19...
Chris Johnson scored 19 points to lead three players in double digits as St. Bonaventure held on to beat Cornell 72-68 Wednesday night in nonconference action. Demitrius Conger and Marquise Simmons chipped in with 14 points and six rebounds apiece. After Shonn Miller's dunk tied the game at 10 for Cornell, the Bonnies (2-0) scored the next eight points and finished the half...
A 14-point second half lead almost wasn't enough for St. Bonaventure on Wednesday night as the Bonnies managed to barely defeat Cornell, 72-68 as they escaped Newman Arena with a victory. Chris Johnson led the Bonnies in scoring with 19 points, going 6-10 from the field. Also scoring in double-digits for St. Bonaventure included Demetrius Conger and Marquise Simmons who both cashed...
Chris Johnson scored 19 points, matching his career best, as St. Bonaventure defeated St. Francis (Pa.) 58 on Friday night. The junior swingman scored 12 of his points in the first half, when the Bonnies (6-5) shot 57.1 percent (16 of 28) to take a 49-28 halftime lead. Demitrius Conger added 17 points for St. Bonaventure and Matthew Wright had 15. Andrew Nicholson, the Bonnies...
Chris Johnson had 19 points off the bench and St. Bonaventure displayed stifling defense as they defeated Big 4 rival Canisius 81-62 on Saturday night. St. Bonaventure had no problem scoring or stopping the Golden Griffins. The Bonnies shot 46.3% from the field while limiting Canisius to only 37.5% shooting. One thing the Griffs did do well on the night was limiting Andrew Nicholson...
Chris Johnson scored 19 points and Andrew Nicholson added a double-double to lead St. Bonaventure over Canisius 81-62 on Saturday night. Nine players scored for the Bonnies (4-4), who surpassed the 70-point plateau for just the second time this season. St. Bonaventure, which averaged 61.7 points per game coming in, shot 46.3 percent from the field (25 of 54) led by Johnson, who...
MORE STORIES >>
College Basketball News

Delivered to your inbox

You'll also receive Yardbarker's daily Top 10, featuring the best sports stories from around the web. Customize your newsletter to get articles on your favorite sports and teams. And the best part? It's free!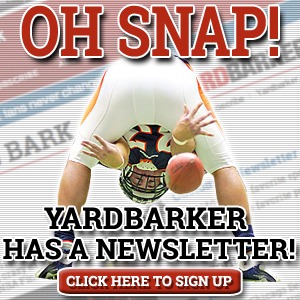 THE COLLEGE BASKETBALL HOT 10