Phil Forte is looking forward to Friday's game against Gonzaga and senior guard David Stockton, the son of NBA Hall of Famer John Stockton.
Having a famous basketball player for a dad has to be kind of cool, but for one thing--expectations. For Gonzaga senior David Stockton the expectations are pretty high. His dad is former Utah Jazz great John Stockton. Like dear ole' Dad he is not as tall as your average college player, but that didn't stop him from going airborne to deny a BYU lay-up.Yeah, so the BYU player...
David Stockton definitely did not get this talent from his pops. Gonzaga defeated BYU, 75-64, on Tuesday night where John Stockton's son showed a side of his game we haven't seen. When BYU guard Anson Winder drove to the basket and attempted a layup, he was denied with authority by the 5'11″ Stockton. The senior guard should have really finished his impressive defensive play...
Gonzaga was struggling with injuries and facing a Santa Clara team up for the challenge in the teams' West Coast Conference opener Saturday night. So David Stockton took over and led the Bulldogs to a big win. ''We have to step up,'' the senior guard said after scoring a career-high 21 points in the Zags' 74-60 win over the Broncos. ''We have to...
David Stockton is a solid little ballplayer for Gonzaga, but he won't make anyone forget his father, John Stockton, the greatest player in Bulldogs history. Yet while David Stockton's college career won't be as decorated, at least one moment will be memorable — unfortunately for him. Stockton became the victim of a vicious dunk by Kansas State freshman Marcus Foster when...
No. 21 Gonzaga decided to enter the Octagon of Doom today to take on the Kansas State Wildcats, and Bulldogs' guard David Stockton just became a victim. While the game is currently a tight one in the second half, Stockton was put on a poster by KSU guard Marcus Foster — look out below: [NBC CollegeBasketballTalk]
David Stockton (Photo: Justin K. Aller, Getty Images) The Gonzaga Bulldogs toughed out a road test 80-76, at West Virginia in a hostile environment. The Zags struggled to score in the first half and the early part of the second half, being down 10 points at one point in the second half. Gonzaga however managed to make the plays needed to pull out the victory. Full player grades ahead...
Mark Few(Photo credit: ISAAC BREKKEN) Gonzaga landed their 3rd commitment of the 2014 class on Monday in guard Bryan Alberts. Alberts is a 6-foot-5-combo guard out of Sun Valley, California. Alberts joins Josh Perkins and Silas Melson as the Gonzaga recruits of 2014 thus far. Alberts is the third guard to commit to Gonzaga and adds to the Zags backcourt of the future. There is not...
Kennel Club(Photo credit:Torrey Vail Gozags.com) Basketball season is finally here after Kraziness in the Kennel took place on Saturday. Zombie nation is playing, students are jumping as Kraziness gave fans a first look at the 2013-2014 Gonzaga Bulldogs. While the day consisted of a three point contests, fan contests, and a how well you know your roommate with David Stockton and...
It's not often you see both Butler and Gonzaga ranked in the top 15, and going at it this early in the season. Let's just say the game didn't disappoint.  David Stockton of Gonzaga was in-bounding the ball with 3.5 seconds left on the clock, and threw the worst pass I've ever seen.  Roosevelt Jones of Butler came up with the ball and took it down the court to win...
MORE STORIES >>
College Basketball News

Delivered to your inbox

You'll also receive Yardbarker's daily Top 10, featuring the best sports stories from around the web. Customize your newsletter to get articles on your favorite sports and teams. And the best part? It's free!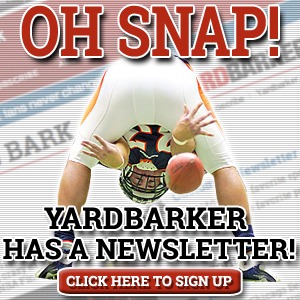 THE COLLEGE BASKETBALL HOT 10