ST. LOUIS -- Khristian Smith tipped in a missed Justin Gant jumper with 14 seconds remaining to give No. 2 seed Indiana State a 62-59 win over sixth-seeded Southern Illinois in the semifinal round of the Missouri Valley Conference tournament Saturday. Desmar Jackson had a look at a 3-point jumper with 3 seconds left but missed as Gant had his hands in Jackson's face. Indiana...
ST. LOUIS -- Desmar Jackson had 23 points and 11 rebounds as sixth-seeded Southern Illinois squandered a 19-point second-half lead on Friday night, but held on to beat No. 3 seed Northern Iowa 63-58. Anthony Beane added 16 points for SIU (14-18) which extended a 36-18 halftime lead to 43-24 early in the second half and was still leading 52-41 on Davante Drinkard's jumper with...
Desmar Jackson scored 24 points and Anthony Beane 20 as Southern Illinois raced past Drake 74-58 on Tuesday night, winning its third straight. The Salukis (9-15, 5-6 Missouri Valley Conference) avenged a three-point loss to Drake in their first conference meeting of the season two weeks ago. Southern Illinois has won three straight in Missouri Valley play for the first time in six...
Photo: Fernando Salazar | The Wichita Eagle The road has not been kind to Loyola Chicago (8-13, 3-6 MVC) this season. The Ramblers are 0-9 in true road games and 1-1 on neutral sites. Saturday, they will try to reverse the script at Southern Illinois (7-15, 3-6 MVC). The Salukis are coming off a surprising win against second-place Indiana State. They led the Sycamores essentially...
Photo: Loyola Athletics Loyola Chicago fell to 1-2 in Missouri Valley play, 6-9 overall, with a 71-67 loss at home to Southern Illinois (5-11, 1-2 MVC) on Wednesday night. The Salukis have had a rough go as of late, both on and off the court. Not only had they lost seven of their last nine games entering Wednesday, but on their return home from Illinois State on Sunday their bus...
Desmar Jackson scored a career-high 31 points as Southern Illinois pushed past Loyola of Chicago in the final seconds to win 71-67 on Wednesday night. Southern Illinois (5-11, 1-2 Missouri Valley Conference) trailed 67-65 after a Jeff White layup and two free throws from Christian Thomas put Loyola ahead. The Salukis tied up the score with 58 seconds to play, and Jalen Pendleton...
Desmar Jackson scored 24 points and pulled down 10 rebounds as Southern Illinois cruised over Missouri Science & Technology 96-74 on Thursday night. Southern Illinois (1-3) pulled away in the second half, outscoring Missouri S&T 60-45 after leading by seven at the break. The Salukis got to the basket often, scoring 60 points in the paint compared with 34 for the Miners...
Desmar Jackson scored 25 points to lead Southern Illinois past Fresno State 57-54 on Wednesday night. Jackson hit a 3-pointer at the 13 second mark to give Southern Illinois (4-1) the win. Jackson was 3 of 4 from 3-point range and had eight rebounds. Southern Illinois led 26-21 at halftime. At 1:23 remaining in the second half, Fresno State was up 1 off a pair of free throws by...
Courtesy: Southern Illinois University CARBONDALE, Ill. - Southern Illinois University men's basketball head coach Barry Hinson announced today that junior guards Desmar Jackson and Diamond Taylor have pending charges for misdemeanor theft of a bicycle. Jackson is also facing charges related to two minor traffic violations. Hinson said disciplinary measures would be handled...
MORE STORIES >>
College Basketball News

Delivered to your inbox

You'll also receive Yardbarker's daily Top 10, featuring the best sports stories from around the web. Customize your newsletter to get articles on your favorite sports and teams. And the best part? It's free!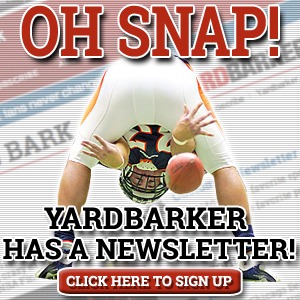 THE COLLEGE BASKETBALL HOT 10