LAS VEGAS -- Oregon senior guard Johnathan Loyd talks about Oregon's 88-74 win over Oregon State in the Pac-12 Men's Basketball Tournament. Loyd finished with four points and three assists in 15 minutes of action.
The Oregon Ducks had no plans to review the game film after their loss to rival Oregon State in last weekend's Civil War. Guard Johnathan Loyd shrugged that there wasn't anything to see that the Ducks didn't already know. Oregon fell 80-72 to the Beavers in Sunday's game for their fourth straight loss. The Ducks struggled on offense and trailed nearly all the way...
EUGENE -- Oregon guard Johnathan Loyd answers questions from the media about the focus of the team this week as they prepare to face California and Stanford.
Oregon Ducks point guard Johnathan Loyd faced a tall task (no pun intended) when he was forced to defend an opposing player nearly two feet taller than him.Check it out as the 5-foot-8 Loyd tries mightily to defend 7-foot-6 UC Irvine center Mamadou Ndiaye.The end result is one outrageous freeze shot.Via Bleacher Report
@oregonMBB UC Irvine's Mamadou Ndiaye (7' 6") battles Oregon's Johnathan Loyd (5' 8") in the paint. #GoDucks pic.twitter.com/ZTgBNvo0YP — Brian Davies (@daviesphoto) December 18, 2013 During Tuesday night's showdown between the Oregon Ducks and UC Irvine Anteaters, Ducks diminutive point guard Johnathan Loyd posted up Anteater Mamadou Ndiaye in a hilarious...
Looking for something interesting on the internet today? Look no further than this picture of Oregon point guard Johnathan Lloyd trying to defend 7-foot-6 Mamadou Ndiaye in last night's matchup between the Ducks and UC-Irvine. The NCAA's tallest player being covered by someone nearly two feet shorter is quite a sight — it's almost like a Yorkshire Terrier giving all that...
University of Oregon point guard Johnathan Loyd really stepped up to the plate on Tuesday night when he defended UC Irvine's 7'6" center, Mamadou Ndiaye, which produced this amazing photo.Look at the intensity in his eyes. There is no way he is letting a two foot difference stop him from playing solid defense. I'm sure a simple lob pass towards the basket will quickly...
Oregon might have had the last laugh by beating UC-Irvine 91-63, but people are probably going to remember something else from Tuesday night's game. The Ducks had no trouble handling UC-Irvine and its claim to fame, 7-foot-6 Mamadou Ndiaye, the tallest player in college basketball this year. At least, the team didn't have trouble handling Ndiaye. When 5-foot-8 guard Johnathan...
Mismatch! Mismatch! During Oregon's 91-63 win over UC Irvine on Tuesday night, Ducks point guard Johnthan Loyd somehow got matched up with Mamadou Ndiaye for a brief moment. Why is this noteworthy? Well, have a look at this photo and you'll get the point: You must see this photo by @daviesphoto. 7-foot-6 Mamadou Ndiaye vs. […]
After struggling during conference play, Johnathan Loyd delivers in the Pac-12 Tournament and helps lead Oregon to a championship.
MORE STORIES >>
College Basketball News

Delivered to your inbox

You'll also receive Yardbarker's daily Top 10, featuring the best sports stories from around the web. Customize your newsletter to get articles on your favorite sports and teams. And the best part? It's free!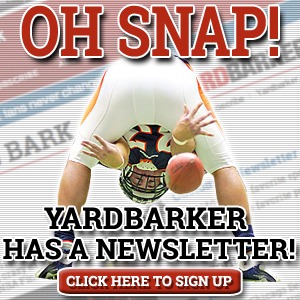 THE COLLEGE BASKETBALL HOT 10