MINNEAPOLIS Julian Welch didn't contribute at all to Minnesota's upset over No. 1 Indiana last week. The senior guard didn't even have the opportunity, as he spent the entire game on the bench for the first time all season. One game after the Gophers stunned the Hoosiers at Williams Arena, Welch was in Minnesota's starting lineup. It was done by Tubby Smith to have...
Fresh off a thrilling, court-storm-inducing victory over Indiana, the Gophers kept up the intensity and cemented their status as a tournament team with a 29-point drubbing of Penn State. On a day where Tubby started all seniors on Senior Day, Minnesota dismantled the Nittany Lions in all aspects of the game. With a significant size, [...]
All good things must come to an end, and hopefully on Saturday, that includes the home careers of Trevor Mbakwe, Rodney Williams, Julian Welch, and Andre Ingram. We don't want to see them go. Rodney Williams soaring through air and Trevor Mbakwe's chest pounding dunks will be sorely missed. But if we do see them play another game in venerable Williams Arena, it means something...
Yes, it turns out. Basketball games on the west coast that are unseen do in fact count. The Golden Gophers beat the mediocre at best USC Trojans in rather convincing fashion. Minnesota is the 2012-2013 champion of maroon and gold. How about that? Normally I'd try to provide some analysis of what happened. Since the closest I came to actually seeing the game was ESPN's game...
MINNEAPOLIS The first time Minnesota faced Indiana this season, the Gophers were in the midst of an 0-4 start to the Big Ten schedule. But Tubby Smith's squad upset the then-No. 8 Hoosiers on the road and built a three-game winning streak.At that time, the win at Indiana was a much-needed spark. The Gophers, whose NCAA Tournament fire is dying quickly, could certainly use another...
MINNEAPOLIS (AP) -- Julian Welch had 15 points and four assists to help Minnesota wear down Central Michigan during a 76-56 victory on Tuesday night. Austin Hollins and Joe Coleman each scored 12 points for the Gophers (11-1), who have the most victories of any Big Ten team this season, though their schedule has been one of the softest in the group. Trey Zeigler led the Chippewas...
Rodney Williams and Julian Welch combined for 33 points in Minnesota's victory over Appalachian State on Tuesday evening.
MINNEAPOLIS Minnesota forward Rodney Williams may have had the highlight of the game Saturday with his 360 dunk in the first half against USC, but it was the steady play of point guard Julian Welch that solidified the win. Welch, a junior college transfer from Yuba (Calif.) Community College, had a team-high 16 points along with six assists and two steals as coach Tubby Smiths...
Julian Welch scored 17 points and Andre Hollins added 16 to lead Minnesota past Indiana State 76-69 at the Old Spice Classic on Friday. Chip Armelin added 13 points for Minnesota, which advances to Sunday night's championship game. Trevor Mbakwe, who entered averaging 16 points, had seven of his nine points during the second half. Indiana State (5-1) got 14 points from Jordan...
While you were eating turkey, loading up on stuffing and sneaking that last slice of delectable jellied cranberry sauce, the Gophers were frantically trying to hold off the worst of the Big East, the DePaul Blue Demons, in a thrilling opening round of the Old Spice Classic. Facing a 43-33 halftime deficit, the Gophers crawled [...] Related posts:Bring on the Old Spice Classic Game...
MORE STORIES >>
College Basketball News

Delivered to your inbox

You'll also receive Yardbarker's daily Top 10, featuring the best sports stories from around the web. Customize your newsletter to get articles on your favorite sports and teams. And the best part? It's free!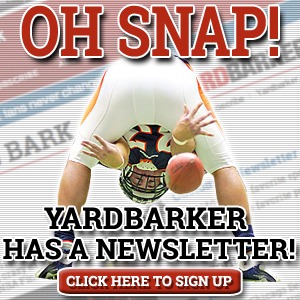 THE COLLEGE BASKETBALL HOT 10