As the hardwoods seasons, both college and pro, come closer and closer there is always plenty of information about present and former UNC Basketball players that will be lacing them up in 2013. For the most part you have to say that there is plenty of good news when it comes to the Tar Heels. However, like most everything, there is always an exception to the rule, and in this post...
When you talk about last season's North Carolina team it can not be too long before you get to its floor general, sophomore Kendall Marshall. And when you speak about the best pure passer in the college game for the last two years once again it won't be too long before the point guard's name comes up. As a matter of fact in both conversations the young man could easily be the...
ST. LOUIS (AP) -- Kendall Marshall figures he would have been ready for the Final Four. Now that North Carolina's season is over, though, the injured point guard won't get the chance to find out. "There was no doubt in my mind that once we won this game I was going to be ready to go next weekend," Marshall said after the Tar Heels' 80-67 loss to Kansas in...
When Kendall Marshall landed awkwardly on his right wrist on a drive with 10:56 remaining in North Carolina's round-of-32 matchup with Creighton, it was hard to predict that the seemingly innocuous tumble would have such drastic implications for a Tar Heels squad bent on reaching its third Final Four in the last five years. Marshall, a Cousy Award finalist, would play seven more...
North Carolina Tar Heels point guard Kendall Marshall sustained a broken right wrist during Sunday's regional semifinal victory over Creighton and despite making some progress, his immediate status is still uncertain as the team prepares for its Sweet Sixteen matchup with 13th-seeded Ohio on Friday, news which elicited this somewhat humorous, yet exasperated, quote from [...]
ST. LOUIS If North Carolina coach Roy Williams thinks there's a chance star point guard Kendall Marshall could play Friday night in the Tar Heels Sweet 16 matchup with Ohio, he's sure doing a good job of hiding it. Speaking to reporters at Thursday's media session at the Edward Jones Dome, Williams all but ruled out his point guard's participation just four days...
Since all have been waiting for anything and everything about the MidWest Region top seed North Carolina point guard Kendall Marshall, here is the one thing that comes from the player himself. Or better said, from his twitter feed… Cast off! — Kendall Marshall (@KButter5) March 21, 2012 Now, what does this mean? I truly do not know, aside that this has to be a positive thing...
North Carolina fans sat and grimaced when Kendall Marshall took that nasty spill during their 87-73 victory against Creighton. They then breathed a sigh of relief when Marshall was able to finish the game. Those sighs of relief then quickly turned to worry once word came that Marshall fractured his wrist. And that's where they remain.Since then, Marshall has had surgery, but his...
North Carolina Tar Heels Coach Roy Williams says Kendall Marshall's status remains uncertain for the Midwest Regional semifinal against Ohio Friday night in St. Louis. He also added that the mean is practicing/preparing for the next round as if he wasn't going to play. Marshall fractured his wrist last weekend in the win over Creighton, although he stayed in the game after suffering...
RALEIGH, N.C. --- If Kendall Marshall comes remotely close to the offensive force he was Tuesday night for the rest of the season, North Carolina may be the favorite to win the national championship. The UNC sophomore point guard, who is setting a pace for handing out assists unlike nearly anyone who has ever played in the ACC, added scoring to his repertoire in the Tar Heels'...
MORE STORIES >>
College Basketball News

Delivered to your inbox

You'll also receive Yardbarker's daily Top 10, featuring the best sports stories from around the web. Customize your newsletter to get articles on your favorite sports and teams. And the best part? It's free!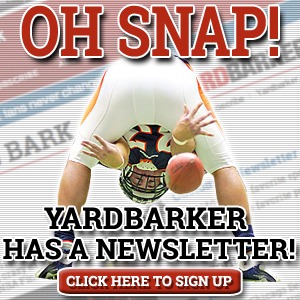 THE COLLEGE BASKETBALL HOT 10