YouTube UC Irvine 7-foot-6 center Mamadou Ndiaye threw out the ceremonial first pitch Tuesday night prior to the Cal State Northridge UC Irvine baseball game. Disappointingly, he didn't throw from the mound where he would have stood eight feet tall. Instead, he chose to throw it from about 45 feet where he practically handed it to the catcher. [CBT] The freshman scored 8.0 points...
At 20 years old, Mamadou Ndiaye is still growing into his body. The 7-foot-6, 290-pound UC-Irvine center is the tallest player in college basketball, but he has yet to truly put that size to good use. He averaged a very respectable eight points and 6.2 rebounds a game for the Anteaters, but more is expected of the lengthy big man moving forward.  It seems as if Ndiaye did choose...
UC Irvine's 7-foot-6 Mamadou Ndiaye set a Mountain West single season record recording 98 blocks during his freshman campaign. Ndiaye, a native of Senegal, showed during UC Irvine's baseball game against Cal State Northridge that the talent doesn't just apply to the hardwood. Ndiaye averaged 8.0 points and 6.2. rebounds while helping the Anteaters reach the NIT this past...
Mamadou Ndiaye had 11 points Thursday night to lead UC Irvine to an overtime victory at Hawaii 60-56. The 7-foot-6 Ndiaye also anchored the Anteaters (18-9, 9-2 Big West) defensive interior that held Hawaii (18-8, 7-5) without a field goal for the final 7:59. After Keith Shamburger pulled Hawaii within 56-54 on two free throws with 1:25 left in overtime, Irvine made four straight...
Luke Nelson scored 14 points Thursday night and Mamadou Ndiaye had 10 points, 10 rebounds and seven blocks as UC Irvine held off Cal State Northridge 72-67. Chris McNealy scored 12, Alex Young 10, and the Anteaters (13-7, 4-0 Big West) blocked 13 shots by the Matadors (10-10, 2-3). The Matadors jumped to a 5-1 lead, but Ndiaye made a dunk and a jumper, sparking a 16-0 run and a...
@oregonMBB UC Irvine's Mamadou Ndiaye (7' 6") battles Oregon's Johnathan Loyd (5' 8") in the paint. #GoDucks pic.twitter.com/ZTgBNvo0YP — Brian Davies (@daviesphoto) December 18, 2013 During Tuesday night's showdown between the Oregon Ducks and UC Irvine Anteaters, Ducks diminutive point guard Johnathan Loyd posted up Anteater Mamadou Ndiaye in a hilarious...
Mismatch! Mismatch! During Oregon's 91-63 win over UC Irvine on Tuesday night, Ducks point guard Johnthan Loyd somehow got matched up with Mamadou Ndiaye for a brief moment. Why is this noteworthy? Well, have a look at this photo and you'll get the point: You must see this photo by @daviesphoto. 7-foot-6 Mamadou Ndiaye vs. […]
The tallest NCAA player came up big on Thursday night, when 7-foot-6 freshman Mamadou Ndiaye scored 18 points, added nine blocks and eight rebounds to lead UC Irvine to an 86-72 win over host Washington. Ndiaye closed out the first half with a traditional three-point play to put UCI (1-2) ahead 38-36, then he had an emphatic dunk to spark a 19-3 run over the opening 5 1/2 minutes...
MORE STORIES >>
College Basketball News

Delivered to your inbox

You'll also receive Yardbarker's daily Top 10, featuring the best sports stories from around the web. Customize your newsletter to get articles on your favorite sports and teams. And the best part? It's free!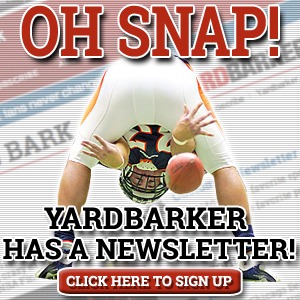 THE COLLEGE BASKETBALL HOT 10