KANSAS CITY, Mo. -- After Kansas State freshman Marcus Foster scorched Baylor for 29 points last Saturday, Baylor coach Scott Drew was asked what the future might hold for Foster. "He's (going to be) a pro," Drew said without hesitation. "He's that good." Of course, that won't happen this year. But certainly Foster's ceiling could be that high...
K-State Basketball: Wildcats land sixth straight road lossIf it hasn't already been said, it needs to be: Kansas State cannot win on the road during conference play this season. Apart from their start of conference win against TCU in Fort Worth, K-State (18-9, 8-6) has lost every road game. Their loss tonight to Oklahoma (20-7, 9-5) marks their sixth straight loss on the road...
MANHATTAN, Kan. -- There was no reason to suspect that Marcus Foster would be the driving force behind Kansas State's surprising success. Heck, it even caught him by surprise. Yet the lightly recruited guard out of Wichita Falls, Texas, just scored 34 points in a win over then-No. 15 Texas. The talented freshman followed that up with a game-high 20 in Monday night's upset...
Marcus Foster led the Wildcats in their 85-82 OT overtake of No. 7 Kansas on Monday. Those expecting another Kansas win were in for a rude awakening as the K-State Wildcats pulled away with a 85-82 victory over Kansas in overtime, last night in Bramlage Coliseum. In years past, the home court advantage hasn't really existed for the Wildcats  (17-7, 7-4 Big 12) when it's come...
Kansas State is far from a perfect basketball team, but the Wildcats occasionally appear flawless inside Bramlage Coliseum. A 74-57 victory over No. 15 Texas on Saturday was one of those occasions. The Wildcats were dominant. "They beat us in every way you can be beat," Texas coach Rick Barnes said. "They played harder, they played with more energy, they were more physical...
Marcus Foster shoots over Demarcus Holland at Bramlage Coliseum on Sat. Feb. 8, 2014 Just call them the Comeback 'Cats. That was the story of the afternoon as freshman Marcus Foster led the Kansas State Wildcats with 34 points in their 74-57 win against the Texas Longhorns on Saturday in Bramlage Coliseum. It marks the sixth time he's scored double figures in Big 12 play and...
MANHATTAN, Kan. -- Marcus Foster scored a career-high 34 points on 13-of-16 shooting and Kansas State beat No. 15 Texas 74-57 on Saturday, ending the Longhorns' seven-game winning streak. Foster surpassed the previous scoring mark for a Kansas State freshman set by Michael Beasley against Colorado with 33 points on March 4, 2008. Foster's previous high was 25 points against...
You might notice a bit of a change in our Freshman Watch column this season. We have teamed up with the Wayman Tisdale Award, and so our Freshman of the Week is now the Wayman Tisdale National Freshman of the Week. And our Freshman of the Year rankings are now the Wayman Tisdale Award Watch. What is the Wayman Tisdale Award? It's selected annually by the United States Basketball...
MANHATTAN, Kan. -- Thomas Gipson likened the game to a "bar fight," the sort of description that is certain to make the senior-level folks in the Kansas State athletic department shake their head in exasperation. Of course, Wildcats coach Bruce Weber used the exact same term to describe a 74-71 victory over No. 6 Oklahoma State on Saturday -- the kind of rough-and-tumble...
Marcus Foster hit four 3-pointers and finished with 25 points, helping Kansas State rebound from a rare season-opening loss to beat Oral Roberts 71-63 on Wednesday night. D.J. Johnson added 12 points and Will Spradling 10 for the Wildcats (1-1), who lost their first home opener in two decades to Northern Colorado earlier in the week. That defeat also ended the defending Big 12 champions...
MORE STORIES >>
College Basketball News

Delivered to your inbox

You'll also receive Yardbarker's daily Top 10, featuring the best sports stories from around the web. Customize your newsletter to get articles on your favorite sports and teams. And the best part? It's free!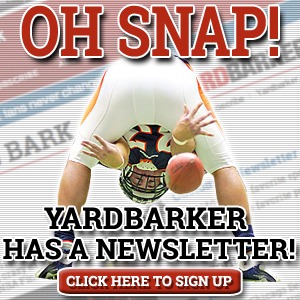 THE COLLEGE BASKETBALL HOT 10