NEW YORK (AP) St. John's freshman guard Rysheed Jordan will miss the Red Storm's NIT opening-round game against Robert Morris with tonsillitis.
Freshman Rysheed Jordan made the second of two free throws to snap a tie with 19.5 seconds left in the second overtime as the visiting Red Storm held on to edge the Golden Eagles. Jordan, JaKarr Sampson and D'Angelo Harrison each recorded 20 points as St. John's (20-11, 10-8 Big East) survived despite blowing a six-point lead in the final 11 seconds of regulation. Jordan also...
MILWAUKEE -- D'Angelo Harrison scored 20 points and hit a clutch 3 in double overtime, Marquette's Derrick Wilson missed a jumper with 1 second left and St. John's held on for a 91-90-win Saturday in the regular-season finale for both teams. Rysheed Jordan went 1 of 2 at the line to give the Red Storm the lead before Marquette called timeout with 13.9 seconds left. Marquette...
St. John's will be back to full strength Saturday when it plays its biggest game in three years. Starting point guard Rysheed Jordan will return to the lineup at Marquette after missing Sunday's home win against DePaul while grieving the tragic death of his aunt. "Jordan's had two consecutive good practices this week," St. John's coach Steve Lavin said...
Rysheed Jordan's remarkable freshman season continues to be surrounded by tragedy. The St. John's point guard, whose rapid ascension has elevated the Red Storm into the NCAA Tournament conversation after nine wins in their past 11 games, missed Monday's practice, having learned right after Saturday's loss at Villanova that a close family member was shot and killed in North...
If his freshman year up to this point is any indication, Rysheed Jordan will put on a show Saturday afternoon at the Wells Fargo Center in his return to the City of Brotherly Love. The dynamic 6-foot-4 point guard from Philadelphia, nicknamed "The Prince of North Philly," has been at his best in St. John's biggest games, scoring a career-high 24 points in a win over Georgetown...
Rysheed Jordan scored a career-high 24 to lead St. John's to an 82-60 win over Georgetown on Sunday night. D'Angelo Harrison had 24 for the Red Storm, and JaKarr Sampson added 12 to give St. John's their fifth straight win. The Red Storm (17-9, 7-6) scored the first 15 points of the game, led by Jordan, who notched the first seven. From there, they were able to maintain...
Rysheed Jordan/nypost.com"Shorthanded" has been a word used time and again this season for the Seton Hall Pirates, and that word carried the weight of another blue and white setback in Newark on Thursday.  The Hall suffered its fifth home conference loss in six games in a 68-67 nail-biting fall to St. John's Red Storm on Thursday night. Seniors Brian Oliver and Eugene Teague...
The New York Post is reporting that prized St. Johns freshman guard Rysheed Jordan has been suspended indefinitely for a violation of team rules. The point guard from Philadelphia as suspended for violating team rules Friday night, missing the Red Storm's 64-54 victory over Monmouth. Head coach Steve Lavin declined to say when he will be return — or if Jordan will return at...
Someone has to sit. St. John's has 11 letterwinners, including five starters, back from last season and welcomes freshman Rysheed Jordan, one of the most highly regarded high school point guards, to the fold. And according to coach Steve Lavin, Jordan will play. ''He's the best guard, the most explosive guard I've had in college and that includes Baron Davis...
MORE STORIES >>
College Basketball News

Delivered to your inbox

You'll also receive Yardbarker's daily Top 10, featuring the best sports stories from around the web. Customize your newsletter to get articles on your favorite sports and teams. And the best part? It's free!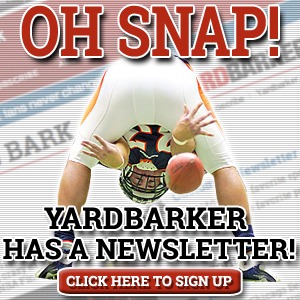 THE COLLEGE BASKETBALL HOT 10