Davion Berry scored 15 points, Scott Bamforth added 14 and Weber State beat Northern Iowa 59-56 to reach the finals of the CollegeInsider.com tournament Saturday night. Bamforth shot 4 of 7 from the 3-point line for the Wildcats (30-6), who will face East Carolina in the CIT title game Tuesday night. The Wildcats started the game on a 14-2 run, capped by a 3-pointer by Bamforth...
So much in Scott Bamforth's earlier life was about losing, his dad in the seventh grade, his mom 2 1/2 years later then nearly his own wife and newborn son at the start of his junior season at Weber State. The 6-foot-2 senior has overcome it all. Now the former Albuquerque player has helped the Wildcats set a school and Big Sky record for victories in a season while advancing...
Kareem Jamar was joined on the All-Big Sky First Team by teammate Will Cherry, Weber State's Scott Bamforth and Davion Berry, Northern Colorado's Derrick Barden, North Dakota's Troy Huff and Northern Arizona's Gabe Rogers.
Scott Bamforth scored 18 points and Weber State closed the game on a 14-7 run to defeat Eastern Washington 65-57 Saturday night. The Wildcats (24-5, 18-2) will take their 11-game winning streak and a No. 2 seed into next week's Big Sky Conference tournament, where they will face seventh-seeded Northern Arizona on Thursday. Joel Bolomboy added 11 points for Weber State, which...
FLAGSTAFF, Ariz. (AP) -- Davion Berry scored 25 points, Scott Bamforth added 20 and Weber State won its ninth straight contest by outlasting Northern Arizona 80-78 in overtime Saturday. Weber State (22-5, 16-2 Big Sky) led 37-29 at halftime but the Lumberjacks used a 20-5 run to begin the second half capped off by a Gabe Rogers 3-pointer to give Northern Arizona a 49-42 lead with...
DAYTON, Ohio (AP) -- Kyle Tresnak scored 16 points and Scott Bamforth added 15 as Weber State rallied from a seven-point deficit, then held off Dayton 62-61 Wednesday night. Trailing 27-20, the Wildcats (2-2) went on a 16-2 run, with Bamforth scoring eight straight points in the spree, including a pair of 3-pointers. Dayton (4-2) used a 7-0 spurt to tie it at 38, but couldn't...
Game #8-036: Utah State Aggies at Weber State WildcatsNovember 15, 2011 9:00 pmDee Events CenterBBState Stats/RecapThe Dee Events Center at Weber Statelovingly known as the Purple Palace for its grand assembly of purple seatsis a fond part of my childhood. On this court I played with friends in a local little league basketball championship. When Harold Arceneaux and Eddie Gill ran...
Scott Bamforth scored a career-high 28 points and made seven 3-pointers as Weber State defeated Utah State 73-63 on Tuesday night. Bamforth hit his first five 3-point tries of the game to improve to 10 for 10 on the season. He finished 7 for 9 beyond the arc. Damian Lillard added 17 points and Byron Fulton 10 for the Wildcats (2-0), who lost 10 of the previous 11 meetings between...
MORE STORIES >>
College Basketball News

Delivered to your inbox

You'll also receive Yardbarker's daily Top 10, featuring the best sports stories from around the web. Customize your newsletter to get articles on your favorite sports and teams. And the best part? It's free!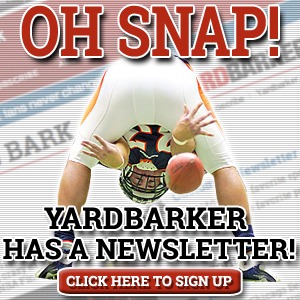 THE COLLEGE BASKETBALL HOT 10