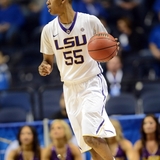 BATON ROUGE, La. (AP) LSU coach Johnny Jones says junior guard Tim Quarterman is leaving the Tigers with one season of eligibility remaining to enter the NBA draft. The 6-foot-6 Quarterman started 27 games this season, averaging 11.2 points, 4.6 rebounds and 3.6 assists. He ranks 11th in career assists at LSU with 302 after three seasons. Quarterman also had 103 career steals...
BATON ROUGE, La. (AP) Ben Simmons didn't have to shoot particularly well or throw down any flashy dunks to provide an invaluable, dynamic, wire-to-wire presence for LSU. Simmons had 16 points, 11 rebounds, and seven assists, and LSU defeated No. 15 Texas A&M 76-71 on Saturday, the Aggies' fourth straight loss. Playing all 40 minutes - sometimes in the post and sometimes at...
LSU phenom freshman Ben Simmons scored 12 of his 14 points after halftime. His second-half scoring began by finishing an alley-oop pass from half-court alley-oop pass from Tim Quarterman. That dunk put the Tigers up 43-33 with 17:30 left in the game.Simmons, Quarterman and Craig Victor all posted double-doubles in LSU's 85-67 win over No. 9 Kentucky on Tuesday night at home.Quarterman...
The major underdog LSU Tigers defeated No. 9 Kentucky by a score of 85-67 in Baton Rouge to become the third unranked team this season to knock off the Wildcats in an epic fashion. Freshman sensation Ben Simmons shook off early foul trouble to score 14 points and grab 10 rebounds, and junior Tim Quarterman led with 21 points, 10 rebounds and seven assists. LSU practically ran the...
BATON ROUGE, La. (AP) Tim Quarterman had 21 points, 10 rebounds and seven assists, Craig Victor added 15 points and 12 rebounds, and LSU defeated No. 9 Kentucky 85-67 on Tuesday night. Ben Simmons added 14 points and 10 rebounds for the Tigers (9-5, 2-0 Southeastern Conference), who never trailed after tying the game at 2 and kept their lead at or near double digits for much of...
NASHVILLE, Tenn. (AP) Tim Quarterman scored six of his 12 points in overtime, helping LSU rally and beat Vanderbilt 79-75 Saturday for the Tigers' second straight win. LSU (15-4, 4-2 Southeastern Conference) trailed by as much eight in the second half before scoring the final three points of regulation, the last a free throw by Jordan Mickey with 1:07 left to force overtime. Quarterman...
For football players one of the worst things that can happen to a guy is getting blidsided. For baseball players I would imagine it would be getting the final out of the game in a losing effort on a called strike three. For basketball players I would imagine it's getting dunked on--but LSU's Tim Quarterman did one worse on Ole Miss' Aaron Jones.Not only did he dunk on him with an...
MORE STORIES >>
College Basketball News

Delivered to your inbox

You'll also receive Yardbarker's daily Top 10, featuring the best sports stories from around the web. Customize your newsletter to get articles on your favorite sports and teams. And the best part? It's free!
THE COLLEGE BASKETBALL HOT 10