Vee Sanford hit a layup with 3.8 seconds remaining to help the Dayton Flyers upset the No. 22/24 Ohio State Buckeyes, 60-59, in the NCAA Tournament Second Round. Trailing 59-58 with 10 seconds left, Sanford drove from the top of the key to the right side and banked in a shot. Ohio State's Aaron Craft's game-winning attempt rattled out as time expired. Dayton, the No. 11...
Earlier today, Dayton Flyer Vee Sanford nailed the game winner against Ohio St.  Dayton scored 60 points and shot 45% from the field, but in order to beat Syracuse in the Round of 32, they will need to shoot better than 3-13 from downtown.Jordan Sibert led Dayton in 3pt attempts knocking down just 1 of his 5 attempts. That is right at his season average in 3pt attempts, but he...
Let the Madness begin. According to Fox Sports, 86% of brackets took Ohio State over Dayton in the 6-11 matchup, and Vee Sanford just cost people a lot of money. Dayton will now play the winner of the Syracuse-Western Michigan matchup. Follow Mike Pendleton on Twitter @MP2310 Facebook.com/FullScaleSports Twitter:@FullScaleSport Photo credit: (Ethan Klosterman)
Aaron Craft's hustle couldn't save the Buckeyes, today. Once ranked as high as #3 in the country, Ohio State became the first upset victim of the NCAA Tournament after they lost in the closing seconds to the Dayton Flyers. Check out Vee Sanford with 3.8 seconds, and Aaron Craft coming up short: HIGHLIGHT: @DaytonMBB upsets […]Continue reading...
BUFFALO, N.Y. (AP) -- Vee Sanford scored on a layup with 3.8 seconds left to lift 11th-seeded Dayton to a 60-59 victory over sixth-seeded Ohio State in the second round of the NCAA tournament on Thursday. Sanford finished with 10 points, while Dyshawn Pierre led the Flyers (24-10) with 12 points in a matchup of Ohio schools separated by about 75 miles. Dayton advances to play the...
Dayton and Ohio State opened the NCAA Tournament with a classic. After Aaron Craft split the lane and put up a wild go-ahead layup with just over 15 seconds left, he was answered by Dayton's Vee Sanford.  With the clock running down, Sanford drove the lane, and hit a runner off the glass to retake the lead for the Flyers with just over three seconds left. Craft tried a similar...
The Dayton Flyers beat the Ohio State Buckeyes to kick off March Madness in Style. Vee Sanford shocked the world with his game-winning shot.
NEW YORK (AP) -- Vee Sanford tied a career high with 23 points off the bench on a perfect shooting day, and Dayton beat Fordham 87-74 Thursday in the first round of the Atlantic 10 tournament in another boost to the Flyers' NCAA tournament hopes. Fifth-seeded Dayton has won 10 of 11 to go from a team with little hope for an NCAA bid to one that will give the selection committee...
Reserve Vee Sanford scored 14 points to lead four players in double figures as Dayton pulled away for a 78-58 victory over St. Francis-New York on Saturday. Khari Price and Jordan Siebert had 13 points apiece for the Flyers (3-0) and Matt Kavanaugh added 10. Dean Oliver had six rebounds and five assists to go with nine points. Jalen Cannon paced the Terriers (2-1), who were coming...
Follow @Ianrnolan In this New Year's edition of A10 Quick Hitters, we will once again span the conference hitting on noteworthy stories. Last week, we touched on Charlotte's hot start, Duquesne's surprising early play under Jim Ferry, VCU's suffocating defense, Temple's most valuable player (Rahlir Hollis-Jefferson) and much more. This week, let's run some more quick...
MORE STORIES >>
College Basketball News

Delivered to your inbox

You'll also receive Yardbarker's daily Top 10, featuring the best sports stories from around the web. Customize your newsletter to get articles on your favorite sports and teams. And the best part? It's free!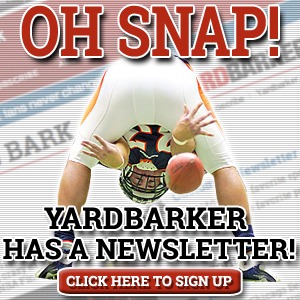 THE COLLEGE BASKETBALL HOT 10