Found August 24, 2013 on College Football Zealots:
PLAYERS:
Stephon Tuitt
,
Prince Shembo
,
Louis Nix
,
Bennett Jackson
,
KeiVarae Russell
,
Tommy Rees
,
DaVaris Daniels
,
Jaylon Smith
,
Max Redfield
,
Hunter Bivin
,
Cole Luke
,
Everett Golson
,
Troy Niklas
,
Ben Koyack
,
George Atkinson III
TEAMS:
Notre Dame Fighting Irish
,
Arizona State Sun Devils
,
Michigan State Spartans
,
Air Force Falcons
,
Boston College Eagles
,
Georgia Tech Yellow Jackets
,
Virginia Tech Hokies
,
Wake Forest Demon Deacons
,
Kansas State Wildcats
,
Texas Tech Red Raiders
,
Penn State Nittany Lions
,
Louisiana Tech Bulldogs
,
Ball State Cardinals
,
Bowling Green Falcons
,
Kent State Golden Flashes
,
Mississippi State Bulldogs
,
Georgia State Panthers
,
Texas State Bobcats
2012 Record: 12-1 Head Coach: Brian Kelly (28-11 at Notre Dame, 199-68-2 All-Time) Last Bowl Game: 2013 BCS NCG: lost to Alabama 42-14 Stadium: Notre Dame Stadium in South Bend, IN (capacity = 80,795) Home Field Advantage: ranked 7th out of 69 BCS teams Schedule Glimpse: 2013 Schedule Link Neutral Site Games: 10/5 vs Arizona State (Arlington) Toughest Home Games: 9/21 vs Michigan St, 9/28 vs Oklahoma, 10/19 vs USC, 11/23 vs BYU Toughest Road Games: 9/7 at Michigan, 11/30 at Stanford   Statistical Snapshot: 2012 Statistics Link Stats to Fear: only scored TDs on 48.33% of red zone trips (112th in Nation) Stats to Cheer: only had 15 turnovers in 2012 (14th in Nation), held opponents to 68.42% score rate in red zone (8th in Nation) Advanced Stats (Football Outsiders 2012 FEI Ranking): 10th out of 124 teams   Personnel: Phil Steele's Returning Starters: Offense: 6, Defense: 8, Special Teams: 1 Key Defensive Returnees: DE Stephon Tuitt (11 sacks, 45 tackles), LB Prince Shembo (7.5 sacks, 51 tackles), DT Louis Nix (50 tackles), CB Bennett Jackson (65 tackles, 4 INT), CB KeiVarae Russell (58 tackles) Key Offensive Returnees: QB Tommy Rees (436 yds pass, 55.7% completions, 2 TD, 2 INT), RB George Atkinson III (361 yds rush, 7.08 ypc, 5 TD), WR TJ Jones (50 rec, 4 TD), WR DaVaris Daniels (31 rec) Top 2013 Recruits: LB Jaylon Smith, S Max Redfield, OT Hunter Bivin, CB Cole Luke       Inside Scoop with The Subway Domer:   CFBZ: If 2012 was a dream for the Irish, 2013 has been a nightmare so far (National Championship Game, Te'o controversy, Golson). What are some of the positives for Notre Dame coming into the 2013 season? The Subway Domer: I wrote about this in early June. Starting with the National Championship loss and continuing for five months, it seemed like there was an endless stream of "bad news" for the program and its fans. But, in essence, there was only really one of those incidents that was truly going to affect the 2013 season, and that was the loss of Everett Golson.   Still, Notre Dame has a seasoned veteran returning at quarterback, a stout offensive line, 8 returning starters on defense, and one more year of development under Brian Kelly.   There are positives everywhere you look with this Notre Dame team, but they often get overlooked by things like recruiting de-commitments and transfers of players that weren't going to contribute.   All in all, this is a very talented and motivated team and with a schedule that is tough, but not too tough, there are still high hopes of a 10 or more wins season.     CFBZ: With Everett Golson being ineligible for the season, do you think Tommy Rees will be the QB for the majority of the games or do you see somebody else emerging?   The Subway Domer: Tommy Rees, or REESUS to his believers, will be QB1 the entire season. This is Tommy's senior year and nobody knows the offense as well as Rees. His pre snap read is as good as it gets at the college level and he has the respect of his teammates.   Nobody is going to pass Tommy as the starter unless there is a disaster. He looks much more physical this fall camp and I think he has finally learned to play within himself. A lot of his former interceptions were plays that he was trying to do too much with.    BELIEVE IN REESUS!     CFBZ: What do you see as the most difficult games on the schedule for the Irish?   The Subway Domer: I think this is a fairly tough schedule and I could probably list off 5 different games, but I'll limit it to two.   USC at Home. Despite this series being split the past 4 years, ND has not won at home against the Trojans since 2001. That is a stat that must die. Always a tough game against their biggest rivals.   Stanford at Stanford. The Farm is not a bad place to play, but it sucks in a hurry when Stanford is good. This was an epic game last year and the Cardinal will have revenge on their mind. This will be another defensive struggle with the team that makes the fewest mistakes STILL possibly losing. This is the last game of the season and the stakes could be as high as they get.     CFBZ: What will make the 2013 season a success in your eyes?   The Subway Domer: Have to win a BCS bowl game. Whichever one. They have to get that monkey off of their back. That is the only way I could consider this year as a "success."     Verdict:   Last year, Brian Kelly had Notre Dame way ahead of schedule. After back-to-back eight win seasons, most (including us) were expecting more of the same as Kelly continued to get his guys onto the field and continued to change the recent culture of the Irish. Everything came together last year and Notre Dame did what great teams do, they won close games. They beat Purdue by 3, they beat Michigan by 7, they bested Stanford in OT with a goal line stand, they beat BYU by 3, they survived Pitt in OT and they finished the regular season by winning at USC by 9. They won half of their games by single-digits. Just like any other undefeated team, it takes skill and a bit of luck to pull out all of those games. Despite a crushing defeat at the hands of Alabama in the BCSNG, Notre Dame is back.   Everett Golson is out for the year and that means that Tommy Rees once again takes the reigns of the offense. He sat and watched for a year so hopefully for the Irish he's used his time wisely. Another big loss for the Irish is at RB where they must replace both Theo Riddick and Cierre Wood. But the Irish have recruited well at this position and they have George Atkinson III returning as well as a load of 4-5 star guys behind him. It might take them a few games to get acclimated but they should be just fine at RB. At WR, both of the primary targets return in TJ Jones and DaVaris Daniels but the Irish must replace TE Tyler Eifert and Riddick's production out of the backfield. Eifert's loss could be big as the Irish look to Troy Niklas or Ben Koyack to step up. The OL loses two starters but returns three that have 13 starts of more.   On the defensive line, Notre Dame has two fantastic players in Stephon Tuitt and Louis Nix. Without those guys, you probably wouldn't even know who Manti Te'o was.  The LB corps loses Te'o but returns everybody else and I really think they will be just fine. The DBs were really young last year and were carried a bit by the front seven but now they have experience and lose only Zeke Motta. This defense gave up just 12.8 ppg last year. I think this years' defense will be just as good although the stats may not relay that fact.   Notre Dame plays a  tough schedule this year but it's spaced out pretty well. They play at Michigan in the second game of the year but it's sandwiched between Temple and Purdue. Then they play the toughest stretch of the year as they host Michigan State and Oklahoma in back-to-back games before taking off to Arlington to face Arizona State. Then they host USC after a bye week. None of those four teams are push overs and all could be potential top 25 teams at the time of the game. Then the Irish travel to Air Force, host Navy and travel to Pitt. After an open date they finish with BYU at home and then travel to face Stanford in the finale. It's a tough schedule but there really aren't any monsters looming except Stanford. This is a 10-11 win team but if some of the luck they had last year goes the other way they could easily be an 8 or 9 win team. I like the make-up of this team but I'm concerned about the QB switch. I think the Irish will have a great year and make a BCS bowl game but I don't see them going undefeated again.   Prediction: 10-2       Previous 2013 Pre-Season Previews: ACC- Boston College, Clemson, Duke, FSU, Georgia Tech, Maryland, Miami, NC State, Pittsburgh, Syracuse, UNC, Virginia, Virginia Tech, Wake Forest Big 12- Baylor, Iowa St, Kansas, Kansas St, Oklahoma, Oklahoma St, TCU, Texas, Texas Tech, WVU Big Ten- Illinois,  Indiana,  Iowa, Michigan, Michigan State,  Minnesota,  Nebraska, Northwestern, Ohio St, Penn State, Purdue,Wisconsin C-USA- ECU, FAU, FIU, Louisiana Tech, Marshall, Middle Tennessee, North Texas, Rice, Southern Miss, Tulsa, Tulane, UAB, UTEP, UTSA Independent: Army, BYU, Idaho, Navy, New Mexico St, Old Dominion MAC- Akron, Ball State, Bowling Green, Buffalo, CMU, EMU, Kent State, Miami (OH), NIU, Ohio, Toledo, UMass, WMU MWC- Air Force, Boise St, Colorado St, Fresno St, Hawaii, Nevada, New Mexico, SDSU, SJSU, UNLV, Utah St, Wyoming Pac-12- Arizona, Arizona St, Cal, Colorado, Oregon, Oregon St, Stanford, UCLA, USC, Utah, Washington, Washington St SEC- Arkansas, Auburn, Kentucky, Mississippi State, Missouri, Tennessee, Vanderbilt Sun Belt- Arkansas State, Georgia State, Louisiana, South Alabama, Texas State, Troy, ULM, WKU The American-  Cincinnati,  Houston, Louisville,  Memphis,  Rutgers,  SMU, Temple, UCF, UConn, USF  
Original Story:
http://www.collegefootballzealots.com...
THE BACKYARD
BEST OF MAXIM
RELATED ARTICLES
Tommy Rees is back as Notre Dame Football's starting quarterback and with that comes a long list of attributed stigmas and preconceived notions regarding his abilities to win football games. Some beliefs are rooted in hard-case evidence while others are often wild exaggerations. Rees seems to understand that scrutiny and overanalysis comes with the territory of any QB in South...
SPECIAL TRAINING
Everett Golson won't be playing for Notre Dame during the fall, but he'll keep his QB skills sharp while training with the quarterback guru.
With the start of Saturday football just around the corner, I really wanted to test your knowledge on the conferences that make Division 1 college football awesome. I understand you may be a little rusty but that's what this sports trivia is for. Please keep in mind not all conferences are based on geography, they are based on straight cash homey. Each question is worth 1 point...
Autry Denson knows a little bit about what it takes to be a successful Notre Dame football player. Earlier today, the all-time leading Irish rusher decided to share some advice with current captain T.J. Jones ahead of the 2013 season. Earlier today, this was tweeted out by Jones: He was promptly teased by Irish fans for "stealing it" — Denson had tweeted the same thing just...
News & scores from week one of Notre Dame's 2014 commit list's season, a recap of this week in recruiting and a preview of what's to come in this new IrishEyes.com weekly recruiting feature.
Notre Dame head coach Brian Kelly discusses his plan of attack on special teams to open 2013...
Notre Dame left tackle Zack Martin talks about his role as a second-year captain and what he expects out of this year's front line.
Check out what IrishEyes impressions of Notre Dame media day were inside and what to take away from the event.
Tim O'Malley joins Dave Berk to discuss the conclusion of Notre Dame's 2013 training camp in the latest Irish Eyes podcast.
You don't usually end the regular season undefeated and ranked No. 1, and then need to pick up the pieces to start the next season. It was as if Notre Dame won every hand of poker and then went all-in with a pair of twos, losing it all, and more. Let's see, not only did Alabama manhandle Notre Dame in the national championship game, but also Manti Te'o's girlfriend...
Fighting Irish News

Delivered to your inbox

You'll also receive Yardbarker's daily Top 10, featuring the best sports stories from around the web. Customize your newsletter to get articles on your favorite sports and teams. And the best part? It's free!
THE FIGHTING IRISH HOT 10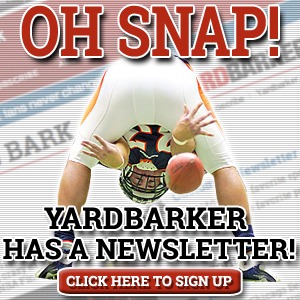 Latest Rumors
The Backyard

Today's Best Stuff

For Bloggers

Join the Yardbarker Network for more promotion, traffic, and money.

Company Info

Help

What is Yardbarker?

Yardbarker is the largest network of sports blogs and pro athlete blogs on the web. This site is the hub of the Yardbarker Network, where our editors and algorithms curate the best sports content from our network and beyond.