Found March 25, 2013 on Fox Sports South:
TUSCALOOSA, Ala. -- Bill Battle was cutting trees downed in a recent storm on his suburban Atlanta farm when alma mater Alabama called a couple of weeks ago. Now, the former Crimson Tide football player has ditched a comfortable semi-retirement of charity work and consulting to run a flourishing athletic department that had a 133 million budget in 2011-12 and has a football program enjoying a new heyday. The reason sounds awfully similar to his old coach Bear Bryant's explanation when he returned to Bama from Texas A&M: "Momma called, and when momma calls you have to run." "It dawned on me when some trustees and leaders of the university said, We really want you to do this. This is a special time at the university,'" Battle said at his introductory news conference on Friday. "I thought to myself, if I didn't do this, I would regret it for the rest of my life. Because it's an opportunity to pay back the university, if I can, a great debt that I owed the university. If I don't do it, it would be a big mistake. "I'm here as a labor of love to try to help any way I can. I know I have time. I'm rested, I'm not tired. I look forward to this challenge." If Battle didn't necessarily run to the job, the silver-haired 71-year-old ultimately agreed to replace former Tide teammate Mal Moore, who is moving to a job as special assistant to President Judy Bonner because of health problems. Trustees, including Paul Bryant Jr., lined seats next to the podium while football coach Nick Saban and wife Terry sat in the front row. Saban was the only coach to take a turn at the podium. It wasn't just symbolic, either. Saban has led the Tide to three of the last four BCS titles and the program hasn't given signs of retreating from regular national title contention any time soon. Battle can appreciate that level of sustained success since he spent seven mostly successful seasons as Tennessee's head coach in the 1970s and is the son of a coach and athletic director who grew up less than an hour away in Birmingham. He and Moore were part of Paul "Bear" Bryant's 1961 national championship team. "Coach Saban is important," Battle said. "What he's done in football, not many people have done in college sports. He's gotten ahead of the field. We want to be supportive as we can be to his needs and his team's needs, give him the best chance to give his players the best chance to compete as we want to do with all of our coaches. That's a critical relationship, but at the same time I want to learn from that guy. He's good. He's really good. There's a lot of lessons that he teaches in his program that could be applicable to all of our lives and certainly to our athletic department." Battle said he had only had brief conversations with Saban before sitting down with him in recent weeks. Saban called him an "outstanding choice" and then invited him to attend practice, something he noted Moore and Bryant have often done. "He's been a very successful player here, he was a very successful coach, he's been a very successful leader in the business world," Saban said. "Certainly a first-class individual who is well respected by just about everybody that you ever can meet that know him. I was able to spend a significant amount of time with Bill in this process and in my experience here at the University of Alabama over the last six years. "Even though we lost a valuable statesman for the university in Mal Moore, he will continue to be with us a part of the university. But we've also added a gentleman that is going to be a first class person and a leader in our community as well as our university and our athletic department." Battle founded Collegiate Licensing Company in 1981 and spent 21 years as president and CEO before selling the company in 2007. He said the company employed some 150 people and generated more than 1 billion in revenue for universities over 26 years. Battle said he plans to spend his first six weeks on the job on "a listening tour" learning the task of overseeing the department, a job he acknowledged is out of his comfort zone. Battle said one athletic director friend, who's not in the Southeastern Conference, said there are more cons than pros to the job. "It's a difficult job. I didn't take it to have fun," he said. "That isn't why I'm here. It's fun when you are in Miami and on the field celebrating the BCS championship. The fun is seeing people like (former Tide center) Barrett Jones and people like those merit scholars and the products of this university. But the job is never-ending and difficult." Battle inherits the program at a time when college football is preparing to switch to a four-team playoff, though he cites regular season attendance levels as evidence basketball's regular season needs a boost. He said he's a supporter of the BCS but thinks the new method of choosing football national champions will work, too. "There's nothing in the United States sports that's more important than the regular season of college football," Battle said. "That has gotten to be a whole lot less of a situation in basketball. The NCAA tournament is magnificent. It's one of the great sports tournaments in the world, but the regular season needs help. "
Original Story:
http://www.foxsportssouth.com/college...
THE BACKYARD
BEST OF MAXIM
RELATED ARTICLES
Ryan Kelly (right) with Alabama OL  Austin Sheppard at 2013 BCS title game. Alabama sophomore offensive lineman Ryan Kelly is the heir apparent to former Crimson Tide center Barrett Jones. He's being described by hie teammate, Bama left tackle Cyrus Kouandjio as being "really professional" and "really organized." Which must mean that Kelly really made...
The 2012 version of the Alabama defense was arguably one of the best ever, if not THE best. Nick Saban has made it a habit to put one of the stingiest, nastiest squads in the country on the field each fall in Tuscaloosa. And while the trophy cases keep filling up, the Tide just keep reloading. After losing quite a bit of talent following the 2011 national championship run, Alabama...
Former University of Alabama athletics director Mal Moore reportedly needs a lung transplant, according to the school's new athletics director Bill Battle. "He has a lung condition and is in need of a lung transplant," Battle told WJOX FM's "The Opening Drive." "As I understand it, he's got to build his body up to be stronger than what it was at least a week...
When Alabama Coach Mitch Gaspard was making out the Crimson Tide baseball schedule, he probably didn't expect a conflict for Bama fans who would have the opportunity to see the team at the Hoover Met. The game is on for 6:30 p.m. CDT Tuesday against Alabama-Birmingham, but there is a conflict.
ATHENS, Ga. – Alabama scored single runs in the third, fifth and eighth innings and starting pitcher Spencer Turnbull matched his career-high, throwing seven scoreless innings as the Crimson Tide defeated Georgia, 3-0, on Sunday from Foley Field and completed the Southeastern Conference road series sweep of the Bulldogs. The Tide has now won a season-high six straight games and seven of eight.
Nick Saban may have led his Crimson Tide to three championships in four years, but Yankees minor leaguer Matt Tracy scores one with his "Landshark" here.
Crimson Tide News

Delivered to your inbox

You'll also receive Yardbarker's daily Top 10, featuring the best sports stories from around the web. Customize your newsletter to get articles on your favorite sports and teams. And the best part? It's free!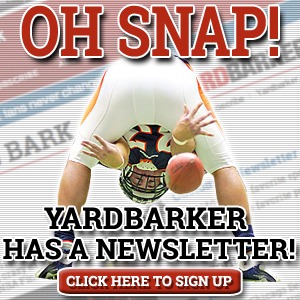 Latest Rumors
The Backyard

Today's Best Stuff

For Bloggers

Join the Yardbarker Network for more promotion, traffic, and money.

Company Info

Help

What is Yardbarker?

Yardbarker is the largest network of sports blogs and pro athlete blogs on the web. This site is the hub of the Yardbarker Network, where our editors and algorithms curate the best sports content from our network and beyond.