Found November 23, 2011 on Race Review Online:
West Virginia University and Pittsburgh will play the 104th edition of the "Backyard Brawl" on Friday; it will air on ESPN at 7pm.
This year's rendition of the "Brawl" could be the last for a number of years; the rivalry has been continuous since 1943. Both WVU athletic director Oliver Luck and Pitt athletic director Steve Pederson have both expressed the intention to renew the rivalry at some point in the future.
Over the years, there have been six breaks in the series the longest of which was just prior to the beginning of the current streak; it lasted three seasons from 1940 to 42. The five remaining breaks lasted two seasons or less.
The first meeting of the two schools was on October 26, 1895, in Morgantown; WVU won the game 8-0. Of the first six meetings, four were in Morgantown, one in Fairmont, and one in Pittsburgh with WVU boasting a 5-1 record.
After the WVU victory in 1903, the game would only be on West Virginia soil five times through the 1948 season, in those games WVU posted a 4-30-1 record. The overall series record stands at 39-61-3, how many of those 61 losses would be losses if the series had been in Morgantown more often are anybody's guess.
From 1949 through the 1961 season, the game was in Morgantown four times, with the remaining match-ups in Pittsburgh and WVU again comes out on the short end with a 5-8 record.
Since the series began alternating between Pittsburgh and Morgantown on an annual basis in 1962, WVU holds a 25-22-2 record in the series. In other words, once the playing field was even, literally, WVU has more than held their own against its greatest rival.
This year's game will mark the 50-year anniversary that the series began playing on a home and home basis. First year head coach Dana Holgorsen can add that to his list of challenges on his coaching resume in Morgantown.
Holgorsen, by his own admission, is not sure he completely understands the dynamics and importance of the "Backyard Brawl" to Mountaineer Nation. To Holgorsen, even if he will not admit it, the Pitt game represents another opportunity to hang more points on a Todd Graham coached team.
Graham, the first year head coach at Pitt, and Holgorsen have a history even if neither coach will provide insight into that history. Holgorsen, while at Oklahoma State, was still passing the football in the fourth quarter of a blowout win of Graham's Tulsa team.
Graham deflected questions at the time about the decision by Holgorsen to continue passing the football with the game well in hand. Still, it is easy to surmise behind closed doors Graham had more than a few colorful words about Holgorsen and his obvious attempt to embarrass him.
Holgorsen, while at Houston, called Graham out publicly for allegedly signaling his players to fake cramps in order to slow down Holgorsen's offense and destroy their momentum. A tactic Mountaineer Nation has seen more than once since Holgorsen took the reigns in Morgantown.
Something tells me that the Pitt players will "neglect" to hydrate their bodies prior to kick-off on Friday, causing the inevitable cramps that Graham will not signal.
If that were not enough to stoke the rivalry fires, no less than five current Pitt coaches are former coaches of WVU before Rich Rodriguez shredded his way to Ann Arbor, Michigan. One, Calvin McGee, even accused WVU of racial bias for not considering him for a head coaching position.
Holgorsen stated in his weekly interview that he was approaching the Pitt game the same as he has approached every other game this season. Any Mountaineer fan that believes Holgorsen's nonsense should immediately begin searching for ocean front property next to Rodriguez in Arizona.
As a card carrying member of Mountaineer Nation I hope that Luck and Pederson can come to an agreement on the future of the rivalry, both schools and their fans will lose something if the series is not continued.
For now, when a member of the Pitt faithful begins spewing their rhetoric about owning the series record, remind them that for the last 50-years it is WVU that owns the record. Had Pitt had the fortitude to travel to Morgantown 80 or 90 years ago that overall series record would be far different.
Since Gene Corum became the Mountaineers head coach in 1960, only one WVU headman has posted a losing record against Pitt, Frank Cignetti was 0-4. Corum was 3-3, Jim Carlen was 3-1, Bobby Bowden was 3-3, Nehlen was 11-8-2, Rodriguez was 4-3, and Stewart was 2-1 against the Panthers.
Now, does Holgorsen really want us to believe he does not care where his name is on that list?
(Statistics provided by WVUStats.com)
Original Story:
http://sports-at-work.com/20111124889...
THE BACKYARD
BEST OF MAXIM
RELATED ARTICLES
There are plenty of huge games this weekend, starting on Friday for your enjoyment.  It's Rivalry Weekend, so let's start with Missouri and Kansas meeting in the Border War, the oldest rivalry west of the Mississippi, (and maybe for the last time) in Kansas City's Arrowhead Stadium.  In bowl implication games, Oklahoma and Oklahoma State meet in their annual Bedlam game –...
Via Weekend Screencapper ParadigmShift35:  West Virginia fans flocked to watch their team play against the Panthers. You guessed it, the bro in the uniform is wearing a raccoon piece. Expect every couch in this town to get burned tonight if WVU wins. I'm sure West Virginia will do well after Dana Holgorsen has drank his 8 red bulls. Also, if  WVU wins, expect Dana to make it...
A successful 2010 season on the offensive side of the ball forced Mike Gundy to replace coordinator Dana Holgorsen, who was named, at the time, West Virginia's head coach-in-waiting. A year later, the Oklahoma State coach could find himself in the same offensive predicament. Gundy confirmed on Tuesday that Tulane has requested permission to speak…
For the final time this season, the Marshall Volleyball team will play host to the West Virginia Mountaineers for the "Golden Ball Match" in the Cam Henderson Center on Friday night at 7:00 p.m. ET.
Mountaineers News

Delivered to your inbox

You'll also receive Yardbarker's daily Top 10, featuring the best sports stories from around the web. Customize your newsletter to get articles on your favorite sports and teams. And the best part? It's free!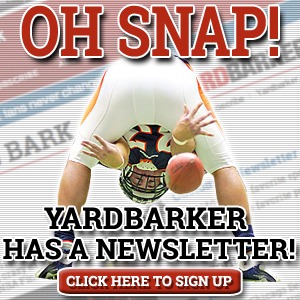 Latest Rumors
Best of Yardbarker

Today's Best Stuff

For Bloggers

Join the Yardbarker Network for more promotion, traffic, and money.

Company Info

Help

What is Yardbarker?

Yardbarker is the largest network of sports blogs and pro athlete blogs on the web. This site is the hub of the Yardbarker Network, where our editors and algorithms curate the best sports content from our network and beyond.