Found January 09, 2012 on In The Bleachers:
Tonight's the night folks as number one LSU takes on number two Alabama for the BCS Championship. There will be plenty of debate with respect to the polls should Bama wins and everything will be right if the Bayou Bengals put the Tide down in New Orleans. A lot of people have their BCS game predictions, their players to watch and all the storylines covered entering the game. We've discussed this game plenty, both with Russ Mitchell from CFN and with ESPN's Charles Arbuckle so check those shows out if you need more primer for the game.
I'll be live tweeting the game and hoping to stay out of twitter jail but I do want folks to know that if the jailing does happen I'll be at the back up account for more of the same insight. I'm pretty damn excited about this game; defensive football at its finest with plenty of great strategy to watch. A true chess match between Nick Saban-Kirby Smart and John Chavis as they look to shut down the opposition's offenses.
This is the type of stuff that I love to see. I'm a sucker for a defense capable of doing everything right. A slave to the minutia of it all with regards to changing coverages, using multiple fronts and bringing pressure from all over the place. So with that in mind I figured in addition to the livetweets and the in-game discussion I'd drop some watching hints as to what I'm going to be looking at during the game.
Given this is a truly defensive battle the list is tailored to watching the game through that lens. LSU and Alabama are so different from a defensive style standpoint but both are so very solid at what they do. Here's what I'll be watching tonight to provide a window into the game.
Second level pursuit on LSU's side to side running plays
The most notable play here is the option which LSU has used quite effectively since the return of Jordan Jefferson to the fold. His minutes picked up and after winning the first meeting for LSU he is, without a doubt, the Tigers' quarterback. I guess Les Miles was smarter than a lot of people gave him credit for being when he decided to keep the senior on.
The side to side speed running game is not a way to make a living against Alabama, this defense is remarkably disciplined and they set the edge very well. But, in spots, the speed option or quick toss will be effective in a run diet that is based around LSU's lead-iso heavy run game. Alabama's interior linebackers are tasked with fast flow to the football on these type plays while LSU is looking to out sprint them to turn the corner and get blockers to the second level.
Slow diagnosis and Ford or Jefferson can hit the corner and get upfield. Linemen getting body on linebackers also allows for the backs to get up field. Blockers getting to the second level causes problems for Bama and while no team is going to consistently beat the Tides' front to reach the next level all it takes is a couple successful plays to change field position or get a touchdown on the strength of a big play.
So as we're watching this tonight look for the pursuit from the linebacker position. They have to shed blocks and get to the corners quickly to stop LSU from getting positive yardage out of the sprint plays.

Bama's use of man vs zone coverages
Alabama is a defense that, aside from their outstanding discipline, is known for their ability to play multiple coverages in the back end. The mix man and zone coverages to confuse offenses, make quarterbacks make mistakes and ultimately snuff out a team's pass attack. Here is where LSU's use of Jordan Jefferson causes a problem for the Tide; 11-man football makes it a "pick your poison" situation.
Play zone, keep eyes on the quarterback and allow receivers to find holes and windows for the quarterback to hit them. Play man and have your back end with their backs to the quarterback allowing for a run threat like Jefferson to have a shot to avoid the rush and run for positive yards before the secondary even realizes the quarterback is loose.
Sure you can spy the quarterback but that either eliminates a dedicated rush man OR removes someone from the underneath coverage. Both of those ruin the integrity of the pass coverage. No hole man in the underneath coverage means Jefferson can hit the crossers in the intermediate zone. No added man to the rush means Jefferson has all day to sit in the pocket against a 3 or 4 man rush from Alabama.
How Bama mixes their coverage and when they decide to sit back vs attack will tell the story of how Jefferson is able to attack the Tide's defense.

LSU's respect for AJ McCarron and Bama's receivers
In the first meeting AJ McCarron was absolutely ineffective in stretching the field against LSU. The Bayou Bengals have the nation's best secondary. They, like Alabama, mix man and zone coverage almost seamlessly. Unlike Alabama this LSU team is not tasked with worrying about a quarterback run threat. Hell, they are not even tasked with worrying about a legitimate big time wide receiving threat.
What that all translates into is not a lot of reasons to respect Alabama's throwing game. Look for LSU to load up the box, put as many bodies near the line of scrimmage as possible to stop Trent Richardson from being productive. Until McCarron forces them out of it look for Chavis' group to be up close and personal with the Bama receivers and dare the sophomore quarterback to take a chance on them.

Defensive lines winning the line of scrimmage
Both teams have a strength up front where their defensive fronts are concerned. For Alabama their strength is in there, well strength, not being pushed off the point, controlling the offensive linemen and allowing their linebackers to flow to the football. When Bama's defense is on the field they will be winning when their front three are stopping LSU's offensive line from getting up the field and attacking the second level. This unit is about dominating your team with power and letting the backers all get loose to abuse your ball carriers.
For LSU the strength comes from their speed and their depth. LSU has no interest in playing fair with Alabama's offensive line, that's a battle they will lose 10 of 10 times. Letting the big ol' Bama boys lean on them and root them out of position is a recipe for Trent Richardson putting up big yards and ultimately LSU losing the ball game. LSU wins the line of scrimmage if they can whip you with their speed. LSU plays on the opposition's side of the line of scrimmage, they get penetration through slanting, ripping and swimming. They want to disrupt the mesh point and force the issue.
Both units are great at what they do and as long as each of them consistently wins in their own way we are primed for a defensive battle. As the game wears on let's see who can keep it up on each possession. Also, look for LSU to lose the line of scrimmage a few times then bring in a fresh crop of linemen who are hungry for action. That's the beauty of depth.

Tackling
Ah, tackling. I wrote about this last week as we saw just disgusting tackling practices from so many teams through this season. Well tonight we get to see the best in the business show you how it is supposed to be done. We will get to see good tackling and good pre-tackle approaches. If tackles are missed we'll see some big plays and that just isn't what these defenses are about. Look for guys to come to balance, run their feet and finish tackles; something we haven't seen a lot of in the scorefest games folks have been slobbering over.

Original Story:
http://www.inthebleachers.net/2012-ar...
THE BACKYARD
BEST OF MAXIM
RELATED ARTICLES
Jordan Jefferson's season started with trouble off the field and ended with trouble on it. ''It feels like a nightmare, but it's a learning experience,'' Jefferson said after LSU's 21-0 loss in Monday night's BCS title game. ''I'm facing reality. LSU finished second today. We all have to take the situation and learn from it, but still...
One more victory in the final game of his career could have made Jordan Jefferson the toast of Baton Rouge. Instead, he heard boos in a bitter ending to what he'd hoped would be a story of personal vindication after an early season defined by trouble with the law and a four-game suspension. His most memorable play was an unfathomable interception in a 21-0 loss to Alabama ...
Jordan Jefferson remembers nearly every second of the last time he played in the Superdome. He was the starting quarterback for Destrehan High School, and like so many kids growing up in Louisiana, was awed to be playing in New Orleans' football palace. By the end of the night, he'd led his school to its first state championship in 34 years. ''I've been in the...
Jordan Jefferson was awful in Monday's BCS National Championship. The LSU quarterback threw for only 53 yards on 11-of-17 passing with one interception. This wonderful GIF pretty much tells you the whole story, as Alabama shutout the Tigers, 21-0. Despite Jefferson's struggles against an overwhelmingly impressive Bama defense, LSU coach Les Miles kept back-up Jarrett Lee, who...
Quarterback: Alabama When LSU was relying on both Jarrett Lee and Jordan Jefferson in the middle of the season, the Tigers had an edge over a lot of teams because they were operating with a rare two-quarterback system that worked well because of the different elements the two brought to the table. Now that situation has changed and Jeffersons struggles against Georgia in the SEC...
LSU players are already starting to ponder their place in college football history. Quarterback Jordan Jefferson says if the top-ranked Tigers can beat No. 2 Alabama on Monday night "I think we will go down as the greatest team." Guard Will Blackwell and tailback Michael Ford were a little less bold, but think LSU would have a case.
In any given football game, especially a game that isn't going the way the fans would like, the most popular guy in the stadium is the backup quarterback. Such was the case during tonight's BCS Championship Game, as LSU's Jordan Jefferson stumbled through series after excruciating series while backup Jarrett Lee sat on the bench watching the Tigers offense overrun by...
If you had Alabama winning the BCS National Championship game Monday night, I'm pretty sure you did not have them winning so decisively.  Nor did you really think the Tide's outstanding running back Trent Richardson would gain more yards (96) than the entire LSU offense (92). Finally...after nearly two complete games against each other, Alabama's Trent Richardson scored...
College Football News

Delivered to your inbox

You'll also receive Yardbarker's daily Top 10, featuring the best sports stories from around the web. Customize your newsletter to get articles on your favorite sports and teams. And the best part? It's free!
THE COLLEGE FOOTBALL HOT 10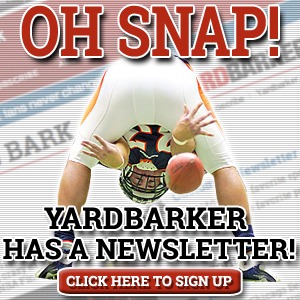 Latest Rumors
The Backyard

Today's Best Stuff

For Bloggers

Join the Yardbarker Network for more promotion, traffic, and money.

Company Info

Help

What is Yardbarker?

Yardbarker is the largest network of sports blogs and pro athlete blogs on the web. This site is the hub of the Yardbarker Network, where our editors and algorithms curate the best sports content from our network and beyond.