Found September 21, 2012 on College Football Zealots:
Over the last few years, Chris Petersen and the Boise State Broncos have built up their reputation for tough defenses and efficient offenses. On Thursday night, their defense looked good but their offense was far from efficient. Petersen has also built up a reputation for being one of the top coaches in college football but today it was his opponent who simply out coached himself.
No matter which team you cheer or if you were an impartial observer, this was an ugly football game. Boise State's only score came on a third quarter interception return for a TD. BYU's starting QB, Riley Nelson, went 4 of 9 for 19 yards and 3 INTs.
The turning point in the game came when BYU pulled Nelson and went with freshman Taysom Hill. With their backs against the wall, Hill led BYU from their own five yard-line on an eleven play drive that lasted 4:26 and ended up in the Broncos endzone after a gutsy TD run by Hill. After having five drives end in turnovers and six in punts, BYU was within one point of tying this game. With momentum on his side, BYU coach Bronco Mendenhall rolled the dice and went for the two-point conversion. The conversion was doomed from the start as the Broncos got penetration and Hill threw an off-balance wobbler that fell short of his receiver in the end zone.
Some say you play to win on the road and Bronco felt he had the momentum but he made the wrong decision. Boise State had already missed a field goal earlier in the game and had shown a lack of confidence in their kicker. The Broncos also had zero offensive points for the game. It was more likely that BYU would stop Boise State from scoring in regulation than it was for them to get the football back if they missed the two point conversion. The momentum had clearly shifted to the BYU side of the field and if the game went into OT they have had a much better shot at winning based on the teams second half performances.
Hindsight is 20/20 but in this particularly situation Bronco should have taken the easy points and rode the momentum into OT. Just because it's a gutsy call, doesn't mean it's the right one. BYU now heads into it's next match-up at 2-2 with their losses coming by a total of four points. Boise State on the other hand, is 2-1 but looks like a clearly different team than they've been in years past.
[follow]
Original Story:
http://www.collegefootballzealots.com...
THE BACKYARD
BEST OF MAXIM
RELATED ARTICLES
Boise State and Brigham Young have only met twice before, and it's been eight years since the last matchup. But both teams are about to get to know each other a little better. When the Cougars visit No. 24 Boise State (1-1) Thursday night, it will mark the first of a dozen games scheduled between the two programs over the next 12 years. While fans may be enthused about a burgeoning...
There is no nice way to put it: Unless you have a fetish for solid defensive football and offensive ineptitude otherwise, the first 57 minutes or so of Thursday night's showdown between BYU and Boise were a little bit boring. Ok, a "little bit" boring is a bit of an understatement. The first 57 minutes were awful. They were painful. They turned normally rational men...
My whole life I have been involved in sports. I have experienced heart breaking losses and the euphoria of winning the big games.  I am now in my senior year at BYU and am in my final season of eligibility to compete on the track team. It is a somewhat surreal feeling, but the things I have learned from playing a sport for such a great university have been life changing. One of...
This is a Sponsored post written by me on behalf of Nectresse™ Sweetener for SocialSpark. All opinions are 100% mine. Boise State and BYU played a stingy defensive battle Thursday night that many would have been wise to turn off and head to bed early, but Boise State defensive tackle Mike Atkinson's 36-yard interception return for a touchown was all the Broncos would need...
When Riley Nelson and the Cougar offense step out onto the field Thursday night, they'll see a Boise State defense similar to what TCU runs. After a bad game against rival Utah, the Cougar offense will look to right the ship in hopes of preventing a second straight loss in less than a week.
How can you tell the defense was dominant for both teams, a touchdown by a nose guard was the difference in the game. Early in the third quarter Boise State nose guard Mike Atkinson intercepted a Riley Nelson pass and took to the distance 36 yards for the Broncos only touchdown.  Atkinson did a little free lancing to get the pick six. "I wasn't really supposed...
On Thursday the Cougar defense will face a relentless Boise State offense at Bronco Stadium. The crowd will be loud as the Cougars take to the blue turf to defend against a balanced run and passing attack.
Brigham Young Cougar fans said Jamaal Williams should have been the starting running back against Boise State. In a closely contested race, the "Yes" votes edged out the "No" votes by a 48% to 43% margin. The other 9% of voters were undecided. My vote is "Yes." I have seen enough. If you follow the site closely, you know I was skeptical of Michael Alisa...
Against the Broncos, Bronco Mendenhall made one of the dumbest coaching moves of the year in the BYU vs. Boise State football game Thursday night. Offensively, BYU was terrible all night. The Cougars gained 95 yards on their last drive of the game, and that was equal to what they gained the whole rest of the game. They turned the ball over 5 times in the game. The starting quarterback...
Broncos News

Delivered to your inbox

You'll also receive Yardbarker's daily Top 10, featuring the best sports stories from around the web. Customize your newsletter to get articles on your favorite sports and teams. And the best part? It's free!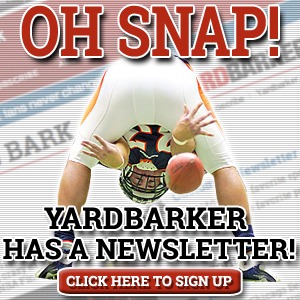 Latest Rumors
Best of Yardbarker

Today's Best Stuff

For Bloggers

Join the Yardbarker Network for more promotion, traffic, and money.

Company Info

Help

What is Yardbarker?

Yardbarker is the largest network of sports blogs and pro athlete blogs on the web. This site is the hub of the Yardbarker Network, where our editors and algorithms curate the best sports content from our network and beyond.