Found November 12, 2012 on isportsweb.com:
  The Alabama Crimson Tide and the Louisville Cardinals saw their perfect seasons come to an end in week 11 (Photos: Getty) Tailgater Top 25 Rankings, Week 11 From six to four.  Alabama's defeat at the hands of Texas A&M was the most resounding loss of the weekend, but Louisville also tumbled from the ranks of the unbeaten.  Now Kansas State, Oregon, Notre Dame, and Ohio State are the only unbeatens left standing. It's possible that all could finish with perfect records.  That is to say that none of them play one another.  However, with the way the Irish have looked of late, it's tough to imagine them getting past USC.  Oregon and K-State have clearer paths, although Texas is playing better and could be a problem for the Wildcats.  The Ducks have a fairly tough road on paper, with Standford, Oregon State, and most likely UCLA all looming.  But none of those is a real threat unless Oregon forgets itself. Meanwhile, not much changes in the SEC despite A&M's upset.  Alabama still controls the West and is still likely to play Georgia for the SEC title.  Alabama is therefore still a good bet to go to the BCS, but will its role be Sugar Bowl contestant rather than title contender?  That remains to be seen. Here are our updated college football rankings for week 11. Zach Bigalke John Mitchell Matt Strobl 1. Kansas State 2. Oregon 3. Notre Dame 4. Ohio State 5. Alabama 6. Georgia 7. Texas A&M 8. Florida State 9. Clemson 10. Louisiana Tech 11. Stanford 12. Kent State 13. Florida 14. Oregon State 15. Rutgers 16. Louisville 17. Northern Illinois 18. UCLA 19. Oklahoma 20. Nebraska 21. LSU 22. Texas 23. Boise State 24. Utah State 25. USC 1. Oregon 2. Kansas State 3. Notre Dame 4. Ohio State 5. Alabama 6. Georgia 7. Florida State 8. Florida 9. LSU 10. Texas A&M 11. Clemson 12. South Carolina 13. Stanford 14. Oklahoma 15. Louisiana Tech 16. UCLA 17. Nebraska 18. Texas 19. Oregon State 20. Louisville 21. Kent State 22. Rutgers 23. Northern Illinois 24. USC 25. Wisconsin 1. Kansas State 2. Oregon 3. Ohio State 4. Alabama 5. Notre Dame 6. Georgia 7. Clemson 8. LSU 9. Texas A&M 10. Florida 11. Florida State 12. Oklahoma 13. South Carolina 14. Louisiana Tech 15. Texas 16. Stanford 17 Oregon State 18. UCLA 19. Nebraska 20. Kent State 21. Rutgers 22. Louisville 23. Oklahoma State 24. USC 25. Northern Illinois  Bigalke: 1-10: My top two, unlike most people's ballots, doesn't change this week after I preemptively felt the need to drop Alabama from the top spot. K-State remains #1 after a 23-10 win over TCU, Oregon stays #2 after routing Cal, and moving up to #3 is Notre Dame following their defeat of Boston College. Ohio State sits #4, with the Tide slotting in at #5 after losing to Texas A&M. Georgia and the Aggies follow, a trifecta of strong SEC teams (as opposed to the six-pack the BCS will try to tell you belongs there). 8 and 9 belong to ACC talents Florida State and Clemson, while the top ten sees BCS Buster hopeful Louisiana Tech benefit both from A&M's victory (LT's only loss came 59-57 vs. A&M in Shreveport) as well as losses above them. 11-20: Stanford won a punchers' duel over the Beavers and hover just outside top ten. After seeing Florida play Ragin' Cajuns, could they really knock off Kent State? Thus the Golden Flashes sit ahead of the Gators, who are #13. Oregon State drops in defeat to 14th, Rutgers joins the top 15 and Louisville (no longer undefeated) drops just below their Big East rival. Northern Illinois continues to impress, UCLA remains in position to earn a return trip to the Pac-12 Championship in legitimate fashion, and former Big Eight rivals Oklahoma and Nebraska have become top 20 teams as much because of defeats above them as anything noteworthy they have done.   21-25: LSU heads the final five, sitting just ahead of the Longhorns; these two teams could potentially square off in the "Cotton Bowl" Classic (now played at JerryWorld) in January. At #23 is everyone's former favorite to bust the BCS, Boise State, who crushed Hawaii in Honolulu. Utah State remains in position to challenge Louisiana Tech for the final WAC title. And in the final spot of my ballot, I debated two different USCs before settling on the Pac-12 version.   Mitchell: 1-10: A shakeup this week with Alabama's upset loss to Texas A&M. Oregon is the new #1 team as they continue to maul everyone in sight despite numerous injury issues against California. Kansas State slides in at 2, followed by fellow unbeatens Notre Dame and Ohio State. The Crimson Tide drop to 5 as the best one-loss team. Georgia is at 6 after clinching the SEC East. Alabama/Georgia in the SEC Title game could easily turn into a play-in game with a little help. Florida State leaps rival Florida after the Gators looked quite average against Louisiana Lafayette. LSU and Texas A&M round out the Top-10 to give the SEC half the Top-10. 11-20: Clemson sits on the outside looking in of the Top-10. The fact is, the Tigers have played one legitimate opponent this season and they lost. South Carolina makes it six out of the top twelve for the SEC. Stanford moves up to 13th after an impressive win over Oregon State. Oklahoma struggled more with Baylor than I expected, but they still appear to be the second best team in the Big 12. Louisiana Tech is the best of the non-AQ's, and their close loss to Texas A&M looks better with each passing week. UCLA and Nebraska at 16 and 17 with the Bruins edging the Huskers thanks to their head-to-head victory. Texas is getting better each week, and they could provide a big test for Kansas State on December 1st. Oregon State drops to 19th after their second loss, and Louisville falls all the way to 20th after getting throttled by Syracuse for their first loss of the season. 21-25: Kent State only has one loss, but that one was a 33 point blowout at the hands of SEC bottom feeder Kentucky. Rutgers slots in right behind the Golden Flashes with their one loss coming against Kent State. Northern Illinois holds steady after a bye week. USC jumps back into the Top-25 after beating down Arizona State. USC's showdown with rival UCLA next week will decide the Pac-12 South. Wisconsin effectively clinched the Big Ten's Leaders Division in their 62-14 thumping of Indiana. The Badgers are finally looking like themselves again.  Strobl: 1-10: With Alabama's loss the top 5 undergoes a shake-up, although I'm not giving the one most fans expect.  Kansas State and Oregon are now in the driver's seat as far as the National Championship goes, but if last year taught us anything its that one loss in the SEC doesn't preclude a title shot.  I'm aware that putting Alabama in front of Notre Dame will ruffle some feathers, but despite Notre Dame's "undefeated" record, Alabama has been the better team with the better body of work.  The fact is that the Irish did nothing to win against Pitt and did everything to lose; the outcome was entirely out of their hands, and only an astounding bit of good fortune saved them from what would have been the worst loss of any suffered by any of the major one-loss teams.  Going over their season game by game, Notre Dame could easily have three losses right now, but for a play or two.  And in several cases, they needed external intervention to escape.  So, no.  Notre Dame, even at 10-0, is not one of my top four teams.  The rest of the best in the SEC populate the remainder of the top 10 with Clemson rising to the top of the one-loss group courtesy of Florida State's close call (yes, another one) against a vastly inferior Virginia Tech team.  Florida hangs on to the tenth spot, but that was simply a process of elimination, not an acknowledgement of anything good that the Gators have done lately.    11-20: The other top two-loss teams hold steady here, along with Louisiana Tech and Kent State.  There's not much to say about this order; unless and until some other teams lose, it will be difficult for these guys to move up.  We have a logjam just behind the elite.   21-25: I was tempted to drop Louisville entirely after its putrid showing against Syracuse, but that would have been punitive.  At least the Cardinals are no longer overrated.  Rutgers gets the nod in the Big East by virtue of the better loss, but these two play one another to end the season.  It's too bad that matchup isn't sooner.  That would allow me to drop one of them from the top 25.  Oklahoma State and USC, arguably the top three-loss teams, are still lurking at the fringes.
Original Story:
http://feedproxy.google.com/~r/isport...
THE BACKYARD
BEST OF MAXIM
RELATED ARTICLES
On a college football weekend when everyone was talking about a redshirt freshman quarterback named "Johnny Football" they also should have been talking about a redshirt freshman quarterback known as "The Flyin' Hawaiian.""Johnny Football," also known as Johnny Manziel, led Texas A&M to a shocking victory over No. 1 ranked Alabama 29-24. Manziel...
In a blink of an eye, Marcus Mariota and Oregon turned a tight game into another blowout that could have the Ducks in position to move into the top spot in the country. Mariota threw the third of his school record-tying six touchdown passes on the first play after an interception to break open what had been a close game and help Oregon make its case for the top ranking in the country...
Projections for rankings beginning week 12:Projected BCS Top Five Kansas State Oregon Notre Dame Georgia Texas A&M* *On the BCS and Coaches Poll top five bubble: Texas A&M, Alabama, Florida, and LSU. Projected USA Today Coaches Poll Top Four Oregon Kansas State Notre Dame Georgia Projected AP Top Five Oregon Kansas State Notre Dame Georgia Ohio State ...
Ducks vs Bears Love 'em Hate 'em Style This was not the prettiest game to watch if you are an Oregon Ducks fan; well, at least in the first half. Heading into California the Ducks knew they would be hitting the road with a depleted roster, especially on the defensive side of the ball. With players like Dion Jordan and Ricky Heimuli sidelined with injuries, the Ducks struggled...
The Innovator There are many words that can be used to describe Oregon football Head Coach Chip Kelly; from offensive guru, stern, respectable, crisp, and risky to just about anything you could think of, ways to describe the fourth-year coach are virtually endless. But, for all of those great descriptions of Kelly, the word that really fits his true demeanor is innovator. It is no...
The Oregon Ducks rarely, if ever, talk about injuries - even season-ending ones. So it's hard to say how depleted the AP's No. 1 team is going into Saturday's game against No. 14 Stanford. But it's clear the Ducks have taken a hit, especially on defense. The latest casualty is free safety Avery Patterson, who seriously injured his left knee in the second quarter...
Freshman defensive tackle Alex Balducci played in his first collegiate game when Oregon defeated California 59-17 on Saturday, Nov. 10, 2012 at Memorial Stadium in Berkeley California.
Freshman defensive lineman DeForest Buckner discusses his first career start as Oregon defeats Cal, 59-17. Buckner was credited with three solo tackles and an assist.
Heading into Saturday night's game at Memorial Stadium, the California Golden Bears made it their mission to try and shut down the vaunted Oregon Ducks running game. Sometimes, you have to be careful of what you wish for. Johnny "Football" Manziel from Texas A&M is not the only stud freshman quarterback this year, as Marcus Mariota of Oregon played a key part in the...
BERKELEY, CALIF., -- The Oregon Ducks hold a 24-10 at halftime over the California Golden Bears. The Ducks survived a big scare near the end of the second quarter when quarterback Marcus Mariota went to the bench with what appeared to be a wrist injury. However, the red-shirt freshman signal caller came back in to lead a 69-yard yard drive for a touchdown hitting Josh Huff on a 10-yard score.
The California Golden Bears hung in there against the powerful Oregon Ducks offense for two and a half quarters. Underdogs were playing inspired football across the country on Saturday, especially #15 Texas A&M who handed the #1 Alabama Crimson Tide their first loss of the year, 29-24.In fact, the Bears stayed in the game until a key third down and nine with 6:20 to go in the...
Trap Game? Not so much. Week 11's contest against the California Golden Bears has been looked at as a trap game all season long for the Oregon Ducks. Coming off a big win against the USC Trojans, the fear was that the Ducks would be looking ahead to tougher competition, and that they just might struggle in a place that has historically not been kind to them over the past few seasons...
Ducks News

Delivered to your inbox

You'll also receive Yardbarker's daily Top 10, featuring the best sports stories from around the web. Customize your newsletter to get articles on your favorite sports and teams. And the best part? It's free!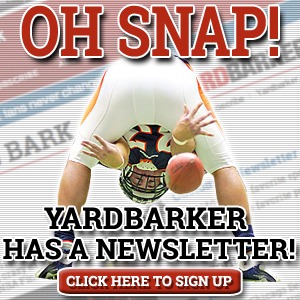 Latest Rumors
Best of Yardbarker

Today's Best Stuff

For Bloggers

Join the Yardbarker Network for more promotion, traffic, and money.

Company Info

Help

What is Yardbarker?

Yardbarker is the largest network of sports blogs and pro athlete blogs on the web. This site is the hub of the Yardbarker Network, where our editors and algorithms curate the best sports content from our network and beyond.