Posted January 10, 2012 on AP on Fox
(Eds: With AP Photos.) By TIM DAHLBERG AP Sports Columnist The game, Nick Saban insisted rather testily the day before, was never about him. Said it wouldn't define him as a person or as a coach, no matter what happened on the field. Sure felt a lot like it Monday night. Two national titles in three years? Saban can check that one off his list of unfinished tasks. Coach a defense so smothering it pitched the first shutout ever in a national title game? Put a check beside that one, too. Winning an unprecedented three BCS titles? Yeah, that, too. And how about beating the coach who took over for him when he left LSU? No matter what Saban says publicly - and it's never much - that had to be the sweetest part of the whole night. There is an undisputed king among coaches in the undisputed king of all conferences. He wears Alabama red, and if this continues, `Bama fans will be talking about him in the same breath as the great Bear Bryant. Sorry Nick, but on this night the game was all about you. Not the kicker who somehow managed to get five field goals through the uprights. Not the defense that stopped LSU at every turn and didn't allow the Tigers to get past midfield until midway through the final quarter. Just the coach with the sour disposition who starts his day watching the Weather Channel with his wife for 30 minutes. He built a powerhouse at LSU, only to take a misguided trip into the NFL. He returned to restore Alabama to what most Crimson Tide fans believe is its rightful place in college football's hierarchy. And after beating LSU 21-0, he actually smiled. ''It really isn't about me,'' Saban insisted once again. ''It's a lot more than that.'' In a game that had all the drama of a junior high scrimmage, Alabama was clearly the best team on the field and Saban was the best coach on the sidelines. He gambled early with a fake field goal, had his quarterback throwing deep on first down, and left the rest to a defense that allowed LSU only 92 yards the whole night. By the time it finally came to an end, half a stadium of LSU fans had somehow disappeared into the New Orleans night. The other half belonged to Alabama, and they stayed and cheered their coach as he accepted the national championship trophy once again. There was plenty to cheer about for a team that handled an undefeated and No. 1-ranked school as if it was an also-ran in the Mountain West Conference. Maybe that's why LSU coach Les Miles looked like he had just been leveled by the Honey Badger himself. ''I told my team I did not see it coming, and that's my fault,'' Miles said. Some of that may have been because one team - make that one coach - used the long break between games to make the right adjustments. The other didn't, and that's why Miles fell short in his personal quest for a second BCS title. ''The goal today was you control your destiny. You control what you do,'' Saban said. The game figured all along to be a defensive struggle between two teams that failed to score a touchdown when LSU beat Alabama 9-6 in overtime in November. And it was, though Alabama ended up with 384 yards and more points than seemed possible. Credit some of that to coaching psychology. The night before, Saban took the team to see ''Red Tails,'' the movie about the Tuskegee Airmen, an all-black World War II fighter pilot squad from Alabama whose motto was to fight until the last bullet and last man. It's a tale that translates well to the football field. And it particularly resonated with the Alabama team. ''We certainly didn't play a perfect game. We got a field goal blocked, and we couldn't score a touchdown for a long time,'' Saban said. ''(But) never once was anyone discouraged by what happened in the game.'' There wasn't much to be discouraged about, other than the fact LSU's Australian punter, Brad Wing, kept pinning Alabama deep in its own territory. That, maybe, and the fact the Tide didn't score a touchdown in nearly two full games before Trent Richardson went 34 yards up the sideline with 4:36 left to put a bow on a game that had already long been decided. Afterward, Saban was asked if his many accomplishments would have made his late father proud. ''I think my father would be proud of the players, that's what I think,'' Saban said. Probably proud, too, that his son refused to make it all about him. ---- Tim Dahlberg is a national sports columnist for The Associated Press. Write to him at tdahlberg(at)ap.org or follow at http://twitter.com/timdahlberg
Original Story:
http://msn.foxsports.com/cfb/story/Co...
THE BACKYARD
BEST OF MAXIM
RELATED ARTICLES
Alabama coach Nick Saban might have enjoyed this national championship a little bit more. Certainly, the celebratory dousing was more to his liking. Saban said Tuesday morning that this Crimson Tide team was special in its commitment to winning. Alabama polished off a 12-1 season with a 21-0 win over LSU on Monday night for its second title in three seasons. The straight-laced...
BRANCHING OUT
Harvey Updyke, the Alabama fan accused of poisoning the oak trees on Auburn's campus, was spotted on Bourbon Street on Sunday night.
CHAMPIONSHIP CHIRPS
In a rematch between LSU and Alabama for the BCS Championship, it was another low-scoring affair that mirrored their first regular season matchup in Tuscaloosa where the Les Miles-led Tigers beat Nick Saban and the Crimson Tide 9-6. The defenses for both teams, stacked with NFL talent, dominated the game once again making the kickers a crucial...Read the Rest...
Alabama head coach Nick Saban scheduled a 6:00 a.m. celebration today for his team so they could enjoy their BCS championship before offseason workouts were to begin promptly at 6:08 a.m. "Attenda...
video platformvideo managementvideo solutionsvideo player Nick Saban's boys, Alabama, and Les Miles' boys, LSU, will play on Monday for the BCS championship in a much-anticipated rematch of the overtime slugfest held in Tuscaloosa. The game will be broadcast at 8:30 p.m. ET on ESPN. Monday. More Information
Defense may win championships, but NOT TV ratings. Alabama's national championship win drew the lowest television ratings in the BCS' 14-year history. An overnight rating of 13.8. That was a dip from the previous all-time low, a 14.3 rating set in 2002 by Miami and Nebraska. Now can we finally get our playoff system or a +1 or something? PLEASE BCS PLEASE? ...
Finally, after days and days of talk about absolutely nothing new, the game that will explode minds and possibly actual heads is upon us. And, as is customary with nearly every game, but always the big games, everyone and their brother are throwing out a score prediction, which means you'll be hearing from the one lucky bastard who manages to nail it exactly (he or she should...
Send me some of that cas$ Nicholas. (Image: Hipple) I'll leave discussion of parallels between the SECCG and the BCSCG and how things could have gone differently for Georgia to Blutarsky (and believe me, Nick Saban should send the number to his hair guy and part of his bonus check to Mark Richt for Georgia's first half game plan against LSU), but I have to question the LSU...
College Football News

Delivered to your inbox

You'll also receive Yardbarker's daily Top 10, featuring the best sports stories from around the web. Customize your newsletter to get articles on your favorite sports and teams. And the best part? It's free!
THE COLLEGE FOOTBALL HOT 10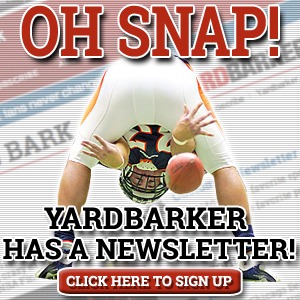 Latest Rumors
The Backyard

Today's Best Stuff

For Bloggers

Join the Yardbarker Network for more promotion, traffic, and money.

Company Info

Help

What is Yardbarker?

Yardbarker is the largest network of sports blogs and pro athlete blogs on the web. This site is the hub of the Yardbarker Network, where our editors and algorithms curate the best sports content from our network and beyond.