Found July 19, 2012 on Sports Blog Net:
There has been a lot of discussion about what the NCAA should do about the tragic situation that happened at Penn State University. Years and years of child sex crimes committed by former football coach Jerry Sandusky and the alleged cover up of those crimes by former head coach Joe Paterno (among others) have rocked an institution once known for nothing but good things. Some people think Penn State should get the "death penalty" from the NCAA, which means the football program would be shut down for a while. Personally, I don't think the death penalty would make things any better. In fact, it would make an already volatile situation worse in my opinion. Let's start with the obvious things. Remember that we're talking about the NCAA here. They aren't used to dealing with child sex crimes. They deal with things such as improper dealings with an agent and recruiting violations. Even when dealing with those things, they take forever to come up with a punishment that fits the crime. Look at how long it took for them to lay the hammer down on USC for the violations committed by former football star Reggie Bush and former basketball standout O.J. Mayo. That was an investigation that took about four years to finally lay a punishment down. How long do you think it would take for them to investigate this tragic mess at Penn State? This situation just isn't what the NCAA deals with. We're talking about FBI stuff here. I think we would be talking about years before the NCAA would be done conducting their investigation on things, especially when you consider all of the lawsuits that will be coming from the fallout of all this. The Penn State situation goes way beyond anything that would be in the NCAA's jurisdiction. With all of that said, we all know the NCAA will eventually conduct their own investigation. So let's say for the sake of argument that the death penalty does come down on Penn State. This wouldn't solve anything because all of the people who had anything to do with this tragic situation should have been removed from the school altogether. Paterno was fired and later died. Sandusky will be prison for the rest of his life. The athletic director, Tim Curely, and president, Graham Spanier, have also been removed from their positions and are awaiting separate trials. I also feel some of the people from the PSU Board of Trustees will get removed as well. It's hard to imagine none of those board members didn't know what was going on with this situation. Here's another reason why the death penalty would not work. There are a lot of student athletes who had absolutely nothing to do with this mess. These same students are doing the right things, excelling in both the classroom and their respective sport. If the death penalty comes down on Penn State, you're punishing all of those students that had absolutely nothing to do with this situation. I don't feel it's right that people who had nothing to do with a crime should get punished just because they're students in that school. To sum everything up, the NCAA has their hands tied with this situation. Any punishment that comes down on Penn State from the NCAA after this point is overkill in my eyes. I believe this university has suffered a lot in the last few months and more suffering is coming. From here on out the Sandusky crimes is what we will associate Penn State with. That in itself is suffering that may not go away for the rest of most of our lives. By Charles Taylor
Original Story:
http://bestkeptsecret.sportsblognet.c...
THE BACKYARD
BEST OF MAXIM
RELATED ARTICLES
GOOD LUCK
Grambling has requested that the NCAA vacate some of Paterno's victories so that Grambling coach Eddie Robinson would return to being college's winningest coach.
The fate of the Joe Paterno statue outside of Beaver Stadium has been at the center of a firestorm of debate since last week's release of the Freeh Report. Now the person responsible for creating the statue has weighed in. Angelo Di Maria sculpted the seven-foot, 900-pound bronze statue, which was unveiled in 2001, and has mixed feelings on what should become of his work. "I...
Here is yet another entry for the "Bad groom's cake" department. This was one comes from Darren Rovell's twitter feed. And this one might just be the winner: A Joe Paterno groom's cake. It's hard to tell which if the worst idea here is the actual concept of a Paterno Cake. The fact it exists, or that Paterno looks like a Muppet. Luckily, this...
Penn State's president is methodically seeking input from trustees, alumni and other constituencies about the fate of the Joe Paterno statue outside the football stadium. The monument has becoming a lightning rod since the release of an investigative report claiming the Hall of Fame football coach concealed child sex abuse allegations against Jerry Sandusky more than a decade...
You'll notice a lack of posts on here about Joe Paterno and Jerry Sandusky of the Penn State Nittany Lions. Not something I like talking about. It's nothing you can make a joke about without being a pretty terrible person. Well, someone decided to make a cake for their Groom's wedding rehearsal and it has gone viral. Not to make a statement on Joe Paterno because Everyday...
After former Penn State coach Joe Paterno passed away in January, cartoonist Rob Tornoe drew a cartoon of Bear Bryant welcoming Paterno into the pearly gates. Fast forward seven months later, Tornoe updated his cartoon and this time it was less heartfelt. Much less heartfelt. Tornoe also wrote, "Like Sandusky in prison, Paterno is now in a place that knows how to deal...
If you have a radio or a TV you know the big dilemma is about JoePa, moreover, the conundrum his standing statue in Happy Valley, PA presents. "Leave it up," and "take it down," each have their camp. I have listened to their supporting logic. No matter where we stand, we understand both arguments. Sure, we may not agree, but we understand. After careful consideration...
Over the weekend, after all the sordid details had come out on Penn State, after the Freeh report had been released, and as new information emerged that continued to paint an unflattering picture of the person that was Joe Paterno, my friend Matt (Yes, this Matt. What can I say, he's an inquisitive guy) asked me a simple question on the whole situation. That question: Should the...
Reporters were barred from using a hotel restroom while Alabama head football coach Nick Saban relieved himself during a break in the action at SEC Media Days. The Birmingham News reports that a short line formed outside the restroom while Saban was inside with University of Alabama athletic relations coordinator Cedric Burns. Two security officials reportedly blocked the line...
Missouri coach Gary Pinkel says he thinks it is ''wrong'' to place sole blame for the Penn State tragedy on former coach Joe Paterno. Talking with reporters at Southeastern Conference Media Days on Tuesday, Pinkel was quoted as saying ''you can't take away the greatness of this man. He was a great man, and you can't, however you analyze this, all...
DETROIT -- It's time for Penn State to step up. The national debate has been whether the NCAA should give the Nittany Lions the death penalty in the wake of the Jerry Sandusky cover-up, or if it should be the Big Ten that swings the hammer. Neither one of them should get involved. This isn't about recruiting violations or athletes getting illegal benefits. That's where...
Penn State University's former president is dropping a lawsuit that sought the release of his university emails involving convicted predator Jerry Sandusky. Online court records show Graham Spanier moved Wednesday to dismiss the case. The May lawsuit says Spanier needed the emails to refresh his memory before cooperating with the Louis Freeh investigation. The issue now appears...
College Football News

Delivered to your inbox

You'll also receive Yardbarker's daily Top 10, featuring the best sports stories from around the web. Customize your newsletter to get articles on your favorite sports and teams. And the best part? It's free!
THE COLLEGE FOOTBALL HOT 10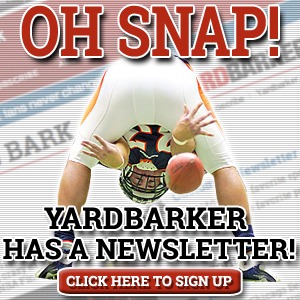 Latest Rumors
The Backyard

Today's Best Stuff

For Bloggers

Join the Yardbarker Network for more promotion, traffic, and money.

Company Info

Help

What is Yardbarker?

Yardbarker is the largest network of sports blogs and pro athlete blogs on the web. This site is the hub of the Yardbarker Network, where our editors and algorithms curate the best sports content from our network and beyond.