Found November 18, 2012 on NFL Draft Zone:
One position in football that is widely overlooked is the kick specialist. Special Teams make up one third of the game in football.  When you are a specialist, you're either loved or hated.  You are usually the scapegoat if the team is doing badly; and when the team is playing good, you are just lucky to have a job. There have been several successful Australian players that have brought their unique style to the NFL such as Darren Bennett and Sav Rocca, but there has never been a Gaelic style player in the NFL. Well my next Diamond in the Rough prospect came from a family full of Gaelic football players, and he is taking college football over by storm. Gaelic Football is a unique sport from Ireland that has been around for hundreds of years. Gaelic Football is a sport played between two teams of 15 players. Players advance the football (a spherical leather ball), up the field with a combination of carrying, bouncing, kicking, hand-passing, and soloing (dropping the ball and then toe-kicking the ball upward into the hands). In the game, two types of scores are possible: points and goals. A point (1 point) is awarded for kicking or hand-passing the ball over the crossbar. A goal (3 points) is awarded for kicking the ball under the crossbar into the net. Although it is not very popular here in the United States, there is one family in New Jersey that the sport has really helped. The Murray family has been involved in Gaelic football for a very long time.  Aidan Murray, a long time Gaelic player and graduate of University College Dublin, Ireland was a very successful standout in his Country. Linda moved to Ireland to take a few courses before meeting the Gaelic star. Eventually Aidan would move to United States to be with Linda, and get married. On June 22nd 1991, Aidan and his lovely wife Linda would have their first child, Patrick. Patrick would grow up playing sports such as baseball, basketball and soccer. Patrick followed in his father's footsteps and would learn to love Gaelic Football. "I grew up watching my Dad, Uncles Ciaran Murray and Brendan Murray, and cousin, Aedin Murray, who were all national caliber Gaelic football players in Ireland. I try to watch as much Gaelic football as I can, it is my first love. I bleed Green, White, and Orange. Gaelic football players don't get paid to play, you play to represent your county that is more important than earning money." – Patrick Murray In high school, Patrick would end up playing football where he could play both kicker and punter for Don Bosco Prep.  Patrick was a three year varsity standout for the football team, and led the Don Bosco Prep team to three consecutive state championships. Patrick is a very smart kid as well; he was a member of the National Honor Society, German National Honor Society, and English National Honor Society as a senior. Patrick would have a tough decision to make after having a very successful football career at Don Bosco Prep high school. He had tons of NCAA teams calling him and talking with him. Teams like Boston College, Rutgers, Delaware, and Central Michigan were just a handful that liked Patrick.  Patrick was not given a scholarship by any of the teams, because they all said he was too small.  Patrick was just 5'7 and weighed 162 pounds, but teams told him he just wasn't going to be able to make it as a kicker or punter. "I remember people telling me that I was too small, and that I wouldn't be able to play college football.  It made me a little upset, but it ultimately made me stronger." – Patrick Murray Patrick would make a decision to go to Delaware to play for the Blue Hens.  He was not offered a scholarship, but was told that if he played well in his first year that the next year he could earn a scholarship. After two long weeks of practice and weight lifting, Patrick began missing his family. "It was a long ways away from home, and I knew it wasn't the place I wanted to be.  I talked with my parents and they supported me. I left Delaware and enrolled at Fordham University." – Patrick Murray Things were just not going Patrick's way, he was already told that he was too small to play college football, he couldn't get a scholarship to play football, and then received news that he was never expecting. Patrick's childhood friend Vincent Crotty, who was an amazing baseball player in the New York area, had been involved in a fatal car accident. "It was a rainy day and both Vincent and one of his teammates were leaving for practice, when they were involved in a car accident. A truck pulled out and hit their car and killed them both. Since my freshman year, I wear tape around my left wrist with the letters "VC" on it, for Vincent. Vincent was my best friend, and I knew from that point forward, I wanted to succeed for not just him, but for his family. I'm playing my hardest for them." – Patrick Murray Patrick went into his freshman season without a scholarship for Fordham University as he was told he would have to earn it. Murray didn't stop, he came in guns blazing, and as he was first team All-Patriot league punter, where he led the Patriot league and ranked 10th in the FCS with a 41.9 yard punt average. This was the fourth best single season average in Fordham University History. He had 36 punts for 1,507 yards, in which 8 punts traveled more than 50 yards and seven landed inside the opponent's 20 yard line.  He was named special teams player of the week, once also nailed a 73 yard punt during the Colgate game tying him for the second longest punt in Fordham history. Not only was he the punter, he also handled the kickoff duties averaging 60.8 yards a kickoff his freshman year. As a sophomore for the Rams, Murray would again take over the Patriot League, as he handled both the punting and kicking duties. He punted the ball 49 times, for 1,928 yards, averaging 39.3 yards a punt which led the Patriot league. He landed 20 of those punts inside the 20 yard line, and had ten punts of 50 plus yards. He only connected on 12 of his 21 field goal attempts with a long of 48, which was third longest field goal in Fordham history. He averaged 61.2 yards on his 59 kickoffs for the season as well. In 2011, Patrick was named third team All-American by the Associated Press after his most impressive season in his career.  He punted 49 times for 2,160 yards averaging 44.1 yards a punt. He landed 21 of those punts inside the 20 yard line, and 16 of his punts traveled 50 plus yards. He nailed another 73 yard punt against Rhode Island tying his career long, and was named FCS Punter Performer of the Week by the CFPA.  Patrick would go on to win this award three more times his junior year, and bring home the CFPA FCS Punter Performer of the Year Award. Brad Smith the director of the CFPA, said it was the best all-around statistics in the awards history. He averaged 65.2 yards on kickoffs which was his highest total ever. Entering his senior season, Murray was getting recognition as one of the most prolific punters in Fordham history and was still without a scholarship. He had a career punting average of 44.1 yards which is second best ever for the Rams. Before Patrick's senior year started, Fordham hired a new head coach in Joe Moorhead. Moorhead noticed something special about Patrick, and approached him with some big news. He told Patrick that he would need to step it up this year for the Rams since he earned his scholarship. Patrick was finally given a scholarship from Fordham University, and it has paid off for the Rams. Patrick practiced harder than ever for his senior year and it has shown.  There was finally someone who believed in the five-foot-seven monster-legged kicker, and Murray would not let his coach down. After 10 games, Murray has been putting on a clinic to opposing Patriot League teams. This year, Patrick has punted 50 times for 2,312 yards which is not just the number one punter in the Patriot League for punting; he is number one in the entire FCS.  He also went on to become the kickoff specialist where he has kicked 57 kickoffs, and 34 of them went as touchbacks.  Murray was also asked to handle field goals this year as well, where he has gone on to hit 23-26 field goals. Four of those field goals are from 50 plus yards which ranked number 1 in the entire country in all divisions. He is 27/27 on extra points, and is number one in both the FCS and Patriot league for field goals. The most amazing statistic this year is not the field goals or punts, but the fact that he has won the Patriot league special team's player of the week seven times. Patrick also won the CFPA Kicker and Punter of the week 5 times this year, and was honorable mention every other week. With just one more game in the season Murray is on pace to break the FCS record, if he hits 3 more field goals.  I asked Murray what he thought about breaking the record and he said: "I haven't really thought about breaking the record, I have been more focused on winning the last game. I feel that if I focus too much on it, I am taking away from my teammates." –Patrick Murray Murray is kicking his way to success, the same way Greg Zuerlein did it last year for Missouri Western (a small division 2 school). Greg Zuerlein has went on to have a great NFL rookie season for the St. Louis Rams and when he was asked if it mattered if he played at a big school, "Legatron" said it best. "I didn't think it mattered to me too much because I always thought kicking's kicking at any level, whether it's D-2 or D-1, If you can do it, you can do it. It doesn't matter. ….You don't really need to be a big-name guy or to go to the Combine. If you have the ability, the scouts will find you." – Greg Zuerlein – Kicker – St. Louis Rams Patrick Murray has a never give up mentality, which reminds me of the underdog Dublin Gaelic football team last year; who trailed by 4 points with just 10 minutes left against Kerry in the finals. They made a dramatic comeback to beat the Kerry team by 1 point on a free kick by their goalie from 45 meters. When I watched the game, I thought of the Murray family, and if Patrick keeps it up he will definitely get his chance to contribute in the NFL.  He will have to overcome critics like he has in the past, but every time he lines up for a kick and feels pressure, all he has to do is look down at his left wrist, and remember that he has an angel watching over every kick.
Original Story:
http://feedproxy.google.com/~r/nfldra...
THE BACKYARD
BEST OF MAXIM
RELATED ARTICLES
Kevin Monangai ran for 146 yards and quarterback John Robertson added 134 on the ground as Villanova routed Delaware 41-10 Saturday in each team's regular season finale. The Wildcats (8-3, 6-2 Colonial Athletic Association) clinched a tie for the CAA title with the win. Villanova led 14-10 at halftime and 17-10 after three quarters, then erupted for 24 points in the fourth...
College Football News

Delivered to your inbox

You'll also receive Yardbarker's daily Top 10, featuring the best sports stories from around the web. Customize your newsletter to get articles on your favorite sports and teams. And the best part? It's free!
THE COLLEGE FOOTBALL HOT 10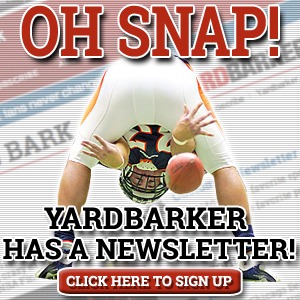 Latest Rumors
The Backyard

Today's Best Stuff

For Bloggers

Join the Yardbarker Network for more promotion, traffic, and money.

Company Info

Help

What is Yardbarker?

Yardbarker is the largest network of sports blogs and pro athlete blogs on the web. This site is the hub of the Yardbarker Network, where our editors and algorithms curate the best sports content from our network and beyond.