Darqueze Dennard played possibly the game of his career. 2 picks (one of which would be a 96-yard pick-six, but we'll cover that later) and 4 tackles. Also, late in the game, Dennard had a clutch play, denying Nebraska wideout Kenny Bell a touchdown reception, only to be called back because he had "interfered" with Bell. At first glance on the scoreboard at Spartan Stadium, I had thought the referees made a good call and Dennard pulled down Bell's left hand. I didn't get a chance to look at the play again until today, and I am willing to admit that I was wrong. Let's look at the sequence of plays. —– Darqueze Dennard Called For Pass Interference On Kenny Bell Here, we see Darqueze putting his right hand up to stop Kenny Bell from catching the pass. Great defense. Now, we see Dennard's hand still in the same position, looking at the ball and merely trying to attempt to swat it down. Meanwhile, Bell tries to put his hands up to catch the ball. He can't because Dennard is already there. Finally, we see that Denard has swatted the ball, and Bell has not gotten a reception. A clean, even impressive, defensive play by Darqueze Dennard here. Instead of reveling at that great play by Darqueze, the refs decided to throw a flag and call Dennard for pass interference. One can see how it could be misconstrued for pass interference, but at this point in the game a call like that is unacceptable. See the full video here: Watch this video on YouTube. —— Darqueze Dennard's Pick-Six Called Back On A Johnny Adams Personal Foul Let's be frank here. Johnny Adams' season has been less than what we wanted from him. However, this call against him was completely unwarranted and shouldn't have ever been called. What happened? Darqueze Dennard (yes, he's back) jumped a route on a Taylor Martinez pass and took it 96 yards to the house. It was a great play only to find out that there was some laundry on the field way back inside the Spartans' 20-yard line. Personal foul on Johnny Adams. Again, when I was at the stadium I wasn't positively sure as to what was going on, because all the referee said was "personal foul". After the game I came to find out that the referee told the players than Adams blocked a player that was out of the play, so he was flagged. The rule has been confirmed by KJ of The Only Colors in this tweet: So, that makes me ask three questions: 1.) How does one determine whether a player is out of the play or not? 2.) Dennard was zig-zagging back and forth on the play, so how was any one player out of the play? 3.) Johnny Adams, after making the block, was seen running down the field into the end zone along with Dennard. If Adams was a defender, he would've had an opportunity to catch Dennard. At one point he was in the same place as Kenny Bell, the player he blocked. Again, how does that make Kenny Bell clearly out of the play? Here is a video of Johnny Adams hit: Watch this video on YouTube. —– There you have it. While I'm saying you shouldn't let games be decided by referees, this would've been a lot easier of a win if the refs didn't make bad calls. Go Green!  
Original Story:
http://www.banksoftheredcedar.com/don...
MORE FROM YARDBARKER
Spartans News

Delivered to your inbox

You'll also receive Yardbarker's daily Top 10, featuring the best sports stories from around the web. Customize your newsletter to get articles on your favorite sports and teams. And the best part? It's free!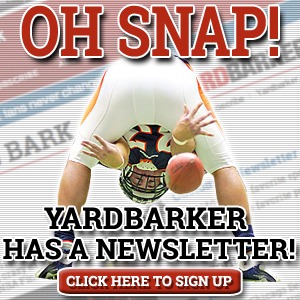 Latest Rumors
Best of Yardbarker

Today's Best Stuff

For Bloggers

Join the Yardbarker Network for more promotion, traffic, and money.

Company Info

Help

What is Yardbarker?

Yardbarker is the largest network of sports blogs and pro athlete blogs on the web. This site is the hub of the Yardbarker Network, where our editors and algorithms curate the best sports content from our network and beyond.