Found March 27, 2013 on NFL Draft Zone:
Baylor WR Darryl Stonum had to overcome a lot to make it to this point in his life. A former star at Michigan, Stonum actually holds the record for most kick return yardage in a single season at UM with 1,001 in 2009. In addition, he was also the Wolverines second-leading receiver in 2010. A mistake led to his departure from Michigan, and being over that phase and eager to resume his career, Darryl transferred to Baylor and played immediately, complementing fellow Bears WR and NFL hopeful Terrence Williams in a high-powered offense. Darryl Stonum has lived and learned a lot, and has matured. A big, 6'2 195 WR who has been described as "physically everything you look for in a WR", Stonum is ready to contribute immediately to an NFL as both a WR and a return threat. His versatility and vast experience could mean a lot to an NFL team. He is definitely a name to keep an eye on! It was my pleasure to speak to Darryl for NFL Draft Zone. Shaun DePasquale: Thank you for taking the time to speak with me today Darryl. Can you tell me where you're training for the NFL Draft? Darryl Stonum: Thanks for taking the time to speak to me, I really appreciate it. I did my pre-draft training at Test West sports academy in San Diego California. SD: What do you feel are your strengths and things you may need to work on? DS: I would say my strengths would be my combination of size and speed. With the help of the TEST training staff I added 15 lbs of muscle to my frame and am now 6'2 205 to compliment my speed. I have good deep ball skills and well as the toughness to go across the middle for the tough shorts yards. One thing I would say I can get better at and I think all WRs should never be content with is my route running. My routes are good but I know once you get to the NFL level they have to be a lot better so that's something I've been working on. SD: How do you feel your time at Michigan & Baylor helped you prepare for the NFL? DS: Being blessed enough to have the opportunity to play at two great institutions such as Baylor and Michigan has prepared me a lot for the NFL. The toughness and mentality you have to have to play the WR position at those schools are extremely high. You have to be ready to compete every single day at the highest level as well and carry the toughness and traditions that the WR position holds at both schools SD: What do you feel you bring to an NFL offense? DS: Something I feel I could bring to an NFL offense is my competitiveness, athleticism, size and speed. But also the intelligence to learn the offense quickly. In my years in college I had three offenses to learn. I learned Coach Rod's spread, Coach Hoke's pro-style, and Coach Briles high powered offense, so I feel I have a very good grasp of the game of football and picking up new information and applying it to the field. So to go along with being big, strong, fast, and physical, I'm also a very smart football player SD: Have you received any feedback from NFL scouts? DS: I haven't received much feedback. They like my size and ball skills. And just want to see me run well. SD: Were you invited to any all-star games or combines? DS: I played in the Casino del Sol all-star game. I had a blast out in Tucson at that game. Met alot of scouts and made a lot of plays throughout the week SD: What has been your greatest accomplishment, athletically or personally ? DS: My greatest accomplishment will always be my degree from the University of Michigan. Teams have seen me play so they know what I can do on the football field, but to be able to graduate and put in the hard work it takes to play Division 1 football at the high level that I did as well, and the work it takes to earn a degree from such a prestigious school such as Michigan is something I'm very proud of. SD: If you could have dinner with any 3 people, living or otherwise, who would they be and why? DS: If I could have dinner with three people it would be Michael Jordan, Deion Sanders and Bo Jackson. Those three guys and such remarkable athletes just to be able to sit and have dinner with then would be an honor. I'm sure they could all teach me something that would benefit me in the future. SD: Give me the name of a teammate that doesn't get nearly enough recognition. DS: Jordan Kovacs, the safety at Michigan is one of the guys I had the pleasure to play with. I saw this guy go from walk on to impact player on the team and I have so much respect for him and the work he put in. He would be a great addition to any team in my opinion. SD: What message would you like to send to NFL teams about Darryl Stonum? DS: A message I would like to send to teams is that my years in college have shaped and matured me into a better man. I made some mistakes in my youth but I've learned from them all. The things I had to experience has only made me a better person. My on-field attributes and abilities will show but just know that I'm a much more mature and better person and would be a great professional. SD: Last question, what would be your first purchase with an NFL paycheck? DS: My first purchase with an NFL check would be a bill payment to help my mom who has sacrificed so much for me. She my rock and motivation to be great! SD: Thank you so much for your time Darryl.. Good luck in your journey! DS: Thank you for having me, I had a blast!! Take care and God bless.
Original Story:
http://feedproxy.google.com/~r/nfldra...
THE BACKYARD
BEST OF MAXIM
College Football News

Delivered to your inbox

You'll also receive Yardbarker's daily Top 10, featuring the best sports stories from around the web. Customize your newsletter to get articles on your favorite sports and teams. And the best part? It's free!
THE COLLEGE FOOTBALL HOT 10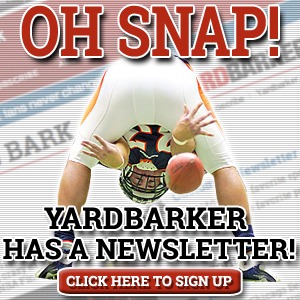 Latest Rumors
The Backyard

Today's Best Stuff

For Bloggers

Join the Yardbarker Network for more promotion, traffic, and money.

Company Info

Help

What is Yardbarker?

Yardbarker is the largest network of sports blogs and pro athlete blogs on the web. This site is the hub of the Yardbarker Network, where our editors and algorithms curate the best sports content from our network and beyond.