Found March 14, 2013 on NFL Draft Zone:
Rutgers DE/LB Marvin Booker, like his teammate Ka'Lial Glaud, simply was caught in a numbers game. Booker didn't have the opportunity to put up the statistics that would wow the casual observer, and therefore he's going pretty well un-noticed. But Booker projects well as a 6'2 240+ lb. linebacker for any team looking to give a competitive guy a shot on special teams, and to possibly crack the rotation eventually. Booker is the type of player I would to have my team pick up to compete in camp. On Wednesday March 13 at Rutgers Pro Day, Marvin showed great strength by notching 36 reps on the 225 lb. bench press! It was my pleasure to interview him for NFL Draft Zone. Shaun DePasquale: Thank you for taking the time to speak with me today Marvin. Can you tell me where you're training for the NFL Draft? Marvin Booker: I appreciate you reaching out to me and asking me for the interview. I have been training at Rutgers University with trainers Joe Giacobe and Eddie Grier. I also work with Ivan Candelaria at another facility. They all have done a great job in preparing me for my Pro Day on the 13th of March. SD: What do you feel are your strengths and things you may need to work on? MB: My strengths would be that I'm an athletic guy that is relentless to the ball. I am able to get off blocks and move sideline to sideline and I can also rush the passer inside and outside. I take playing football seriously so even though I know I'm not great at everything I always try to work on getting better at certain techniques and fundamentals like using my hands in a more efficient manner and lowering my pad level. SD: How do you feel your time at Rutgers helped you prepare for the NFL? MB: Rutgers is great University to come to so a young man can develop into a man on and off the field. Throughout my time at Rutgers I went through position changes and injuries that stifled my career a bit but situations like that tested my character. The coaches and staff challenged me day in and day out on and off the field and taught me things that will stick with me throughout my career in the NFL, as a businessman as well as a family man. I hear all the time about the constant challenges that the NFL brings to players whether its getting cut and packing up and moving, injuries, and so on that make things tough on the individual but I've been trained to control what I can control and take full advantage of the situation your presented with because you never know when another will come. When other things happen that throw a curve in your plans, refocus, and attack one challenge at a time. I think Rutgers does a great job preparing their athletes for the transition and I'm excited to experience for myself. SD: What do you feel you bring to an NFL defense? MB: Well before I talk about what I can bring to a DEFENSE, I'll say that what ill bring to a TEAM is a positive minded person who loves football. I bring energy and a high motor everyday to practice to challenge my teammates and myself. If I'm blessed to just hop on a defense that would be great but I know playing on special teams is my ticket to that and I'm all for it. But to answer your question I'm comfortable in the box as a linebacker to come downhill and stop the run or to drop into coverage. I can also be a standup guy off the edge or gain weight and be a permanent hand in the dirt player to create problems for offenses. SD: Have you received any feedback from NFL scouts? MB: No I have not. SD: Who was the toughest opponent you ever faced in college? MB: I thought that the left tackle, Winters if I'm not mistaken, from Kent State was a good opponent. SD: What has been your greatest accomplishment, athletically or personally ? MB: I'm actually tied with two experiences. The first would be the fact that I was able to stay home and play division 1 football in my backyard. I'm from Piscataway, NJ and when I got offered to Rutgers I saw it as an opportunity to stay close to my family and also be able to stay in my community. I thought it would be important for the people who saw me grow up; develop into the person I am today. It also gave me the opportunity to be a mentor to some kids at my old high school and in surrounding areas. It's best to let people see the development first hand so they know its possible. The second experience would have to be the time I helped furnish a home of a family in need. I met a couple at a soup kitchen who had 6-7 young kids and they were in the process of moving and the movers stole all of their things. At that time my grandmother had recently passed away and my mother and I had to clean out her apartment space and storage. When I was driving the U-Haul it hit me maybe this family could use the furniture instead of throwing it away. I went by their apartment and asked if they wanted to check the stuff out and when they saw all that stuff they were just super happy. I think that experience was crazy. I still don't know how to describe that feeling I got after I saw how much it helped them. Those two experiences made me feel accomplished. SD: If you could have dinner with any 3 people, living or otherwise, who would they be and why? MB: 1. Muhammad Ali. I would love to sit him down and talk to him about his work ethic, what motivated him and just pick his brain. 2. Deepak Chopra would be interesting to sit with as well. He is a spiritual motivator who writes about a lot of things that get my brain going. 3. Id like to have one big dinner with my whole family. We are all spread out so it would be cool to just sit back and enjoy a meal and laugh together for a night. SD: Give me the name of a teammate that doesn't get nearly enough recognition. MB: Some seniors that are coming out are Tim Wright, Mason Robinson, Kalil Glaud, Marcus Cooper, Wayne Warren, and Brandon Jones I think these guys are very talented players that everybody doesn't know, but should. That's just a handful I think there are more also. SD: What message would you like to send to NFL teams about Marvin Booker? MB: I could write a whole book but to keep it clean cut, I'm a young man who is looking for a shot and is willing to work anyway possible for it. I bring a "coach me" attitude, I love getting better, I bring fire and a workers mentality. They wont regret giving me a chance. SD: Last question, what would be your first purchase with an NFL paycheck? MB: My first purchase with an NFL paycheck would probably be a dinner to where ever my mom and sister would want to go to. Sitting down with her talking about life and how proud of me she is would just motivate me to bring back more checks! If I couldn't go to dinner because of my location then I'd send some stuff to my high school coach for their team. SD: Thank you so much for your time Marvin. Good luck in your journey! MB: SD it was a pleasure. You came up with some interesting questions that had me thinking pretty hard. Lol. I want to thank you for taking your time to send me this interview and giving the opportunity for people to get an insight on me and who I am. Thanks for the good luck wishes and I wish you luck in the rest of your career as well! Take care
Original Story:
http://feedproxy.google.com/~r/nfldra...
THE BACKYARD
BEST OF MAXIM
RELATED ARTICLES
PISCATAWAY, N.J. -- Rutgers held its annual "Pro Day" and the likes of Khaseem Greene, Logan Ryan, D.C. Jefferson, Duron Harmon, Steve Beauharnais, Marcus Coope an R.J. Dill were among the participants. In the middle of it, coach Kyle Flood met the media to talk about it.
NEW YORK – Wally Judge went from spectator to star after sitting out last year's Big East tournament because of NCAA transfer rules. Playing in his first Big East tournament game, the junior exploded for a double-double and 20 points in a 76-57 Rutgers victory over DePaul.
Mount Olive (N.J.) head coach Garry Luciani goes in-depth on what Rutgers is getting in Zach Heeman, who committed to play offensive line for the Scarlet Knights in 2014.
NEW YORK -- Breakout star Wally Judge and senior forward Austin Johnson went in-depth with ScarletReport.com in the postgame locker room to discuss the 76-57 victory over DePaul at Madison Square Garden. Judge's double-double helped lead Rutgers into a second-round rematch with Notre Dame, which beat the Scarlet Knights in the regular season.
Quartet of Irish big men will prove the difference -- one way or the other -- vs. smaller, quicker Scarlet Knights in tonight's second round Big East Tournament matchup.
Scarlet Knights News

Delivered to your inbox

You'll also receive Yardbarker's daily Top 10, featuring the best sports stories from around the web. Customize your newsletter to get articles on your favorite sports and teams. And the best part? It's free!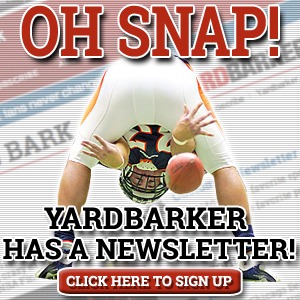 Latest Rumors
The Backyard

Today's Best Stuff

For Bloggers

Join the Yardbarker Network for more promotion, traffic, and money.

Company Info

Help

What is Yardbarker?

Yardbarker is the largest network of sports blogs and pro athlete blogs on the web. This site is the hub of the Yardbarker Network, where our editors and algorithms curate the best sports content from our network and beyond.