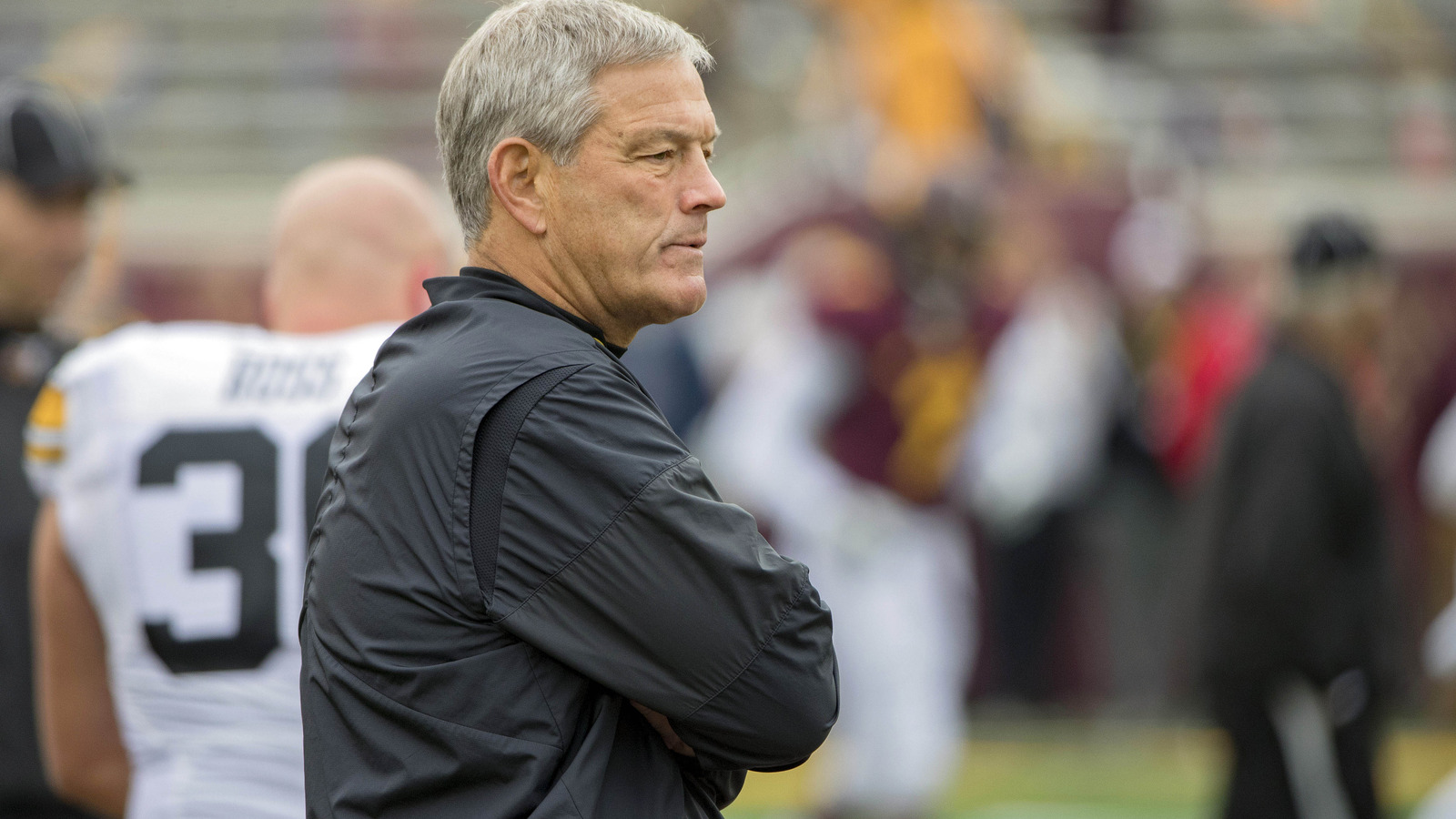 Is Iowa Hawkeyes head coach Kirk Ferentz overrated?
Jesse Johnson-USA TODAY Sports
Overrated can be a strong word, depending on context. But specifically, in regard to college football coaches, it's a word that can be awfully accurate.
It's no secret that college football coaches, especially at the big-time level, make a ton of money. It's also no secret that for some of them, their cult following and "aura" can be a bit bigger than their results.
That's all part of the nature of the beast that is college football, but for these five coaches, that doesn't stop them from earning the overrated tag.
Brian Kelly, Notre Dame
It seems like just yesterday that Brian Kelly led the Fighting Irish to a complete resurgence, taking them to the BCS Championship Game before losing to the Alabama Crimson Tide. It may seem like just yesterday, but the fact remains that heading into the 2017 season, Kelly will be five seasons removed from that BCS title game run.
And in 2016, the Fighting Irish didn't even make the postseason after finishing with a 4-8 record.
Kelly has had success everywhere he's been. He steadily rose up the ranks from Grand Valley State University to Central Michigan to Cincinnati to Notre Dame. Now entering his eighth season with the Irish, though, perhaps the program is ready for a change.
Lane Kiffin, Florida Atlantic
Lane Kiffin's career trajectory has been going backward. He was USC's offense coordinator before becoming head coach of the Oakland Raiders in 2007. He was only 31 years old and was the youngest head coach in the modern history of the NFL.
He was a wunderkind. Or at least he appeared to be one, for a bit.
Kiffin was fired in 2008 on bad terms and went back to college football as head coach of the Tennessee Volunteers. He lasted only one season at Rocky Top before abruptly leaving to be the head coach at USC, a controversial move.
In four seasons with the Trojans, Kiffin did not live up to expectations. He did go 10-2 in 2011, but he went 7-6 in 2012 with a loss in the Sun Bowl to Georgia Tech and was fired after five games in 2013, leaving the Trojans with a 3-2 record.
Kiffin certainly rehabbed his image by winning a championship as Nick Saban's offensive coordinator at Alabama. But once again, he left the Crimson Tide in a bit of a controversial fashion. Now that he finds himself with FAU, he's perilously close to having a career that has been all hype with very little substance — at least as a head coach.
Of course, Kiffin could prove his doubters wrong with Florida Atlantic, but he has an uphill battle ahead of him.
Jim Harbaugh, Michigan
Jim Harbaugh has certainly brought the Michigan Wolverines back to a place of respectability and he could be a year or two away from making a legitimate CFP run. With that said, 2016 may have been his best shot in the here and now, and his team ultimately ended up disappointing.
Heading into Iowa City in early November undefeated at 9-0, the Wolverines lost to a very mediocre Hawkeye team, 14-13. Michigan then went to Ohio State and lost in disappointing fashion in double overtime before losing to Florida State in the Capital One Orange Bowl.
Michigan should still be a Big Ten contender in 2017, but the Wolverines did lose some key players, so nothing is guaranteed.
Keep in mind, Harbaugh is making about $7 million per year, so expectations in Ann Arbor should be championship or bust. And anytime he doesn't meet those expectations, he runs the risk of being deemed overrated.
Tom Herman, Texas
Fans of the Longhorns are obviously very excited about having Tom Herman at the helm. He went to Houston and led the Cougars to two very good seasons. Houston went 13-1 in Herman's first season and won the American Athletic Conference as well as the Peach Bowl against Florida State.
Heading into 2016, Houston was considered to be a potential CFP darkhorse because of Herman's hot start. The Cougars had Greg Ward Jr. at quarterback and an elite defense.
Beating Oklahoma to start the season only increased the hype surrounding both Houston and Herman. Unfortunately, neither could live up to the expectations. Houston ended up losing to Navy and SMU, and Herman took off to Austin, leaving the Cougars to lose to Memphis in the Liberty Bowl.
This is not to say Herman isn't a good coach, because his success was evident. He was able to brand Houston as a "sexy" option for top recruits and he made a dent in the Texas area, so there are reasons to be high on him entering his first season with the Longhorns.
With that said, it's worth pumping the brakes and taking a minute or two to realize some things about Herman.
First, he's only entering his third year as a head football coach at the college level, so the sample size is very small. It's hard to come to any conclusion just yet, good or bad. Second, the success he had in 2015 outside of the FSU win came against a very easy schedule, and in 2016, his team folded under the immense pressure of a CFP run.
The pressure will be high at Texas. Many expect him to be "the one" to bring the Longhorns back to prominence. It is way too early to consider him to be the savior of Texas football, however.
Kirk Ferentz, Iowa
Kirk Ferentz is probably one of the best people in college football and he's certainly a good coach. You don't stay at one school for as long as he has without having some kind of tangible coaching talent. It helps that he treats his players like family, and for all intents and purposes he runs an NFL Draft pipeline in Iowa City.
Ferentz has seen highs and lows with the Hawkeyes, but outside of 2015's Big Ten championship and Rose Bowl appearances, lately things have been mostly average for Iowa.
After going 11-2 in 2009, Ferentz went 8-5, 7-6, 4-8, 8-5 and 7-6 before the 12-2 2015 season. That's a season that was exciting for Iowa fans, but could it have been an anomaly? The 2016 season may be proof that it was, considering the fact that Iowa brought back a talented and experienced team but only put up a mediocre 8-5 record with a bowl game loss.
And that's the problem with Ferentz. He's a legend in his own right, but right now, the best word to describe Iowa football is average.
The Hawkeyes are always tough, and Ferentz always sends players to the NFL. But for a coach who recently signed a contract that will keep him in Iowa City until 2026 at a price tag of $4.5 million per year, average should no longer be good enough.
MORE FROM YARDBARKER
College Football News

Delivered to your inbox

You'll also receive Yardbarker's daily Top 10, featuring the best sports stories from around the web. Customize your newsletter to get articles on your favorite sports and teams. And the best part? It's free!