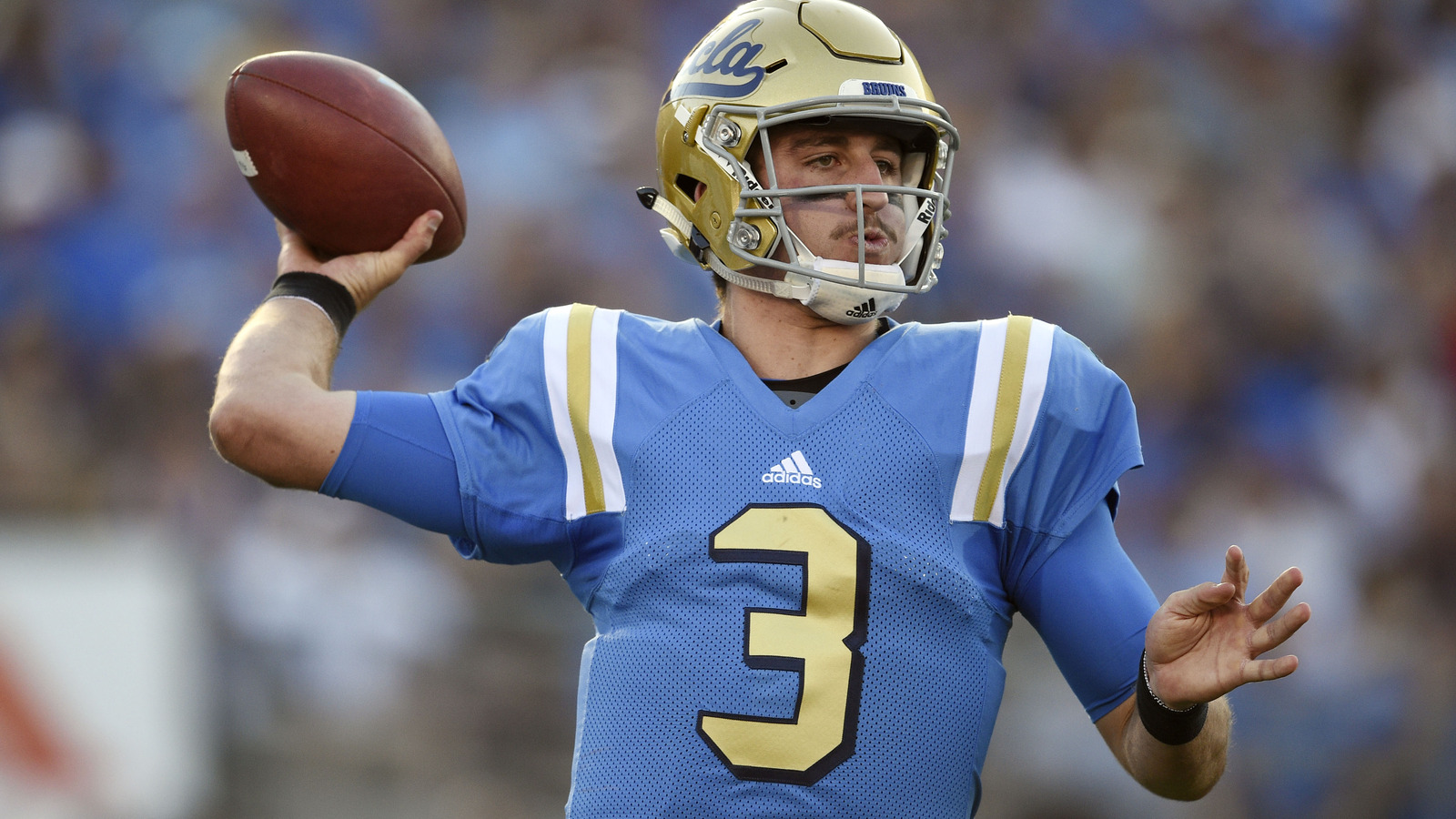 UCLA Bruins quarterback Josh Rosen arguably is overrated heading into the 2017 college football season.
Kelvin Kuo-USA TODAY Sports
It's hard to deny talent. And especially in the context of the 2017 college football season, it's hard not to get excited about a certain handful of players.
While there will be plenty of big stars in the season ahead and plenty of big moments for those players to step up in, there are also a handful of players who might be receiving just a bit too much hype during the spring period session and heading into the summer.
That's not to say the players mentioned in this article will struggle or fail, but for the sake of being level-headed and fair, let's pump the brakes on these five players. Perhaps they'll shine, but don't coronate them as kings of college football just yet.
Josh Rosen, quarterback, UCLA
Even before he put on his pads for the Bruins, Rosen was nicknamed "Chosen Rosen," and as a freshman at UCLA, he appeared to live up to the hype. He threw for 3,669 yards and 23 touchdowns in 2015, completing 60 percent of his passes. He did throw 11 interceptions, but some growing pains are to be expected from a freshman.
The problem with Rosen in year one was that he had trouble coming up big in big games, though. He threw two interceptions in a loss to Stanford, didn't throw a touchdown in a loss to Washington State and threw four touchdowns compared to three interceptions in UCLA's two final losses to end the season. That included two interceptions against Nebraska in the Foster Farms Bowl.
The 2016 season was a disappointment for both Rosen and UCLA. He was expected to take a big step after the growing pains of his freshman season, but he couldn't stay healthy.
He did play the first six games of the season for the Bruins, but his output was average. He threw 10 touchdowns but also gave away five interceptions, leading UCLA to a 3-3 record.
A shoulder injury cost him the rest of his sophomore season, and though he could easily bounce back in 2017 and play up to his elite expectations — it's a very realistic possibility that Rosen is simply a good quarterback, and not "The Chosen One" he was expected to be.
Sam Hubbard, defensive end, Ohio State
Hubbard is extremely talented and many believe that he could be one of the best players in college football heading into 2017.
As a freshman, he certainly appeared to fit the bill. In 13 games played, he notched 6.5 sacks, eight tackles for loss, one forced fumble, one fumble recovery and an interception. It was a major standout season for the former four-star athlete and it seemed to put him on the map.
But while 2016 was a solid year for Hubbard, he regressed production-wise. He still played in 13 games and he notched a half tackle-for-loss more than his freshman season, but his sacks went down to 3.5 and he didn't notch any takeaways. Sure, it can be argued that he more than made up for that by nearly doubling his total tackles. But without a doubt, his impact plays took a hit during his sophomore season.
Heading into an all-important junior year, Hubbard certainly has the talent to live up to his freshman season big-play production. Whether he does still remains a question.
Nick Chubb, running back, Georgia
When healthy, Chubb has the potential to be one of the best running backs in college football — if not the best. The problem is this: he's struggled to remain healthy. After a freshman season in Athens that saw him rush for 1,547 yards and 14 touchdowns (to go along with two touchdowns through the air), Chubb only played in six games in 2015 due to injury. To be fair, he did rush for seven touchdowns and 747 yards in those six games, and he caught another touchdown, but injury kept him from making an even bigger impact.
In 2016, Chubb made it back from injury and was able to play in 13 games for the Bulldogs. While he did rush for 1,130 yards and eight touchdowns, he simply did not live up to his full potential.
After busting out for three touchdowns in the first two games, Chubb didn't find the end zone again until Week Six against South Carolina. And yes, he scored two touchdowns against the Gamecocks, but then he went on another rushing touchdown drought until the third-to-last game of the season against UL Lafayette.
Chubb did put up 142 yards and a touchdown in a bowl game win against TCU, and it's hard to deny his talent when he's "on" and healthy.
For a player with elite talent, though, there are simply too many question marks. At the very least, there are enough question marks that it makes it hard for him to stand out amongst a stellar 2017 running back group that features players like Saquon Barkley, Derrius Guice, Royce Freeman, Myles Gaskin and Bo Scarbrough.
Jake Browning, quarterback, Washington
Huskies quarterback Jake Browning put up some big-time numbers on a very impressive Washington offense in 2016, and he, of course, led UW to the College Football Playoff. After a freshman season that saw him put up 2,955 yards and 16 touchdowns (10 interceptions), he threw for 3,430 yards and 43 touchdowns in 2016. He added only nine interceptions in the process.
Browning was a great quarterback for Washington during the course of the CFP run and he was even a borderline Heisman contender.
With that said, there is reason to pump the brakes on his star power heading into 2017.
One, he was surrounded by a ton of talent on Washington's offense. John Ross was the big name and that reflected in the 2017 NFL Draft, but the aforementioned Myles Gaskin is a legitimate star at running back.
Browning's output in some of Washington's biggest games of the season was also a bit suspect. He did lead UW to a Pac-12 Title win over Colorado, but he struggled against the Buffaloes, completing just 9-of-24 passes for 118 yards. Yes, he threw two touchdowns, but Colorado was able to keep him in check.
Of course, most stark was his relative ineffectiveness against Alabama in the CFP semifinal. Nick Saban's defenses have historically made great quarterbacks look average, but it was still a bit concerning to see Browning complete only 20-of-38 passes against the Tide for just 150 yards and a touchdown, compared to two interceptions. Browning also threw two interceptions against USC in the regular season, Washington's only loss prior to the playoff.
The talent is there, but can Browning lead Washington to bigger and better heights?
Christian Wilkins, defensive lineman, Clemson
Clemson defensive lineman Christian Wilkins could very well be the top pick in next year's NFL Draft, but he's going to have to do a lot to prove himself in 2017.
While its true that defensive lineman can make an impact bigger than the stat sheets and they often-times find ways to turn heads outside of pure numbers, Wilkins wasn't even the most productive lineman on his team.
His 13.0 tackles for loss in 2016 had him tied with for the 67th best output in that category nationally, and he looked up to his teammate Carlos Watkins at 13.5. In terms of sacks, Watkins did notch 3.5, but in the grand scheme of things he wasn't even top 100 in that category in 2016.
Wilkins may have the look and athleticism of a future NFL star, but in terms of the 2017 season, he'll enter it overrated until he can pick up his production a bit.
MORE FROM YARDBARKER
College Football News

Delivered to your inbox

You'll also receive Yardbarker's daily Top 10, featuring the best sports stories from around the web. Customize your newsletter to get articles on your favorite sports and teams. And the best part? It's free!