Found November 07, 2012 on Fox Sports Florida:
TALLAHASSEE, Fla. Xavier Rhodes and Jimbo Fisher laugh about it now. But at the time? Rhodes was anything but happy. A standout at wide receiver and tailback at Miamis Norland High, Rhodes was 6-foot-2 and 200 pounds. He loved to play offense and felt that he would be a receiver at Florida State. They asked me if I wanted to play receiver or corner, Rhodes said. I said, Ive never played corner. They fooled me. It was my fault. I should have just said I wanted to play receiver. But now as you can see Im a great corner. Rhodes says this with a smile. He knows that Fisher was right. Of course, Rhodes knows it now. But three years ago? He was upset. Fisher saw that Rhodes would be a good receiver. He also thought that Rhodes could be an NFL-caliber corner. I thought he had a great future there, Fisher said. He was mad at me for a year. We laugh about it now. At the time, there was nothing to laugh about. Rhodes gave it a chance in practice, but the progress was slow. He admitted that he didnt want to accept the role. But he worked with graduate assistant coach Terrell Buckley, a first-round draft pick out of Florida State in 1992 who played 14 years in the NFL with six teams. It was Buckley who was able to get through to Rhodes, to mentally and physically help him make the transition. Buckley told him that he had to work hard and learn his technique, but that one day he would realize that his value was far greater as a corner. I grew to love it, Rhodes said. Once I grew to love it, thats when I got better. He helped me out a lot. He got me mentally ready. That was the first step. I wasnt mentally ready yet because I was still stuck on playing receiver. Buckley was himself, a very young assistant coach. But he had spent 14 years in the NFL and knew talent. He was patient with Rhodes. And he saw the ability in Rhodes. What I saw was ball skills and great footwork, Buckley said. And then later on I saw a big man that gets out of his breaks like a little guy. And then you say, This guy can be something special. Rhodes was raw and was battling in practice. He would line up and face Florida States best receivers, but he would often lose the one-on-one matchups. And the trash talk would fly. Receiver Bert Reed, the most talkative of the bunch, let Rhodes have it one day in practice in 2009. Bert Reed was killing me in practice, Rhodes said. He wasnt quiet about it. Knowing me, being a real competitor, I kept going against him. I said, Bert, Im going to get you. The last time, Bert said, Get out. I need a real corner. When he said that, it hit me in my heart. So I took that very seriously. In about a month, I came back, Bert lined up, I jammed the crap out of Bert. Bert didnt even get an inch off the line. And everybody else that came up, I jammed them. Ever since then, I gained confidence. He had 58 tackles and four interceptions in 2010 as a freshman, and Rhodes was named the ACCs Defensive Rookie of the Year. Rhodes has been tested less and less as the years go on. Going into Thursday nights game at Virginia Tech, the junior has 25 tackles, six pass break-ups and two interceptions this season. Rhodes is part of a Florida State pass defense that is fourth in the nation, allowing just 154 yards per game. The ACC has been a passing league in 2012, but no opposing receiver has surpassed even the 90-yard mark against the Seminoles (8-1, 5-1 ACC). One of the reasons is Rhodes, who often matches up against the opponents top receiver. On Thursday, he will line up across from one of the Hokies top receivers either Marcus Davis (36 catches, 686 yards, four TDs) or Corey Fuller (29 catches, 547 yards, four TDs). Buckley, who is now in his first season as the defensive backs coach at Akron, will be watching Rhodes on Thursday night on TV. I think hes the best corner in college football today, Buckley said. He can play man-to-man, he has the speed to run down guys. Thats the complete package. Its funny now for Rhodes to think back to where he once was a wide receiver one day and the next a corner. He never saw it, but coaches like Fisher and Buckley certainly recognized the potential. Its kind of crazy, Rhodes said. I never looked at myself, looked in the future and would ever think I would play any kind of defense. I was always a person that loved to catch the ball and run.
Original Story:
http://www.foxsportsflorida.com/11/07...
THE BACKYARD
BEST OF MAXIM
RELATED ARTICLES
BLACKSBURG, VA --- Florida State saved face Thursday night in the frigid southwestern mountains of Virginia. The eighth-ranked Seminoles were on the brink of blowing another double-digit lead to a mediocre team on the road as they did a month ago at NC State before rallying on their last drive to notch a 28-22 victory. The win quells some of the hard feelings growing toward...
BLACKSBURG, VA --- Florida State saved face Thursday night in the frigid southwestern mountains of Virginia. The eighth-ranked Seminoles were on the brink of blowing another double-digit lead to a mediocre team on the road as they did a month ago at NC State before rallying on their last drive to notch a 28-22 victory. The win quells some of the hard feelings growing toward...
Virginia-born Florida State quarterback E.J. Manuel is looking forward to a return to his home state to take on the Virginia Tech Hokies in a pivotal ACC Thursday night matchup.
Guh. This **** is still going? It's already Thursday again?   ---------------- Non-Metallica Pump-Up Song of the Week [youtube]sRYNYb30nxU[/youtube] We believe... kind of. ---------------- There isn't really much left to say. We suck. Everything sucks. So let's concentrate our hate for this week. Let's concentrate on special teams. The importance of having...
What a difference a couple of months can make. In the preseason, the Nov. 8 showdown between Florida State and Virginia Tech was hyped as a...
Florida State commitment Ira Denson became an overnight sensation this spring and he credits a workout from Lincoln, Nebraska for his transformation.
Florida State and Clemson lead the way once again with a garbled mess behind both teams.
Although Jimbo Fisher is 27-9 since taking the reins at Florida State, he still hasn't won after a bye week. The eighth-ranked Seminoles (8-1, 5-1 Atlantic Coast Conference) are 0-2 following a layoff in Fisher's first two seasons. They hope to snap that bit of ignominy Thursday night at Virginia Tech, which is in danger of its first losing season in more than two decades...
After tearing his ACL in the final regular season game against Florida State last year, no one was really sure what to expect out of defensive lineman Dominique Easley this year. He switched outside to defensive end, but there were questions about his burst after the knee injury. The junior is starting to play more consistently and be a bigger factor as the season continues.
Isaiah Jones made his decision when he knew he was ready. Since committing to Florida State, he has not looked at any other schools. He is looking forward to his future in Tallahassee.
Florida State is expecting a tough game from a desperate Virginia Tech when the No. 8 Seminoles visit Lane Stadium on Thursday night. The Hokies (4-5, 2-3 Atlantic Coast Conference) are in the midst of their worst season in two decades and their backs are against the wall. Virginia Tech needs to win two of its last three games to qualify for a bowl game. Coach Jimbo Fisher says...
Trap games are typically defined as a formidable team stumbling to a surprise loss against a lesser-known foe. Unfortunately for Frank Beamer, Virginia Tech doesn't have the comfort of discretion that shields smaller programs, making them ineligible for trap-game status despite their 4-5 record. "We've got a heck of a challenge coming up," said Jimbo Fisher....
College Football News

Delivered to your inbox

You'll also receive Yardbarker's daily Top 10, featuring the best sports stories from around the web. Customize your newsletter to get articles on your favorite sports and teams. And the best part? It's free!
THE COLLEGE FOOTBALL HOT 10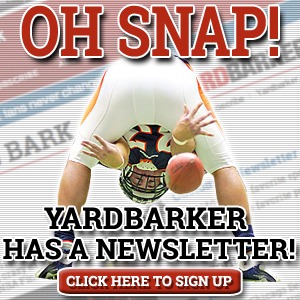 Latest Rumors
The Backyard

Today's Best Stuff

For Bloggers

Join the Yardbarker Network for more promotion, traffic, and money.

Company Info

Help

What is Yardbarker?

Yardbarker is the largest network of sports blogs and pro athlete blogs on the web. This site is the hub of the Yardbarker Network, where our editors and algorithms curate the best sports content from our network and beyond.