For a coach from the southwestern United States you would think to Dana Holgorsen stepping around a cow pie would be second nature. During Tuesday's weekly press conference, Holgorsen stepped right in the middle of one.
Ironically, Holgorsen is responsible for the pie to begin with, Holgorsen needs to clean his boots sooner rather than later.
For the record, here is the video of the weekly press conference, the last few minutes is where Holgorsen does his best Emily Litella impersonation, he just forgot to say never mind.
I am certain Holgorsen wanted to light a fire under Mountaineer Nation to improve attendance. Holgorsen will get his fire, and may even get his attendance; there are better ways to do both.
First and this is a big one, if Holgorsen is going to chastise his fan base about attending football games and attack their loyalty, he should do it dressed as the West Virginia University head football coach.
Holgorsen chose to appear before the cameras in a plain black shirt, sans any school logo. The school colors are the Old Gold and Blue, no mention of black anywhere.
Second, and the most damaging, was Holgorsen's statement about Louisiana State University being an elite program and his reference to WVU as "this place".
With a $1.4 million contract for this year, Mountaineer Nation should expect their head coach to appear in Mountaineer colors, at the very least. The press conference in question is held every week at the same time; laundry should not be a problem.
Depositing his weekly gross paycheck of just under $27,000 should afford Mountaineer fans the courtesy of their coach remembering the name of his employer.
Additionally, Holgorsen has repeatedly shown up for interviews in need of a shave and a comb. An individual can purchase both at the local dollar store, I am certain Holgorsen can afford the purchase.
If Holgorsen's Tuesday speech was any indication, Mountaineer fans are once again faced with the reality that their head coach is in need of a speech coach. The hosts of What Not to Wear seem to be a good idea too.
Third, the newly formed Mountaineer Mantrip was canceled for the Bowling Green game due to weather. Certainly, Holgorsen was instrumental in establishing the Mantrip and in the decision to cancel it due to weather.
Simply put, if Holgorsen can cancel a function he implemented to become a tradition how can he scold fans for making the same decision. There were over 46,000 fans at the game on Saturday; the Mantrip would not have been made without fan support.
How many of the state's miners cancel their Mantrip because of rain, Holgorsen chose the name to honor those miners and their daily trip.
Past those points, does Holgorsen have a point; could Mountaineer Nation be more supportive of their football team?
Holgorsen's question of what caused attendance to drop by 20,000 fans is valid.
To be honest, when I heard the attendance figure for the game I was more than a little surprised, even with the rain and cold. Pardon the pun, the low attendance may have simply been the culmination of the perfect storm.
As any member of Mountaineer Nation knows, the previous weekend was bigger than big for the WVU football program. The Mountaineer faithful turned out in droves and on their best behavior.
The ESPN Gameday crew were treated to a stellar weekend in Morgantown and undoubtedly left impressed with the showing.
As Holgorsen knows, it is difficult to maintain that level of intensity for an extended period. Holgorsen even alluded to the concerns of intensity for his football team entering the Bowling Green game.
It is obvious that Holgorsen is a numbers guy; with that in mind let us apply a 10% percent reduction in attendance due to the hangover effect from the LSU game that would be roughly 6,500 fans.
As far as the students go, many camped out the entire weekend leading up to the LSU tilt. The atmosphere for the remainder was at a fever pitch. Add another 5,000 students to the equation.
Like it or not, the weather had as much to do with the attendance decline as anything else and was probably the second largest factor in the decline. Holgorsen makes a valid point that his coaches, support staff, and players had to show up and perform in the elements.
Had Holgorsen stopped his tirade after that statement I would be writing a different column today. The coach was correct, as fans we expect our Mountaineers to show up and perform every game, as fans we should hold ourselves to the same standard.
In an attempt to quantify the reduction, I will apply the same 10% reduction due to weather, another 6,500.
Two factors can be attributed to the complete decline in attendance and as the head coach I might be inclined to get my feathers in a ruffle over both.
Unfortunately, those were not the only contributing factors.
Holgorsen compared the WVU game with Bowling Green to the LSU game with Kentucky. Had Kentucky been the opponent in Morgantown last Saturday attendance would not be an issue.
Mountaineer Nation would have risen to the challenge a border war with Kentucky represents. Fuel for thought when scheduling future contests for the Mountaineer faithful, does Holgorsen know about the Hatfield and McCoy fued?
Many WVU fans do not respect Marshall University and their ability to draw fans in southern West Virginia. Marshall traveled to Louisville Kentucky, to take on the Cardinals at PaPa John's stadium last Saturday.
Ironically, the kick-off for the Marshall game was the same time as the WVU game, 3:30pm. Both games were televised by Watch ESPN, formerly known as ESPN3.
Few Marshall games are televised each year and seldom is there an opportunity to watch the Thundering Herd on Watch ESPN. As of the date of this article, ESPN does not list another Marshall game on the Watch ESPN calendar.
With the dismal forecast in Morgantown and the ability to watch the Mountaineers on the computer, along with the Marshall tilt, the draw to stay home might simply have been too great.
How much affect the Marshall game had on attendance in Morgantown is almost impossible to calculate? I have to wonder how many simply stayed home because of the weather and the possibilities of taking in two games at the same time.
Finally, archery season for deer hunting opened last Saturday in West Virginia and Saturday also represented the only day that youth season for small game was open.
As a native-born West Virginian, my father took me hunting at an early age and I still remember those times to this day, forty years later.
To a Mountaineer, hunting is a birthright; Holgorsen wants fathers to forego taking their sons and/or daughters hunting to travel to Morgantown to watch a football game against Bowling Green.
From experience, I have many fond memories of trips to Morgantown with my father. Still, one of my most vivid memories was the first time my father took me squirrel hunting and I got to use his shotgun, a right of passage for a young man.
There is no memory from my games in Morgantown that I would place higher and few in my entire life compare. As memory serves, we listened to the Mountaineer game on the radio after the hunt and as I applied ice to my shoulder.
The core argument made by Holgorsen has merit, it was his offensive approach that over shadows that merit.
As a first year coach, Holgorsen is going to make mistakes, both on and off the field. Tuesday's tirade should be considered one of those mistakes, maybe his biggest.
Growing up in West Virginia I was taught before questioning others, I should first look at myself to determine if I had the right to ask those questions of others.
Holgorsen should apply those same long-standing beliefs.
Before Holgorsen questions the supposed appearance of his fan base, he should take a few moments to look in the mirror and ask if his appearance withstands the same scrutiny.
Holgorsen should learn to shave daily, use a comb, and for goodness sake remember the name of the school he represents.
Holgorsen is enamored with LSU; he should compare his appearance on a daily basis with that of Tiger head coach Les Miles. When the cameras click on for a press conference, which individual appears to be the head of an elite program?
Perhaps, the answer to that question is the answer to the attendance issue.
Original Story:
http://sports-at-work.com/Big-East-CF...
MORE FROM YARDBARKER
College Football News

Delivered to your inbox

You'll also receive Yardbarker's daily Top 10, featuring the best sports stories from around the web. Customize your newsletter to get articles on your favorite sports and teams. And the best part? It's free!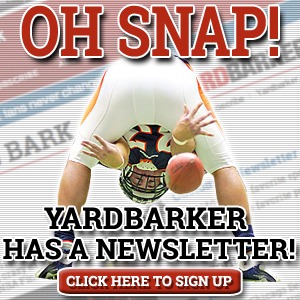 Latest Rumors
Best of Yardbarker

Today's Best Stuff

For Bloggers

Join the Yardbarker Network for more promotion, traffic, and money.

Company Info

Help

What is Yardbarker?

Yardbarker is the largest network of sports blogs and pro athlete blogs on the web. This site is the hub of the Yardbarker Network, where our editors and algorithms curate the best sports content from our network and beyond.