Found August 28, 2012 on Checkerboard Chatter:
If the name of this blog post caught your eye, and you're reading these words expecting to take in something Ron Franklin-esque, just avert your eyes elsewhere.  Unlike Mr. Franklin (who is a very talented broadcaster), I do realize that we're no longer in 1955; the flying DeLorean has landed in 2012 where ladies perform well in just about every job that men have historically dominated (outside of head football coach and coal miner - I have never heard of a female coal miner, but that is neither here nor there). 
Speaking of the flying DeLorean....
Let's throw some garbage (fuel) into the fuel tank and take the gull-wing door beauty back to October 13, 2007.  We've landed on Dudley Field at Vanderbilt Stadium where the #24 ranked Georgia Bulldogs have traipsed into Nashville feeling as if they've already defeated the Vanderbilt Commodores before the ball has even been kicked off.  As a Volunteer fan, it's sad to say that this day serves as one of my most unique and fun college football fandom experiences, but like DC Talk belted out in the mid-90's, "there ain't no disquising the truth".
ESPN2 was in town, and I was lucky enough to have the opportunity to work as a one-day contract laborer for the Worldwide Leader.  I arrived several hours before kickoff and worked for a couple of hours after the game had ended.  My reward would be a $100ish check at the end of the night and free football.  (** Side-note - ESPN provided navy blue vests with "ESPN" displayed across the back of them.  For any Southern Baptist men reading this, the vests reminded me of the Royal Ambassador vests from back in the day. As a Royal Ambassador I will do my best....)  There were many blokes and sheilas working as one-day contract labor on the broadcast, mostly behind the scenes away from the gridiron action.  I, however, used my gift of gab and average looks to work my way into a more football centric role.  I was to be the sideline reporter's assistant for the ESPN2 sideline reporter, Jeannine Edwards.  Edwards has vast experience covering horse racing, college football and college hoops for the four-letter network.  During the course of the evening, I would do mundane tasks such as check her make-up and hair before she would go live and hold the reflector.  I also had the opportunity to chase story lines, roam the sidelines, and I even authored the questions she asked Mark Richt as he jogged off the field for halftime (Mark Richt is the coolest cucumber I've ever seen up close and personal.  UGA barely won 20-17, but yet, he never broke a sweat or showed any outward stress). 
Edwards wasn't overly friendly, but she was professional, hard working and focused on the task at hand.  She was also very mentally strong, displaying thick skin throughout the evening.  There were several times when we found ourselves within earshot of drunk students throughout the game (Since it was Vandy, they were probably tanked on Boone's Farm instead of Coors Light).  These students would shout things like, "WHERE'S ERIN ANDREWS?"  "WHY DID THEY SEND YOU?  WE WANT ERIN!".  As I awkwardly stood there in my navy vest next to Jeannine, she didn't flinch or otherwise acknowledge the fans and their barrage of verbal battery.  The taunts were coming from male students, and while both Edwards and Andrews are both legit journalists, there's no doubt these young, testosterone laden men wanted the headliner in town.  Was Vandy not good enough for the higher profile, beautiful Erin Andrews?  Could Vandy not pull the top tier sideline reporter?
Fly the DeLorean to the present, 70 plus hours before kickoff in Atlanta for NC State and Tennessee....
Coach Derek Dooley is getting ready to lead his men into what Checkerboard Chatter founder Derek Lusk has dubbed the "most important season of Tennessee football in my lifetime".  While the '98 Vols are on the top of the heap legacy wise, Mr. Lusk (too many "Dereks") hit the nail on the head when it comes to the future of UT football either being solidified or put in a state of flux by this season.  We all know that Derek Dooley is the son of a coaching legend.  CDD is meticulous, detail oriented and a great recruiter.  He sports one of the best heads of hair on the planet, and his press conference musings/analogies are legendary (especially when they're aimed to intentionally piss off Clay Travis).  Derek Dooley is also a coach that came to UT as a 17-20 Head Coach in the WAC.  Now, with two full seasons as the Head Coach for the Vols under his belt, he has amassed an 11-14 overall record that is void of a signature win.  It's safe to say that Coach Derek Dooley's name, a la Jeannine Edwards, doesn't have the sex appeal or sizzle that names such as Jon Gruden (I hear he has some land), Chris Petersen, Gary Patterson (and Erin Andrews) do (among others). 
If the Vols lose to NC State and Florida to start the season (I'm chalking Georgia State up as a win), UT fans, boosters, media types, etc. will all be screaming the following at Volunteer Athletic Director Dave Hart, "WHERE'S JON GRUDEN (or insert sexy name of out of work coach, smaller conference star coach or even high profile assistant such as Kirby Smart)"  "WHY DO WE HAVE DOOLEY?!?"  Is Tennessee football not good enough to pull in a higher profile coach?  Can the Vols not pull a top tier Head Coach? 
During this onslaught of verbal jousting, Coach Dooley would surely do his best Jeannine Edwards impersonation by not flinching in the face of adversity, but would it be enough to salvage his job?  I truly hope that the upcoming football season doesn't produce this drama for the Volunteers.  The first four games are of extreme importance.  If the Vols start off 4-0, they will go into the murderer's row of Georgia, Mississippi State, Alabama and South Carolina with a bit of a cushion.  Three out of four of these contests are on the road.  If the Vols were to go 1-3 during that stretch, it would put them at 5-3 (pending the 4-0 start) and in a good position to finish strong with eight or nine wins going into bowl season.  That would surely be enough, in my opinion, to buy Derek Dooley more time as the captain of the ship.  Anything less, and the fans will be chirping for a sexier name.  As we all know Erin Andrews recently jumped ship to Fox.  If the money were right, I bet a higher profile coach would make his home in Knoxville.  Let's hope we don't have to deal with this, and Dooley can tend to his bamboo. 
Original Story:
http://www.checkerboardchatter.com/20...
THE BACKYARD
BEST OF MAXIM
RELATED ARTICLES
Tennessee coach Derek Dooley believes his team is much better equipped to deal with adversity this season. The Volunteers already are facing a major distraction as they prepare to open the season without suspended all-Southeastern Conference wide receiver Da'Rick Rogers. Last year, Tennessee finished 5-7 and never recovered from injuries to star wide receiver Justin Hunter and...
KNOXVILLE, Tenn. (AP) -- Tennessee coach Derek Dooley insists this season is different, even though it already has begun in a distressingly familiar manner. His job may depend on whether he's right. Dooley's first two years at Tennessee produced the Volunteers' first consecutive losing seasons since 1909-11. The Vols have endured plenty of setbacks on and off the field...
Tennessee head coach Derek Dooley spoke with the media Tuesday about Friday's matchup between Tennessee and NC State in the first of two 2012 Chick-Fil-A Kickoff Games.
Forget about the possibility of suspended wide receiver Da'Rick Rogers playing for Tennessee this season. Amid reports that Rogers had transferred to Tennessee Tech, Tennessee coach Derek Dooley indicated Monday that the star receiver was no longer part of the Volunteers' roster. Dooley says Rogers ''is not a part of our team, as expected.'' Tennessee Tech...
Forget about the possibility of suspended wide receiver Da'Rick Rogers playing for Tennessee this season. Amid reports that Rogers had transferred to Tennessee Tech, Tennessee coach Derek Dooley indicated Monday that the star receiver was no longer part of the Volunteers' roster. Dooley says Rogers ''is not a part of our team, as expected.'' Tennessee Tech...
Okay, that's a bold statement, right? Well, let me give you my logic as to why I don't now Derek Dooley will get the boot…even if next season nets a five-win catastrophe for the Volunteers: they can't afford it. Reports out of Knoxville this evening point to some serious financial troubles for the Tennessee Athletic department and, from the looks of things, it could take...
78 hours. That's the amount of time that separates us (this column) from "Football Time in Tennessee." 78 hours until your doubts, fears, hopes, or expectations either manifest or subside. 78 hours until a day of reckoning of sorts for Derek Dooley. He's been provided with the rope, so now he has 78 hours to decide whether or not he's going to climb his way out or hang...
(Covering Dixie Like Mildew is the SWRT roundup of SEC news, with the occasional pesky Southern school from another conference.) It's Getting Better All the Time. LSU head football coach Les Miles says that the Tigers 2012 squad could possibly be better than the 2011 SEC championship team. (The New Orleans Times-Picayune) LSU will play South Carolina in the SEC...
File this one under: interesting, but most Georgia fans aren't likely to give two flips, but, Da'Rick Rogers is reportedly going to remain in the Volunteer State…he just won't be playing for the Volunteers. According to multiple in-state sources, the All-SEC wide receiver plans to transfer to Tennessee Tech after reportedly meeting with Golden Eagle coaches on Sunday...
Bleacher Report's SEC blogger breaks down the big SEC games in week one Here we are, on the eve of the college football season. Yes, we survived yet another off-season and our reward for doing so is an extended opening weekend that runs from Thursday night all the way through Monday night. Things kick off (with adjusted rules of course) Thursday night in the SEC with a key SEC...
College Football News

Delivered to your inbox

You'll also receive Yardbarker's daily Top 10, featuring the best sports stories from around the web. Customize your newsletter to get articles on your favorite sports and teams. And the best part? It's free!
THE COLLEGE FOOTBALL HOT 10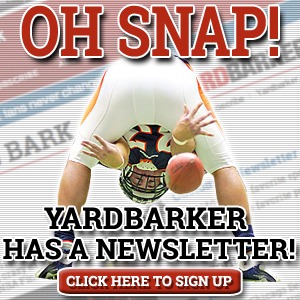 Latest Rumors
The Backyard

Today's Best Stuff

For Bloggers

Join the Yardbarker Network for more promotion, traffic, and money.

Company Info

Help

What is Yardbarker?

Yardbarker is the largest network of sports blogs and pro athlete blogs on the web. This site is the hub of the Yardbarker Network, where our editors and algorithms curate the best sports content from our network and beyond.