Found December 13, 2011 on The Other Paper:
Accused child molester Jerry Sandusky's lawyer, Joe Amendola, quipped to reporters— after his client waived his right to a preliminary hearing— about a report which says a witness saw Sandusky rape a boy in a Penn State locker room then informed head football coach Joe Paterno and two university officials but failed to notify police.
If you believe that, said Amendola,  "I suggest you dial 1-800-REALITY."
Little did the often criticized lawyer know that he inadvertently gave a number for a real gay phone-sex line for "the hottest place for triple-X action."
Oh yes he did..
Amendola's public gaff occurred during a press conference outside  the Centre County Courthouse Tuesday where the lawyer tried to explain that the grand jury report which detailed the sex-abuse charges against the former Penn State defensive coordinator was flawed.
The report says the witness (Penn State wide receivers coach Mike McQueary) saw Sandusky—who faces more than 50 charges sex-abuse charges—rape the boy.
The lawyer's unfortunate choice of phone number is a gay-sex phone chat service.
"Get ready for bulging, bursting pleasure," the introduction for the phone service boasts.
Amendola seems intent on digging a big ditch for his client to climb out from and has been harshly criticized by other attorneys for his unorthodox counsel and advice.
The case has been a major blow to the school and brought shame to Paterno's program and Amendola's strategy is being scrutinized.
 The defense lawyer gave Sandusky permission to be interviewed by NBC's Bob Costas and The New York Times.  In those reports, Sandusky acknowledged showering with boys and other unsuitable activities.  He also admitted he liked being around young people.
"There will be no negotiations," claimed Amendola.  "This is a fight to the death."
Marci Hamilton, an attorney for a 29 year-old man who claims he was abused more than 100 times by Sandusky between 1992 and 1996, said she is baffled by Amendola's behavior.
"He's very unorthodox,' she said about Amendola allowing the interviews.  "I don't know if that's good or bad."
Original Story:
http://ihatelupica.blogspot.com/2011/...
THE BACKYARD
BEST OF MAXIM
RELATED ARTICLES
A person close to Joe Paterno's family says the former Penn State coach is out of the hospital and showing improvement after being treated for lung cancer. ESPN, citing an anonymous source, first reported Paterno's release. Paterno's tumor is showing substantial reduction following radiation and chemotherapy, according to the person who spoke on condition of anonymity...
STATE COLLEGE, Pa. - Former Penn State football coach Joe Paterno re-fractured his pelvis after falling at...
Joe Paterno fell and fractured his pelvis yesterday -- this according to a source close to his family.The 84-year-old former Penn State football coach -- who's currently undergoing chemotherapy treatment for lung cancer -- was admitted to a local… Permalink
The former Penn State football coach was expected to make a full recovery after slipping Saturday and was admitted to the hospital the next day, the person added. The person spoke on condition of anonymity because of the sensitivity of the situation.
UNIVERSITY PARK, Pa. -- It has been 36 days since Penn State fired Hall of Fame coach Joe Paterno and replaced...
In the month or so since Penn State fired Joe Paterno and launched its first search for a head coach since 1965, names ranging from Chris Petersen to Dan Mullen to Al Golden to Greg Schiano have been spit out of the rumor mill as potential replacements. Apparently, another name has surfaced even as his…
And so it begins. The ugly Jerry Sandusky Saga is about to hit the next stage of evolution, as the preliminary hearing for the trial will get underway today in Centre County court in Bellefonte, PA. The disgraced former Penn State defensive coordinator and Joe Paterno disciple is charged with over 50 counts of child abuse with ten confirmed victims already having come forward. ...
CFT: Navy denies that Penn State has contacted coach Ken Niumatalolo about replacing Joe Paterno.
Glenbard West's Tommy Schutt had signed on in August to play college football at Penn State, but recent sexual assault allegations made him reconsider. Instead of being a Nittany Lion next fall, Schutt says he'll proudly call himself a Buckeye. "Penn State is a school I looked up to as a kid but now after all this I'm very excited to play for Ohio State,"...
Former Penn State assistant football coach Jerry Sandusky, who had been expected to face some of his accusers in court today in his sexual-abuse case, waived his right to a preliminary hearing and now appears headed for trial on charges that toppled the university's president and its revered head football coach, Joe Paterno.Former Penn State assistant football coach Jerry Sandusky...
The story from Mike McQueary, the Penn State football assistant who allegedly witnessed Jerry Sandusky anally raping a young boy in 2002, came under scrutiny once again over the weekend when a man present for his first account disputed his testimony. The Harrisburg Patriot-News points out that there are now four different versions of McQueary'...
Ashton Kutcher has been awarded the first-ever "Foot in Mouth Award" by CelebTweets.com for his recent tweet regarding Joe Paterno and the Penn State child abuse scandal. CelebTweets.com – in partnership with CelebGossip.com — has kicked off an award series that will showcase celebrities who demonstrate the exceptional ability to post something on Twitter that they immediately...
Nittany Lions News

Delivered to your inbox

You'll also receive Yardbarker's daily Top 10, featuring the best sports stories from around the web. Customize your newsletter to get articles on your favorite sports and teams. And the best part? It's free!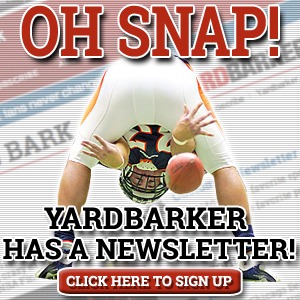 Latest Rumors
The Backyard

Today's Best Stuff

For Bloggers

Join the Yardbarker Network for more promotion, traffic, and money.

Company Info

Help

What is Yardbarker?

Yardbarker is the largest network of sports blogs and pro athlete blogs on the web. This site is the hub of the Yardbarker Network, where our editors and algorithms curate the best sports content from our network and beyond.