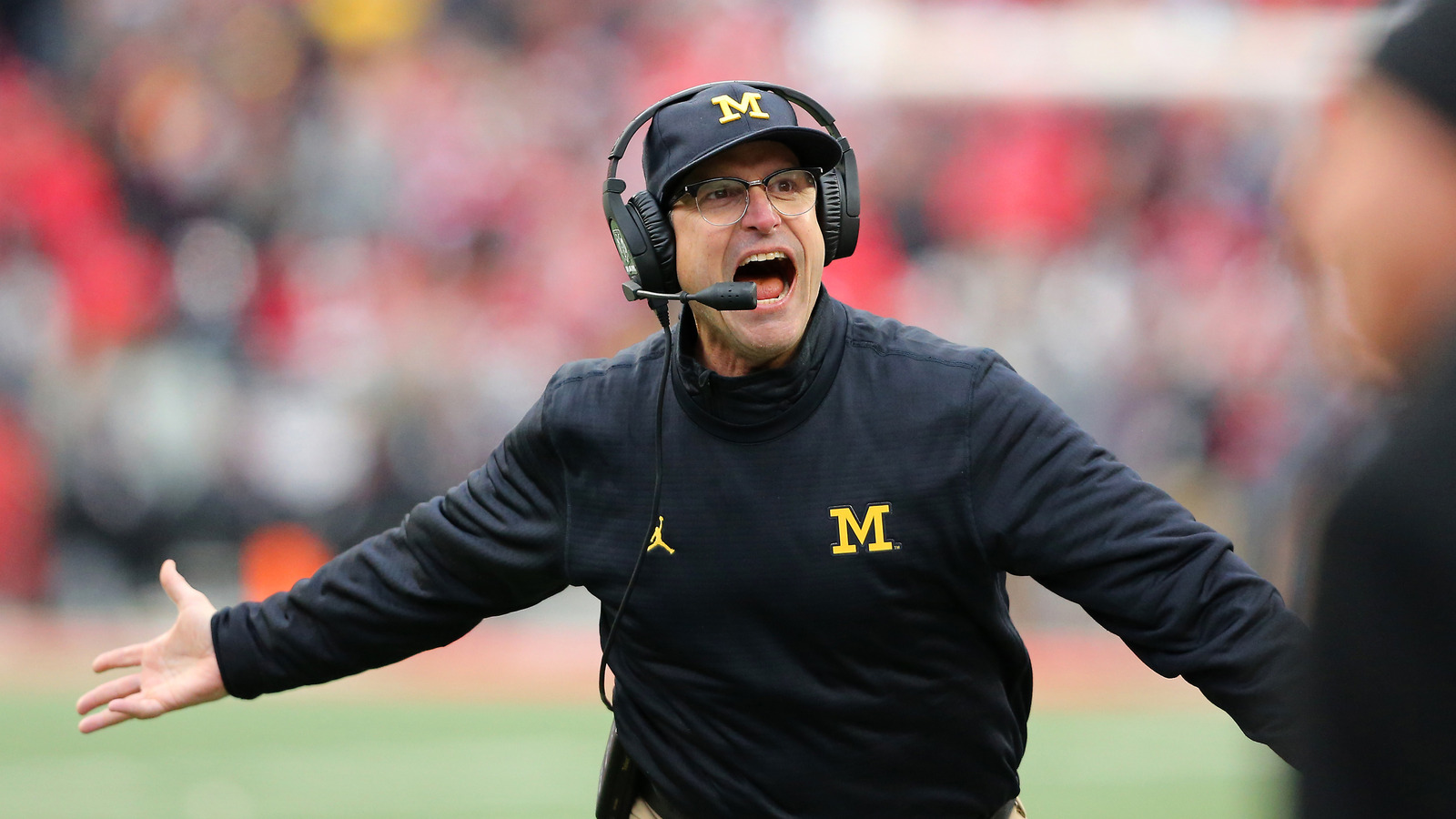 Wolverines head coach Jim Harbaugh is way too competitive. Even with games involving kids.
Joe Maiorana-USA TODAY Sports
It's a well-established fact that Jim Harbaugh is about as colorful and competitive as they come, perhaps even to a somewhat troubling degree. But a recent yarn spun by brother John Harbaugh establishes that the fiery Michigan Wolverines head football coach is incapable of flipping off the competitive switch, even when it involves playing games with children.
The Baltimore Ravens head coach appeared on Peter King's "The MMQB Podcast" this week and discussed how a family basketball game got his brother's competitive juices arguably overflowing.
"No one is more competitive than him. … My wife and I have a cottage up north in Michigan on Lake Huron. We get Jim to drive up with the kids and all that, and we have a basketball hoop in the front yard in the driveway, and we were going to play a little game with the kids, and we just started shooting around, and next thing you know it was a 4-on-4 game."
John goes on to explain how Jim didn't even let the youngsters get in on the action, hogging the ball and even aggressively boxing out John's teenage daughter for rebounds. And then, somehow, things got ratcheted up a notch.
"… so I see him going to the basket, he's going to take Allison to the hole, you know, he's about 6'3″, 235, so I'm going to go cut him off. I get him with my right arm bar across his chest and I'm trying to body check him into the pricker bushes behind the driveway, and he just powers his way to the basket, lays one over the top, a reverse layup off the board, and all he could talk about is how he won."
Sheesh. Talk about an "Enthusiasm Unknown to Mankind," an oft-cited line from a Harbaugh tweet. It's about as bad as Jim Harbaugh's infamous laser tag story where he supposedly "hunted" a 10-year-old kid.
We already knew Harbaugh was all about aggressive picks, so to speak, but what gives with these kind of antics during a family pickup basketball game? Quintessential Harbaugh, that's what it is.
MORE FROM YARDBARKER
Wolverines News

Delivered to your inbox

You'll also receive Yardbarker's daily Top 10, featuring the best sports stories from around the web. Customize your newsletter to get articles on your favorite sports and teams. And the best part? It's free!