Found June 03, 2012 on isportsweb.com:
Jourdan Lewis
Michigan commit Jourdan Lewis (Detroit, Michigan) participated in the Champaign NFTC this weekend and came away with one of the coveted invites to The Opening. The first question many readers might have is, what is The Opening?
The Opening presented by Nike Football is four days of dynamic training, coaching and competition for many of the country's most elite high school football players. Every position and every aspect of the game will be highlighted over the course of the four-day program. Last year's event saw NFL stars like Jerry Rice, Larry Fitzgerald, Ndamukong Suh, Patrick Peterson, Ray Rice and Dwayne Bowe coach participants in a variety of drills and competitions. This year's event will be July 5-8.
Lewis, a 4-star cornerback, snagged 8 interceptions and scored 11 TDs as a junior. He is also a member of the ESPNU 150. Lewis becomes the 5th member of Michigan Football's 2013 recruiting class to be invited to The Opening. He will join; QB Shane Morris (Warren, Michigan), LB Mike McCray II (Trotwood, Ohio), OL David Dawson (Detroit, Michigan), and DE Taco Charlton (Pickerington, Ohio). Lewis and Dawson are teammates at Detroit Cass Tech.
Jourdan Lewis is generally considered one of the top 10 cornerbacks in the class of 2013. As evidenced by his exceptional return skills, Lewis is a playmaker with tremendous agility and elusiveness. He has all the tools to be an outstanding corner at the college level.
Here is a complete list of Michigan's 2013 commits
PlayerPos.HometownHgt./Wgt.RankingNotes Kyle BoschOLWheaton, Illinois6-5/2854-starRanked the #60 overall recruit by rivals.com. Is a member of the ESPNU 150. Jake ButtTEPickerington, Ohio6-5/2204-starRanked #96 overall by rivals.com and is a member of the ESPNU 150 Taco CharltonDEPickerington, Ohio6-6/2404-starIs a member of the ESPNU 150 Gareon ConleyCBMassillon, Ohio6-2/1654-starIs a member of the ESPNU 150 David DawsonOLDetroit, Michigan6-5/3054-starA member of the ESPNU 150 and ranked #78 overall by maxpreps Jaron DukesWRColumbus, Ohio6-5/195NRJunior season stats: 36 catches for 670 yards and 7 TDs Chris FoxOLParker, Colorado6-6/3004-starRanked #46 overall by rivals.com and a member of the ESPNU 150 Ben GedeonLBHudson, Ohio6-3/2154-starRated as the #8 ILB by rivals.com Khalid HillTEDetroit, Michigan6-2/2303-starHauled in 29 passes for 448 yards and 6 TDs as a junior Maurice Hurst Jr.DTWestwood, Massachusetts6-2/2754-starRated the #23 DT by scout.com Patrick KuglerOLWexford, PA6-5/2805-starIs ranked #54 overall by rivals. Is a member of the ESPNU 150 Jourdan LewisCBDetroit, Michigan5-11/1704-starSnagged 8 interceptions and scored 11 TDs as a junior. Is a member of the ESPNU 150 Mike McCrayLBTrotwood, Ohio6-4/2304-starRanked #44 overall by rivals.com. Is a member of the ESPNU 150 Shane MorrisQBWarren, Michigan6-3/1855-starConsidered the top QB recruit in the class of 2013 Wyatt ShallmanATHNovi, Michigan6-3/2554-starIs considered the #1 ranked fullback by scout.com Deveon SmithRBWarren, Ohio5-11/1954-starRanked #53 overall by scout.com Dymonte ThomasSAlliance, Ohio6-1/1755-starHe is considered one of the Top 5 DB prospects in the country. Logan Tuley-TillmanOTPeoria, Illinois6-7/2954-starIs ranked 50th overall by Maxpreps and is a member of the ESPNU 150. Csont'e YorkWRHarper Woods, Michigan6-3/1853-starHe is ranked the #67 WR by scout.com
Original Story:
http://isportsweb.com/2012/06/03/jour...
THE BACKYARD
BEST OF MAXIM
RELATED ARTICLES
Henry Poggi 5-star defensive tackle Henry Poggi (Baltimore, Maryland) will announce his college commitment on Monday (6/4). According to multiple reports, he has narrowed his decision down to two schools, Michigan and Alabama. Shortly after Maurice Hurst Jr committed to Michigan on Saturday, twitter was ablaze with rumors of another pending commitment for the Wolverines. The prevailing...
Maurice Hurst Jr Maurice Hurst Jr. (Westwood, Massachusetts) visited Michigan this weekend and became commitment number 19 for Brady Hoke and the Wolverines. Hurst is a 6-foot-2, 275 pound defensive tackle prospect. He is the son of former New England Patriot Maurice Hurst and  is considered a 4-star recruit by scout.com. Hurst becomes the 2nd defensive lineman to join the Wolverines...
Henry Poggi On Monday morning, 5-star, yes folks he is considered a 5-star recruit by maxpreps, defensive tackle Henry Poggi (Baltimore, Maryland) announced his commitment to Michigan. He selected the Wolverines over Alabama. "I feel comfortable [at Michigan]," Poggi said in a statement. "I know that they have great players on their roster and great players at my position on...
Denard Robinson is perhaps the most exciting athlete in all of college football. The Michigan Wolverines senior quarterback may not be the ideal signal-caller, but his speed and explosiveness allow him to make plays few can. He's considered as a worthy Heisman Trophy candidate entering 2012, one of the Big Ten's most dangerous offensive players [...]
Wolverines News

Delivered to your inbox

You'll also receive Yardbarker's daily Top 10, featuring the best sports stories from around the web. Customize your newsletter to get articles on your favorite sports and teams. And the best part? It's free!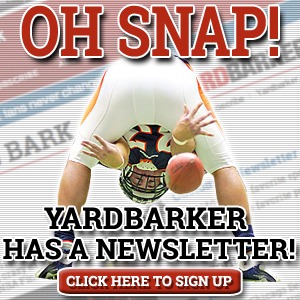 Latest Rumors
Best of Yardbarker

Today's Best Stuff

For Bloggers

Join the Yardbarker Network for more promotion, traffic, and money.

Company Info

Help

What is Yardbarker?

Yardbarker is the largest network of sports blogs and pro athlete blogs on the web. This site is the hub of the Yardbarker Network, where our editors and algorithms curate the best sports content from our network and beyond.