Found August 14, 2012 on BeyondUSports:
Kiffin Removes His Vote from the Coaches Poll
On Monday, Lane Kiffin announced that he will no longer vote in the USA Today Coaches' Poll.
This news come a few days after the people who run the poll disclosed that Kiffin had lied to the public with respect to his vote.  Kiffin had told media outlets that he didn't vote to make the Trojans number one in the poll.  In an unprecedented move, the newspaper revealed that Kiffin did indeed vote his team first in his rankings.
Of his decision, Kiffin said,
"It is an opportunity and responsibility that I do not take lightly.  However, I find it necessary to relinquish my voting status."
Chalk this one up to Lane Kiffin just being Lane Kiffin, the man that logic forgot.  Of course, nothing he's said since this so-called scandal broke has made any sense.
When originally confronted with his apparent lie, Kiffin had to backtrack, claiming that the Trojans are at a disadvantage in terms of scholarships and that he meant that he would not have voted for the Trojans had he been the coach of another program.
He continued,
"So looking at it from the outside, I wouldn't (vote USC No. 1). Did I? Yeah, I did. That's not based off of 75 vs. 85 (scholarships). That's based off of (quarterback) Matt Barkley, (safety) T.J. McDonald and (wide receivers) Robert Woods and Marquis Lee. When everybody has the same record, I can't go into a meeting with our players and have them say, 'You put that team and that team ahead of us.' That's why I did that."
Other than this embarrassing gaffe by Kiffin, much has been going well for the USC program. After being left in shambles by former coach Peter Carroll, Kiffin has turned the program around to the point where many think USC will be the team to beat this season.
Kiffin's addition of former Penn State running back Silas Redd to the team certainly won't hurt that notion.
It's truly a shame that for all of the good work Kiffin has done restoring the program, people will now only want to talk about insignificant actions like this one.  Not being the only coach in L.A. willing to put his foot in his mouth, however, should work in his favor.  Watching Kiffin and UCLA's Jim Mora try to one up each other with inane comments may be one of the more exciting aspects of the college football season.
Lane Kiffin/Photo Credit: The Los Angeles Times
BeyondU Sports BeyondU Sports - Best College Sports Blog Site
Original Story:
http://feedproxy.google.com/~r/Beyond...
THE BACKYARD
BEST OF MAXIM
RELATED ARTICLES
THANKS BUT NO THANKS
After he was outed for lying when he said he didn't vote for USC as #1 in the coaches' poll when he did, head coach Lane Kiffin has decided to relinquish his voting status.
Lane Kiffin and his USC Trojans are expected to compete for a BCS title this year, and the voting in the polls will have an impact on their chances of that. However, Kiffin will no longer be a part of that voting process. The USC coach is stepping down from his post on the voting panel after the USA Today revealed that he had lied about his choice of which team he had voted for....
In the wake of a foot-in-mouth moment last week when USA TODAY revealed that Lane Kiffin had fibbed about not voting his Trojans No. 1 in the preseason Coaches Poll, USC's head coach has told McPaper to get bent. Kiffin is giving up his SID's poll vote and, more importantly, the opportunity to manipulate the voting process at the end of the season should his team need...
If you're unaware on what has causde Lane Kiffin to take his ball and go home in regards to the coaches' poll, we'll get you up to speed. Earlier this month when USA Today released their preseason poll, Kiffin cautioned coaches around the nation not to be influenced by the hype surrounding USC coming into the season. In fact, he himself said that "he would not vote USC No...
After USC Trojans head coach Lane Kiffin said he wouldn't vote USC number 1, he did and people got all worked up over it. Now he is saying he will not submit any more votes for the Coaches Poll. "It is an opportunity and responsibility that I do not take lightly, however, I find it necessary to relinquish my voting status." When asked about his poll last Friday, Kiffin shrugged...
USC head coach Lane Kiffin talking to the media on day nine of fall camp.
LOS ANGELES -- It was certainly something to see. Linebacker Hayes Pullard walked onto Howard Jones Field towards the end of USC practice. He looked like the rest of his teammates in shoulder pads and shorts. However, he did away with the cleats for running shoes instead and wore a wrap on his left ankle. Shortly after Pullard walked in, linebacker Dion Bailey strolled into practice...
USC quarterback Matt Barkley is on the cover of Sports Illustrated's college football preview issue. Pretty stoked about this right here… I've dreamt about reppin USC on this cover for a while now… #FightOn #USC twitter.com/MattBarkley/st… — Matthew Barkley (@MattBarkley) August 15, 2012 In other news, Matt Barkley is doomed. (via Conquest Chronicles)
Matt Barkley's surprising return has made Southern California one of the front-runners to win the national championship. The Trojans figured to be one of the nation's top teams this season, their first after a two-year postseason ban. Barkley makes them a legitimate contender to win the final BCS championship before college football's playoff system kicks in. Once...
Dictionary.com defines jerkoff as "a stupid, bumbling, foolish, or lazy person; jerk." Next to it is a picture of this guy: Ugh, so much hate right now His name? Well, you should all know this or else you will be the feature of our next HateFest article – Lane Kiffin. Welcome to HateFest, Lane, as today, we attempt to will stomp your worthless ass into the ground...
USC junior cornerback Nickell Robey was limited in drills during day 8 of fall camp. He was back to full action on day 9, however he was sporting a yellow no-contact jersey. Robey took some time to talk about his status, being a leader, who is standing out at camp, as well as a little fun the upperclassmen have with the freshmen.
The Trojans continued fall camp today on Dedeaux Field, holding practices 11 and 12. USC head coach Lane Kiffin delivered season-ending news following practice.
College Football News

Delivered to your inbox

You'll also receive Yardbarker's daily Top 10, featuring the best sports stories from around the web. Customize your newsletter to get articles on your favorite sports and teams. And the best part? It's free!
THE COLLEGE FOOTBALL HOT 10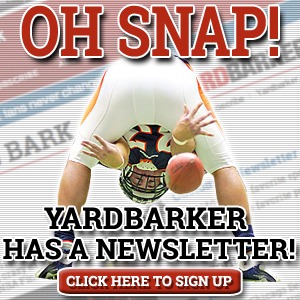 Latest Rumors
Best of Yardbarker

Today's Best Stuff

For Bloggers

Join the Yardbarker Network for more promotion, traffic, and money.

Company Info

Help

What is Yardbarker?

Yardbarker is the largest network of sports blogs and pro athlete blogs on the web. This site is the hub of the Yardbarker Network, where our editors and algorithms curate the best sports content from our network and beyond.