Found January 19, 2013 on Diehardsport:
Former Notre Dame linebacker Manti Te'o spoke for the first time since the hoax was made public on Friday night.  Te'o spoke for 2.5 hours with ESPN's Jeremy Schaap and Schaap said that he answered every question that he posed to him.  When Te'o was asked if he was ever involved in the hoax he said "No, never."Manti Te'o tells @jeremyschaap: "I kind of tailored my stories to have people think that yeah, (I) met her before she passed away"— Brett McMurphy (@McMurphyESPN) January 19, 2013Te'o told Schaap that he fabricated his relationship because he was embarrassed for having a girlfriend that he had never met before.ESPN also reports that:• He lied to his father about having met Kekua, prompting his father to tell reporters that the two had met. Several media stories indicated that he and Kekua had met. Te'o insisted they never did.• He tried to speak with Kekua via Skype and Facetime on several occasions, but the person at the other end of the line was in what he called a "black box" and wasn't seen.• The first time he met Tuiasosopo was after Notre Dame beat USC on Nov. 24. Tuiasosopo is the man Deadspin and others have said was behind the hoax. Earlier Friday, ESPN's "Outside The Lines" reported that Tuiasosopo called a church friend in early December crying and admitted to duping Te'o. The friend, a woman in her mid-20s, agreed to be interviewed under the condition that she not be identified, saying she was fearful for her family's safety because of the overwhelming publicity the story has generated.• A group of people, including a woman claiming to be Lennay, showed up at the team hotel for the Discover BCS National Championship Game in Miami. Te'o said he knew they were at the hotel because the group took photos in the lobby of the hotel. Te'o said it affected his play in the game, where Notre Dame lost to Alabama 42-14.• "I knew that — I even knew that it was crazy that I was with somebody that I didn't meet," [Te'o] said. "And that alone people find out that this girl who died I was so invested in, and I didn't meet her as well."Schaap said that Te'o was not nervous during the interview and was composed and comfortable throughout the interview.  Te'o said that the relationship began on Facebook when he was a sophomore, and he occasionally talked to her, but eventually it progressed to something more serious.Schaap says they began contact on Facebook his sophomore year. "Got serious" on April 28, the day he was told she'd been in a crash.— Stewart Mandel (@slmandel) January 19, 2013Ronaiah Tuiasosopo called Te'o two days ago and apologized to him for being behind the hoax and Te'o showed Schaap Twitter messages from Tuiasosopo saying that he was sorry for doing this to him.Te'o told @jeremyschaap he wasn't fully convinced girl didn't exist until 2 days ago when Tuiasasopo called & apologized.— Brett McMurphy (@McMurphyESPN) January 19, 2013It should be noted that Te'o admitted he had another girlfriend this fall after "Lennay Kekua" supposedly passed away, and that Te'o is "hoping that this story simmers down" and "he can get on with his life."The only issue that really arose is that the timeline that Notre Dame gave is inconsistent with what Te'o has said, since he admitted that he believed the girl to be real until two days ago.If Te'o wasn't convinced until 2 days ago that this girl was fake, that blows the hell out of the timeline Notre Dame AD Jack Swarbrick gave— Charles Robinson (@CharlesRobinson) January 19, 2013When Te'o & family tell Notre Dame he was duped on Dec. 26 & their investigator verifies it, he's still uncertain in mid January? It's odd.— Charles Robinson (@CharlesRobinson) January 19, 2013In the end, Te'o seems to be the victim in this situation, but let's not sugar coat it.  He was pretty dense to believe that this girl existed until two days ago and for "falling in love" with someone he had never met or seen before.  His embarrassment and embellishment of his relationship with "Lennay Kekua" is understandable, but it has hurt his reputation.  Unfortunately for him, now that this story is out, NFL players will likely make fun of him for this during games and he will probably never hear the end of it.[ESPN]
Original Story:
http://www.diehardsport.com/2013/01/1...
THE BACKYARD
BEST OF MAXIM
RELATED ARTICLES
The person posing as Manti Te'o's girlfriend, Lennay Kekua, told the former Notre Dame linebacker in December that she faked her death in September in order to avoid drug dealers, the Honolulu Star Advertiser reports. According to a timeline of events provided by Notre Dame athletic director Jack Swarbrick on Wednesday shortly after Deadspin broke the story of Te'o's...
So basically everyone should know by now that Manti Te'o is lying through his teeth to protect his draft stock right????  Well, at least that's my opinion, which will hopefully be fact soon.  Here is the article via the south bend tribune that says Te'o met his girlfriend after their game against Stanford.  She was claimed to be a student there.  It never...
Late on Friday night, Notre Dame Fighting Irish star linebacker Manti Te'o broke his silence since his initial statement following the Deadspin investigative report on the shocking revelation that the backstory of his senior season was a hoax. Lennay Kekua was not a real person, therefore he never lost a girlfriend due to Leukemia on the same day that his grandmother died. Those...
We've seen our share of silly minor league promotions, but this one might take the cake. The independent Florence Freedom will be having a "Manti Te'o Girlfriend Bobblehead Day" during a game in late-May, making light of the ridiculous scandal in recent days involving Notre Dame's star linebacker. With the promotion, the first 1,000 fans entering the stadium...
The New York Mets' Class-A minor league affiliate, the Brooklyn Cyclones, announced a "Fictitious Friday" promotion to capitalize on the Manti Te'o fake girlfriend hoax. A mocking press release from the New York-Penn League team said that they are talks with the Loch Ness Monster and Big Foot to throw out the ceremonial first pitch. Leave it to an arm of the Mets...
Jaded. That pretty much sums up how I feel at this point. In the past, I've been accused of having many words, but nothing to say. And while I can easily defend myself against that statement, I find it ironically fitting at this moment. This is what happens after you reach a certain point where you can no longer listen, read, or talk about a subject with any passion, interest...
I've been trying to wrap my mind around this Manti Te'o mystery for 16 hours since the report by Tim Burke and Jack Dickey was published on Deadspin.  Incredibly, that single story has almost 3 million hits in less than a day.  It has captured the sports world like no story I can ever remember.  It's made Lance Armstrong's groundbreaking interview with Oprah airing...
Notre Dame linebacker Manti Te'o had a fake girlfriend. The story by Deadspin published on Wednesday first asserted that, and Notre Dame confirmed it in a press conference later in the day. At this point we know that Te'o lied in some capacity about the story. He either: a) Was part of the hoax and lied for some twisted reason (Deadspin reports his motivation was to gain publicity...
Welcome to the Fallout - So, did anything interesting happen last night? Te'o speaks. Notre Dame linebacker Manti Te'o spoke to ESPN's Jeremy Schapp about Catfishgate Friday night. We're caught in a trap I can't walk out. Drew Sharp warns about getting too caught up in Catfishgate. (The Detroit Free Press) I've seen the future, and it will be....
Fighting Irish News

Delivered to your inbox

You'll also receive Yardbarker's daily Top 10, featuring the best sports stories from around the web. Customize your newsletter to get articles on your favorite sports and teams. And the best part? It's free!
THE FIGHTING IRISH HOT 10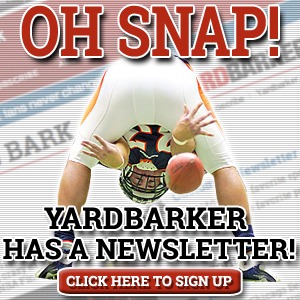 Latest Rumors
Best of Yardbarker

Today's Best Stuff

For Bloggers

Join the Yardbarker Network for more promotion, traffic, and money.

Company Info

Help

What is Yardbarker?

Yardbarker is the largest network of sports blogs and pro athlete blogs on the web. This site is the hub of the Yardbarker Network, where our editors and algorithms curate the best sports content from our network and beyond.