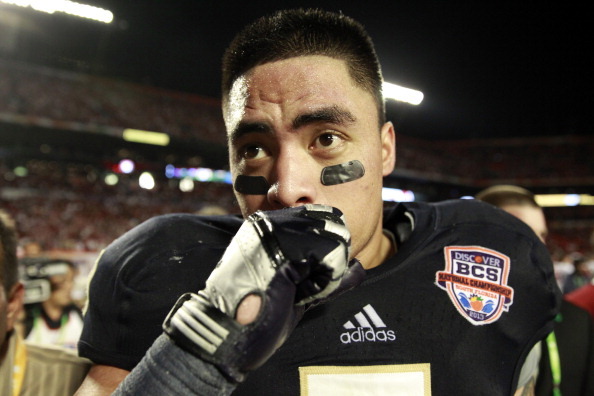 Manti Te'o may have made his life slightly easier if he got off Twitter a long time ago, but his account remained active through Super Bowl Sunday. According to ESPN.com, Te'o has decided to quit tweeting for an unknown period of time while he prepares himself for the NFL Draft, which will take place from April 25-27. Te'o's decision to quit Twitter was somewhat abrupt. During Super Bowl XLVII between the San Francisco 49ers and Baltimore Ravens on Sunday, he was one of a number of athletes and celebrities who seemed to highly approve of Beyonce's halftime performance. As we showed you on Sunday night, Beyonce's act was a huge hit with a number of big names on Twitter. The former Notre Dame linebacker was one of them, but his account was gone by the time the game ended on a controversial no-call in the end zone. Considering the unbelievable turn of events that has taken place in Te'o's life over the past month, the last thing he needs is any additional distractions as he attempts to improve his draft stock before April. Staying away from social media until he finds a home in the NFL is probably a good idea. The post Manti Te'o tweeted during the Super Bowl, then quit Twitter until after NFL Draft appeared first on Larry Brown Sports. Related posts: Giants Beat Patriots in Super Bowl 46 According to Madden Simulation Brendon Ayanbadejo Says the Two Best Teams Are Not in the Super Bowl, Calls Joe Flacco a 'Nobody' and More Super Bowl Betting: Five Best Prop Bets for Super Bowl 45
MORE FROM YARDBARKER:
Best athlete by state all time
MORE FROM YARDBARKER
College Football News

Delivered to your inbox

You'll also receive Yardbarker's daily Top 10, featuring the best sports stories from around the web. Customize your newsletter to get articles on your favorite sports and teams. And the best part? It's free!