Found April 17, 2012 on isportsweb.com:
The ESPNU 150 was updated today and the Michigan Wolverines have a dominating presence on the list. Shane Morris and his fellow Michigan commits total out to include 11 members of the Top 150. That is the most for any school by wide margin.
11 – Michigan
7 – Texas
7 – Florida
6 – Alabama
6 – Georgia
Morris, though vastly underrated on this list, is Michigan's highest ranked recruit on the list, checking in at #37. I'll go out on a pretty big limb here and say he finishes much higher when the final rankings come out. The next future Wolverine on the list is cornerback Gareon Conley (Massillon, Ohio) at #62.
L-R: Logan Tuley-Tillman, Shane Morris, Brady Hoke and Patrick Kugler
Here is the complete list of Michigan commits on the ESPNU 150
37. Shane Morris: QB – Warren, Michigan
62. Gareon Conley: CB- Massillon, Ohio
75. Mike McCray: LB – Trotwood, Ohio
92. David Dawson: OG – Detroit, Michigan
97. Logan Tuley-Tillman: OT – Peoria, Illinois
98. Dymonte Thomas: S – Alliance, Ohio
105. Chris Fox: OT – Parker, Colorado
107. Jourdan Lewis: CB – Detroit, Michigan
112. Kyle Bosch: OG – Wheaton, Illinois
115. Taco Charlton: DE – Pickerington, Ohio
121. Patrick Kugler: OG – Wexford, Pennsylvania
Michigan has a staggering 17 commits overall, see the complete list below. Included in that list are recruits that ESPN snubbed, but are highly regarded by other services, guys like TE Jake Butt (Pickerington, Ohio) who is ranked #96 overall by rivals.com and RB Deveon Smith (Warren, Ohio) who is ranked #53 overall by scout.com.
In Morris, U-M has one of the nation's premier QBs and also one of their best recruiters. The guy is omnipresent. He seems to show up in pictures all over the country where he is mingling with his fellow Michigan commits or other uncommitted recruits that he is still working on to join him in Ann Arbor next year. Chief among those uncommitted recruits are two skill position players; WR Laquon Treadwell (Crete, Illinois) who checks in at #42 on ESPN's list and RB Ty Isaac (Joliet, Illinois).
You can follow me on Twitter @isportsRob or subscribe to our Michigan Football Feed
PlayerPos.HometownHgt./Wgt.RankingNotes Kyle BoschOLWheaton, Illinois6-5/2854-starRanked the #60 overall recruit by rivals.com Jake ButtTEPickerington, Ohio6-5/2204-starRanked #96 overall by rivals.com and is a member of the ESPNU 150 Taco CharltonDEPickerington, Ohio6-6/2404-starIs a member of the ESPNU 150 Gareon ConleyCBMassillon, Ohio6-2/1654-starRanked the #20 corner by scout.com David DawsonOLDetroit, Michigan6-5/3054-starPlayed his junior season in Houston, Texas Jaron DukesWRColumbus, Ohio6-5/195NRJunior season stats: 36 catches for 670 yards and 7 TDs Chris FoxOLParker, Colorado6-6/3004-starRanked #46 overall by rivals.com and a member of the ESPNU 150 Ben GedeonLBHudson, Ohio6-3/2154-starMember of the ESPNU 150 Watchlist Khalid HillTEDetroit, Michigan6-2/2303-starHauled in 29 passes for 448 yards and 6 TDs as a junior Patrick KuglerOLWexford, PA6-5/2805-starIs ranked #54 overall by rivals Jourdan LewisCBDetroit, Michigan5-11/1704-starSnagged 8 interceptions and scored 11 TDs as a junior. Mike McCrayLBTrotwood, Ohio6-4/2304-starRanked #44 overall by rivals.com Shane MorrisQBWarren, Michigan6-3/1855-starConsidered the top QB recruit in the class of 2013 Wyatt ShallmanATHNovi, Michigan6-3/2554-starIs a member of the ESPNU 150 Deveon SmithRBWarren, Ohio5-11/1954-starRanked #53 overall by scout.com Dymonte ThomasSAlliance, Ohio6-1/1755-starHe is considered one of the Top 5 DB prospects in the country. Logan Tuley-TillmanOTPeoria, Illinois6-7/2954-starIs ranked 109th overall by rivals.com
Original Story:
http://isportsweb.com/2012/04/17/mich...
THE BACKYARD
BEST OF MAXIM
RELATED ARTICLES
The Michigan Wolverines took the field at Michigan Stadium on Saturday for their annual spring game. 25,000 faithful fans of the Maize and Blue braved the bleak weather forecast to get a glimpse of their beloved team. Springs game are usually pretty vanilla and this year's edition fell into that category. The coaching staff doesn't want to give away any secrets and the team itself...
Michigan seniors Roy Roundtree & Thomas Gordon are both looking to improve going into their final season as Wolverines. After the Spring Game Saturday Roundtree shared his thoughts on the #1 jersey and preparation for Alabama, while Gordon talked about his improvements, playing good run defense, and more. Full video interviews included.
Craig Roh debuted at his new position at Michigan's spring football game Saturday. Hear what he has to say on his adjustment to the strong side, the development of his fellow linemen, and his meal plan over the next few months (with video).
Michigan senior safety Jordan Kovacs took time to talk with the media after Saturday's Spring Game about his progression through the years, thoughts about being a senior leader, off-season workouts, and more. **With Video**
Where does CollegeFootballNews rank Wolverines David Molk and Kevin Koger - and why?
Wolverines News

Delivered to your inbox

You'll also receive Yardbarker's daily Top 10, featuring the best sports stories from around the web. Customize your newsletter to get articles on your favorite sports and teams. And the best part? It's free!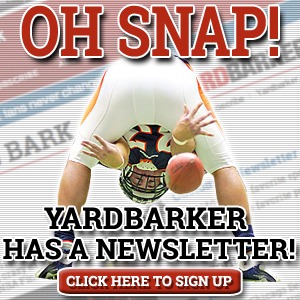 Latest Rumors
The Backyard

Today's Best Stuff

For Bloggers

Join the Yardbarker Network for more promotion, traffic, and money.

Company Info

Help

What is Yardbarker?

Yardbarker is the largest network of sports blogs and pro athlete blogs on the web. This site is the hub of the Yardbarker Network, where our editors and algorithms curate the best sports content from our network and beyond.