Found January 30, 2012 on Fox Sports Midwest:
ST. LOUIS Change will come. John Kadlec knows Missouri's recruiting focus will evolve with the Tigers' transition to the Southeastern Conference, and a strategy that included a concentration on talent in Texas will expand east to places like Georgia and Florida. But Kadlec also knows that a new conference home presents opportunity. The former Missouri assistant coach who served under Don Faurot, Frank Broyles, Dan Devine and Al Onofrio sees some aspects of recruiting as timeless: Parents want to see their kids play, and Missouri joining the SEC means the Tigers will become a visible option for talent in the Southeast. Still, the man they call "Mr. Mizzou" has seen other aspects of recruiting stay consistent over the past six decades. It is difficult to sell a program, no matter the player's location or the amount of interest in him. Missouri's geographic focus might change with a move to the SEC, but challenges involved with the process will remain. "Recruiting is recruiting," said Kadlec, who was inducted into Missouri's Hall of Fame in 1996. "It's not very easy wherever you do it or wherever you go. Although they had a good foothold in Texas and giving that up is kind of tough I don't think (the SEC transition) will be a big hurdle for Missouri. I think they will do a good job. They know how to do it. I think they'll do well." On Wednesday, Missouri will sign a class that will grow with the program as it adapts to the SEC. As of Monday night, Scout.com lists 18 commits highlighted by three four-star players center Evan Boehm, quarterback Maty Mauk and linebacker Donavin Newsom with the possibility of landing the nation's top prospect, five-star wide receiver Dorial Green-Beckham. Some experts say Missouri's SEC transition has been accepted well on the recruiting trail, but the results of this class and ones to follow in upcoming years will shape the Tigers' reputation in the country's elite conference. Signing Green-Beckham would add to Missouri's anticipation as it prepares to compete within the SEC East next season. The 6-foot-6, 220-pound Springfield, Mo., resident took an official visit to Columbia last weekend, and about 100 fans were present when he and his family arrived at the Mizzou Athletic Training Complex last Friday. That afternoon, chants like, "D-G-B!" and signs that read, "Stay home, True Son," greeted the prospect before he met Coach Gary Pinkel and current Missouri players. Like Blaine Gabbert and Jeremy Maclin before him, Green-Beckham could represent another elite talent Pinkel kept within the Show-Me State. And if Green-Beckham chooses Missouri, he will boost the Tigers' national perception: Now, Scout.com ranks Missouri's class No. 37 behind other SEC schools such as Alabama (No. 2), Florida (No. 5), LSU (No. 7), South Carolina (No. 8), Texas A&M (No. 11), Mississippi State (No. 16), Arkansas (No. 17), Auburn (No. 19), Georgia (No. 20), Tennessee (No. 26), Vanderbilt (No. 34) and Kentucky (No. 35). The Tigers' current list of commits includes 13 three-star players, three four-star recruits and two two-star prospects. "They've done a good job (in the South), but they haven't done a great job," said Brandon Huffman, national recruiting analyst for Scout.com. "What's going to hurt them is ... there's not the depth in (Missouri), so they're almost being forced into those other states. If they want to compete at an elite SEC level, they're going to have to recruit those states hard. Right now, Missouri still is somewhat of a foreigner." Working to gain visibility within the SEC footprint will be one of the biggest challenges for Pinkel's staff. Missouri's roster from this past season included five players from current SEC states: freshman linebacker Darvin Ruise (Glen St. Mary, Fla.), freshman running back Greg White (De Queen, Ark.), sophomore quarterback Ashton Glaser (Springdale, Ark.), sophomore wide receiver L'Damian Washington (Shreveport, La.) and senior offensive tackle Elvis Fisher (St. Petersburg, Fla.). By comparison, 35 players came from Texas. Meanwhile, Missouri's current commits reside in familiar recruiting grounds. Six are from Texas and five are from Missouri. In addition, there is one each from Kansas, Florida, Illinois, Michigan, Ohio, Oklahoma and Pennsylvania. Former Arkansas coach Jack Crowe faced a similar situation when the Razorbacks moved to the SEC before the 1992 season. After being promoted from his role as offensive coordinator under Ken Hatfield prior to the 1990 season, Crowe guided Arkansas to a 9-14 record in two campaigns as part of the now-defunct Southwest Conference. At one point, Broyles, then the athletic director at Arkansas, approached Crowe and asked him what differences the coach and his staff would experience in a move to the SEC. Crowe told Broyles that Arkansas could not expect positive results against Georgia, Florida, Alabama, Mississippi and other regional rivals without signing players from those states. "From a coaching standpoint, you've just got to eliminate the mystery of it, and you've got to say you're going to get right in the middle of them," said Crowe, who resigned one game into the 1992 season and is now the coach at Jacksonville State. "People who don't and think they're going to go down there and compete with players from other parts of the country, good luck. You better get some Alabama, Georgia, Florida and South Carolina players. "Football is football. Don't spend your time proving you can match what they have in the SEC. If you're going to be in the SEC, you better be in the SEC. You better join the brotherhood. Don't be trying to sit on the fringe and equal it, because good luck you won't. That's no insult to anybody, but that's just the truth. It's the best there is." Former South Carolina coach Sparky Woods experienced a change in recruiting focus during a transition to the SEC as well. He said he saw his program become more visible after dropping its independent status something it had carried since 1971 and joining the league prior to the 1992 season. To Woods, South Carolina gained more credibility among recruits after its move to the SEC. As a result, talent from untapped areas became options. "It probably helped our recruiting," said Woods, who coached the Gamecocks from 1989 to 1993 and is now the coach at Virginia Military Institute. "It gave us a little more clout in the fact that we were getting in on some kids that we weren't before when we were an independent. "I think Missouri and Texas will become SEC states as well. Now you've opened the interests of those kids to play in the SEC. I also think you opened those schools in the SEC to recruit (Texas and Missouri) a little more. I honestly think it helped in the sense that once they knew we were going to play in the SEC, some kids in Atlanta or Florida that might not have been interested in South Carolina prior to us entering the SEC became interested as a result of playing in the league." And Missouri could experience a similar effect soon. On Wednesday, Pinkel will announce another crop of signees. As in previous years, they will represent a new beginning. As in previous years, they will represent promise for the future. But unlike the recent past, the upcoming class will represent a tie to Missouri's SEC transition. Once the ink dries, the Tigers will begin work to form an identity within the country's elite conference.
Original Story:
http://www.foxsportsmidwest.com/01/30...
THE BACKYARD
BEST OF MAXIM
RELATED ARTICLES
As ShowMeMizzou.com mentioned in the Roar Room last night, it appears as though Missouri's late visitor, Texas cornerback John Gibson appears ready to announce his commitment to the Missouri Tigers today.
The Missouri Tigers added a big commitment from this weekend's group of official visitors as they have added a three star defender to the 2012 class that looks to be growing more soon.
COLUMBIA, Mo. (AP) -- Marcus Denmon's shooting touch has been as under the weather as the Missouri guard. Denmon's voice was hoarse and he appeared a bit bleary-eyed from a cold after the second-ranked Tigers' tougher-than-expected 63-50 victory over Texas Tech on Saturday. Certainly, his marksmanship could use a dose of Vitamin C. The senior guard, one of the Big 12...
The the 2012 signing class all wrapped up for the Missouri Tigers, head coach Gary Pinkel and staff spoke to the media and shared their thoughts about the recruiting haul they just landed today
On Monday (8:00 P.M., ESPN), the #2 Missouri Tigers (19-2, 6-2) travel to Austin to take on the Texas Longhorns (13-8, 3-5) in Big 12 Conference action.
National Signing Day 2012 could not have been any better for the Missouri Tigers as they have landed 5-star WR and the number one overall prospect in the country to play in the Black & Gold for them in 2012.
ShowMeMizzou.com has National Signing Day covered here. Check back as we provide updates and info all day on the Missouri Tigers 2012 football recruiting class all day long.
The top-ranked Lady Bears put its perfect 21-0 record on the line Wednesday night as they visit Columbia, Mo., to take on the Missouri Tigers. Tip is slated for 7 p.m. CT.
Nineteen standout student-athletes have signed a National Letter of Intent (NLI) to attend the University of Missouri and play football for Head Coach Gary Pinkel, as announced today. As of early afternoon, the class of newest Tigers has been rated as the 20th-best in the country according to ESPNU.
Tigers News

Delivered to your inbox

You'll also receive Yardbarker's daily Top 10, featuring the best sports stories from around the web. Customize your newsletter to get articles on your favorite sports and teams. And the best part? It's free!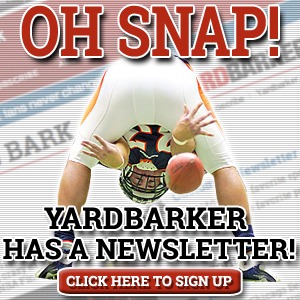 Latest Rumors
The Backyard

Today's Best Stuff

For Bloggers

Join the Yardbarker Network for more promotion, traffic, and money.

Company Info

Help

What is Yardbarker?

Yardbarker is the largest network of sports blogs and pro athlete blogs on the web. This site is the hub of the Yardbarker Network, where our editors and algorithms curate the best sports content from our network and beyond.