Found October 28, 2013 on Fox Sports Midwest:
COLUMBIA, Mo. -- Andrew Baggett has been here before. It's the fall of 2010, a breezy slugfest of an evening, and Lee's Summit North coach Ty Kohl calls on Baggett, his star leg, to attempt a 52-yarder. No dice. "But the kid came back, he had the game-winner against St. Joseph Central for us," Kohl said. "Kicked a 47-yarder in the mud and rain. So he can do it." It's a different world, a different kind of focus, a different kind of zen. Placekickers need a short memory and a thick skin. Oh, and brownies. Brownies help. Fortunately, Baggett, now a redshirt sophomore at Missouri, has got plenty of all three. The last one, the chocolate one, came courtesy of his mother, who brought them for her son late Saturday night after his field-goal miss from 24 yards out off the left upright at Faurot Field -- The Doink Heard 'Round The World -- failed to force a third overtime and sealed a 27-24 loss to South Carolina. "They still love me," Baggett said as he greeted reporters Monday at the Mizzou Athletics Training Complex. "They do what parents do. When you fall down to your lowest, they pick you up and, you know, they make you feel better. She gave me some treats after the game, my mom did, trying to fatten me up again." Although, truth be told, it's his ego that could use the feeding. In the real-time, reactionary world of the 21st century, there's nowhere to run, no place to hide; the bigger the moment, the bigger the stage, the wider (and more visceral) the reaction. In the minutes immediately following that doink shot that ended the game, the Lee's Summit native was absolutely eviscerated on social media: @ABaggett99 U go to school 4 free 4 something U are horrible at. Ps I hate U And that was one of the, ahem, kinder sentiments. "I read some stuff and I've heard some stuff, and I guarantee you, I'll be the first one just to (say) 'Watch your mouth,'" center Evan Boehm said. "Because not only is that a teammate, that's a brother, and you don't want to hear somebody talk about your brother like that. "And yeah, you know, it hurts. But you don't know how bad it hurts until you're that kid." When nobody counts to "10" before they hit the "send" button on Twitter, well, this is what happens. Instant gratification, instant reaction, instant assassination. "It's perfectly fair," said Baggett, who went from the king of CoMo -- he'd kicked a school-record five field goals the previous week in a rout of Florida -- to the campus goat in a span of a week. "I mean, a couple of coaches have said of a lot of things, and one of coaches said, 'Hey, (there were) a lot of plays that were left out there. Yours happened to be the last one.' "That's the life of a kicker. And if I thought it would be smooth sailing, I wouldn't be a kicker. I'd be at home watching TV or something." Of course, the louder the reaction, the louder the counter-reaction, and once Baggett turned his phone back on Sunday morning, he found support from hurting Mizzou fans to be "twentyfold more positive" than the haters. The love came from expected circles, such as former Mizzou star T.J. Moe ("He missed it, so what? Should've never come to that," the ex-Tiger wideout said) and from some highly unexpected ones, as such as "*******" stars Preston Lacy and Jason "Wee Man" Acuna ("Don't sweat those haters Andrew. @iamweeman and I got your back," Lacy wrote). "I mean, I watched all four of (the "*******" movies), they're funny guys," Baggett said of the social media shout-out. "Crazy stuff. It's cool, but I kind of wish it was under better circumstances." Know this, too: Mizzou officials gave Baggett the choice whether or not to attend the team's weekly player availability session, the choice of whether or not to face the inevitable round of questions about the lowest moment of his collegiate career. A kid hides. A man takes it, owns it, and moves on. Was it a bad snap, Andrew? Replays showed that the laces were in ... "Nope. I just missed it," Baggett said, refusing to drag teammates under the bus with him. "It doesn't matter what those other things are. I've got to make that kick. If the ball's lying on the ground, horizontal, I have to make that kick. And so, I didn't, and that's on me." Saturday stunk ("Looked up, it wasn't good, stomach dropped," Baggett recalled). Sunday wasn't much better. "I don't even really know if I slept or not," he said. "It (was) kind of one of those (moments of), 'Well, am I dreaming?' 'Well, am I awake?' Instead, I just kind of went home, I saw my parents after the game, (then) just kind of sat down and just thought about everything." Did you feel that you let your teammates down? "Oh yeah. It's just -- that's my job, is to make that kick. And, you know, I didn't do it. So I didn't do my job. Do I want it back? Absolutely. Am I going to dwell on it? No." A kid dwells. A man takes it, owns it, and moves on. "I don't know if that was the normal holder that they had in there," Kohl said. "I can tell you this: There is no one who feels lower than Andrew Baggett. He knows what his job is. He knows what he's capable of. He's a kid that is mentally tough, and he's physically tough, too. "He'll bounce back. And he'll be great. And we'll see him in a game like he (had) versus Florida, where he hit five field goals. We all know what he's capable of." Tigers coach Gary Pinkel, most of all. Time heals. But nothing heals a broken psyche quite like getting back on that horse, the tenor of a season resting on your leg, the weight of the world on your back. "Of course I do," Pinkel said when asked if he worried about Baggett's mojo. "But that's our job. We've got his back." Got his heart, too. You can follow Sean Keeler on Twitter @seankeeler or email him at seanmkeeler@gmail.com.
Original Story:
http://www.foxsportsmidwest.com/colle...
THE BACKYARD
BEST OF MAXIM
RELATED ARTICLES
Missouri lost to South Carolina 27-24 in double overtime on Saturday in heartbreaking fashion. Not only did the Tigers blow a 17-0 lead to the Gamecocks in the fourth quarter, allowing a tying touchdown in the final minute, but they missed a 24-yard chip shot field goal in the second overtime to lose the game. […]
Nobody in the sports world probably felt worse on Saturday night than Andrew Baggett. The Missouri kicker missed a chip shot 24-yard field goal in double overtime that resulted in the Tigers losing 27-24. That was the team's first loss of the season. We already showed you that the laces were in instead of out […]
Missouri sophomore kicker Andrew Baggett undoubtedly had a tough Saturday night after missing a 24-yard field goal in double overtime against South Carolina. But if you take a look at his Twitter mentions, the missed kick may have just been the beginning. Both Missouri fans and rivals were absolutely ruthless in criticizing Baggett, despite the fact that the Tigers blew a 17-point...
Late Saturday night, the Missouri Tigers blew a 17-point fourth quarter lead against the South Carolina Gamecocks and ultimately fell in overtime in one of the most Mizzou-esque losses in recent memory. But the reaction from many Tigers fans to the way the game ended was almost as heartbreaking as the loss itself. Missouri fans and rivals immediately took to Twitter to criticize...
By now, you've undoubtedly seen the final play of the Missouri vs. South Carolina double-overtime thriller from this past Saturday night. Andrew Baggett, the Tigers' sophomore kicker, missed a 24-yard field goal from the left hash, sending the Gamecocks and their fans into euphoria. While Baggett has received his fair share of criticism for the gaffe, many have pointed out that...
Bill Pollack predicted Andrew Baggett's missed field goal as the Missouri Tigers lost to South Carolina in double overtime, 27-24.
GAINESVILLE, Fla. -- The kick heard 'round the SEC East ignited very different reactions based on locale in the conference standings. Not long after Missouri kicker Andrew Baggett's 24-yard field-goal attempt clanked off the left upright Saturday night -- securing South Carolina's come-from-behind 27-24 win in double-overtime -- Baggett began to receive death threats...
COLUMBIA, Mo. -- It takes a village to win an SEC crown. Try not to be its idiot. Andrew Baggett wasn't responsible for covering Bruce Ellington on fourth-and-goal from the 15 in overtime. Andrew Baggett didn't make the call to run Henry Josey on third-and-2 at the Missouri 33-yard line, up seven, with three minutes and change to go in regulation. Andrew Baggett wasn&...
(Eds: APNewsNow. With AP Photos.) By JAKE KREINBERG Associated Press No. 10 Missouri is picking up the pieces after Saturday's 27-24 double-overtime loss to South Carolina. The Tigers' dream season crash-landed with a thud after Andrew Baggett's missed 24-yard field goal attempt off the left post sealed the game. A teammates consoled each other, they realized there&...
Missouri is still trying to recover from last weekend's 27-24 double-overtime loss to South Carolina, as the Tigers' dream season hit a major bump after Andrew Baggett missed a 24-yard field goal attempt off the left post. But as teammates consoled each other, they realized there's still much to accomplish in No. 10 Missouri's second season in the SEC. "The...
Tigers News

Delivered to your inbox

You'll also receive Yardbarker's daily Top 10, featuring the best sports stories from around the web. Customize your newsletter to get articles on your favorite sports and teams. And the best part? It's free!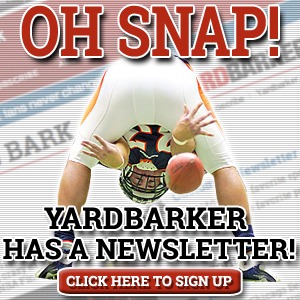 Latest Rumors
The Backyard

Today's Best Stuff

For Bloggers

Join the Yardbarker Network for more promotion, traffic, and money.

Company Info

Help

What is Yardbarker?

Yardbarker is the largest network of sports blogs and pro athlete blogs on the web. This site is the hub of the Yardbarker Network, where our editors and algorithms curate the best sports content from our network and beyond.