Found March 26, 2013 on Fox Sports North:
MINNEAPOLIS A year ago, the Gophers began spring football practice to a very clear tune: This is Jerry Kill's team. It was the beginning of the coach's second season in the Twin Cities. He'd recruited a class of players by that point, gotten that first 3-9 season and all the initial kinks of being new and turning a program around out of his system. And it was Jerry Kill's team, no question. Players knew what to expect, and coaches in turn, and there was a sense that things would get better. They did. Minnesota won six games and made it to the Meineke Car Care Bowl, which resulted in a loss but a definite sense that the team was making a step toward the next level. This season begins on a very different note, although it, too, is one of ownership: This is Philip Nelson's team. Nelson, a sophomore next fall, assumed the team's quarterbacking duties against Wisconsin on Oct. 20, when he burned his redshirt. The freshman played in seven games, winning two, and he goes into the 2013 season as the starting quarterback. That's what Kill said at his introductory press conference on Monday, at least, and it's how Nelson will be listed on every depth chart and roster note. The only catch: Philip Nelson isn't quite taking it for granted. "In my mind, I wouldn't really say I'm the starting quarterback," Nelson said Tuesday on the team's first day of spring practice. "I would say that I still need to compete, just like everybody else. That's how Coach Kill makes it. Everybody needs to compete." And Nelson is right. Kill and his staff have been known to demote players when others are outplaying them. They've never been a group known for a rigid hierarchy or irrational trust, not at their time at Northern Illinois or in their two seasons at Minnesota. The best player plays, and with a half of a season of a starter's duties under his belt Nelson knows it. The 19-year-old is just talking a good game, one might say, but in the flesh, if it's a schtick, then it's damn believable. Sounding the consummate leader in one breath, talking about how he's mentoring Chris Streveler, a quarterback who left high school early to be with the team this spring just as he did a year ago, in the next Nelson is peppering his speech with "he and me and Mitch," over and over. He, of course, being Streveler, and Mitch being Mitch Leidner, the quarterback who redshirted all of last season and now sits comfortably on the depth chart behind Nelson. But it's he and me and Mitch, he and me and Mitch, as if they're a team in and of themselves, less a ranked trio than a cohesive unit. Nelson knows exactly who is waiting, and perhaps that's why he seems two or three years older rather than just six months aged from the previous season. This winter, Nelson assumed a much larger leadership role in the team's individual workouts. He was constantly calling and texting his teammates, arranging when to meet and where, giving instructions to guys about what they'd need to do if they had to miss a session. Nelson is talking more, running back Donnell Kirkwood said, and getting more physical on the field, too. "I like that in my quarterback," Kirkwood said. "He's confident." And for a player who took the team's bowl-game loss against Texas Tech harder than most Nelson threw the interception that sealed the defeat in its final seconds that late-December setback has in recent months transformed from a flogging post to a learning experience. Nelson said that in that game, he felt he and his team formed their clear identity, which they now know going into this season. They're a physical team that can play-action pass, Nelson says: "That's where we are now. ... We have an official offensive identity, and we can do the things that we're good at." That confidence is contagious, as is the notion that players need to take ownership of their team and their actions. When asked whether this was a better team than the one that took the field in Houston in December, Kirkwood paused. "More disciplined, yeah," he said. "So I guess that makes us better. More knowledgeable." Kirkwood, too, is ready to shoulder some extra leadership. The redshirt junior said he hasn't done enough in that department in the past, and when asked who might need to step up for the team this season, his own name was the first out of his mouth. In the past, he said, he was too focused on his fear of making mistakes at the expense of leading the team, but now he seems to be over it. And so this is Kirkwood's team, a bit, and Nelson's too. But with the way these players are talking and working, you get a sense whose team it is in all of their minds. It's Jerry Kill's, more and more, with every season and win and recruit. It's the diminutive coach with the distinctive twang who's running this machine, and it's running better than ever, if his players are to be believed. Talking to Kill after the practice, the subject of Nelson comes up, and of course the quarterback's words of just a few minutes earlier are relayed to his coach. He said he's not the starting quarterback, or that he doesn't see himself that way. What do you think, Coach? And Kill's smile widens. "That's a great answer," he said. "I'm glad to hear he answered that way. Shows a little maturity on his part, so I'm proud of him for answering that way." The coach is pleased. The mindset is there. And for a team as young and unproven as this one, those are two important steps. Now comes the hard part. Follow Joan Niesen on Twitter.
Original Story:
http://www.foxsportsnorth.com/college...
THE BACKYARD
BEST OF MAXIM
RELATED ARTICLES
Minnesota fired Tubby Smith on Monday, cutting ties with the veteran coach one day after the Golden Gophers lost to Florida in the NCAA tournament. Athletics director Norwood Teague announced the decision Monday and said it was time for a ''fresh set of eyes'' on the program. Smith was 124-81 (.610) in six seasons at Minnesota, helping to bring the program back...
A 6-11 upset was not enough to save Tubby Smith's job. The Minnesota coach was fired Monday after his Golden Gophers lost to Florida in the NCAA tournament's round of 32. The No. 11 seed Gophers had upset sixth-seeded UCLA 83-63 in their tournament opener before bowing out the the No. 3 seed Gators on Sunday. "Tubby has had a long and distinguished career and we feel it's...
The Minnesota Golden Gophers have fired Tubby Smith after posting 20-win seasons in five of six years. Could VCU's Shaka Smart be on their wish list?
gophersports.com Jeff Goodman of CBS Sports is reporting that Minnesota men's basketball coach Tubby Smith has been fired.  Smith coached the Golden Gophers for six seasons, but didn't earn his first NCAA win with the program until this year. Minnesota received an 11-seed in the 2013 NCAA Tournament, and although the Gophers were able to defeat 6-seed UCLA in the second round...
Finally winning an NCAA Tournament game with the Minnesota Gophers wasn't enough to save Tubby Smith his job. According to a report from Jeff Goodman at CBS Sports, Smith was fired as head coach of the Gophers after six seasons. Expectations were high when the team hired the National Champion-winning coach, but the results never quite panned out. He ends his Minnesota career with...
University of Minnesota Director of Athletics Norwood Teague announced minutes ago that Gophers basketball coach Tubby Smith has been dismissed. A formal press conference will be held in about an hour. The Golden Gophers upset UCLA in an #11 seed over #6 game in the NCAA Tournament Friday night in Austin, TX. However, after winning in convincing fashion, Tubby Smith lost in convincing...
We explored the situation at Minnesota this morning on The B1G Time Podcast, however just hours after recording it's now being reported by CBSSports.com that Tubby Smith is being let go as head coach at the University of Minnesota. This comes off the heels of a season that saw the Gophers make the NCAA tournament and win a game before bowing out to Florida in the 3rd...
When Rick Pitino left Kentucky for the NBA's Boston Celtics, Orlando "Tubby" Smith was hired in his place for the 1997-98 season. In his first year, he lead the 'Cats back to the NCAA Championship game and defeated the late Rick Majerus' Utah Utes 78-69. The championship run included a comeback wins over Duke, Stanford, and Utah on the way to Kentucky's 7th National Championship...
Because the state of Minnesota is grossly maladjusted in their perspective as to what the caliber of their college basketball program is, they were disappointed that the Gophers only won their first tournament game since 1997. And even then, the win in 1997 was mired in academic scandal. The last clean tournament win was 20 years ago! The Gophers were awful for 6 years under Dan...
Golden Gophers News

Delivered to your inbox

You'll also receive Yardbarker's daily Top 10, featuring the best sports stories from around the web. Customize your newsletter to get articles on your favorite sports and teams. And the best part? It's free!
THE GOLDEN GOPHERS HOT 10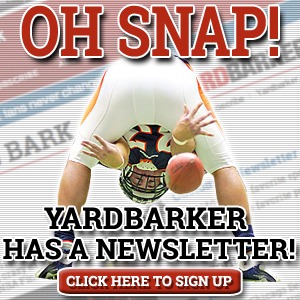 Latest Rumors
The Backyard

Today's Best Stuff

For Bloggers

Join the Yardbarker Network for more promotion, traffic, and money.

Company Info

Help

What is Yardbarker?

Yardbarker is the largest network of sports blogs and pro athlete blogs on the web. This site is the hub of the Yardbarker Network, where our editors and algorithms curate the best sports content from our network and beyond.