Found January 22, 2013 on NorthWest Sports Beat:
Next Man Up Four years ago the Oregon Ducks football program promoted Chip Kelly, their innovative offensive coordinator who had never held a head coaching position, to Head Coach in a move that surprised many people around the nation. While his offense was quickly becoming one of the most talked about units in football, many questioned whether or not he had the ability to take the Oregon Ducks to the next level. Two wins in four BCS Bowl appearances later and Chip Kelly is off to the NFL looking to make his mark at an even higher level, leaving the Ducks in a very interesting position. There is no doubt that Oregon has the talent to contend for a BCS National Championship next year. Marcus Mariota is coming off an unbelievable first-year at quarterback, De'Anthony Thomas will step into a bigger role on offense, and Oregon's secondary looks like it will continue to be one of the best in the Pac-12. Besides that talent, a plethora of young players looking to make their impact at the college level will have the opportunity to help the Ducks contend for yet another Pac-12 Title and BCS National Championship. The Helfrich era in Oregon football has officially begun. (Photo: The Oregonian) Leading this talented team for the first time in his life will be native Oregonian Mark Helfrich. Helfrich, who came to Oregon during Chip's first year as head coach, takes over the heralded position after solidifying himself as one of the best college coaches in the business. During his time with the program he has won the National Quarterbacks Coach of the Year twice and has been nominated for the Offensive Coordinator of the Year Award numerous times as well. Despite all of these accolades, however, the national media, just as they were when Chip was hired, have a lingering doubt about Helfrich's ability to succeed in 2013. Here is what Helfrich needs to do to improve the program further and prove to all the doubters that he is the right choice to be a long-term head coach at Oregon. Dominant WR One of the things that the Ducks have lacked in recent years is a true dominant receiver. While Josh Huff, Bralon Addison, and Keanon Lowe did their part in making Oregon's offense one of the best in the nation, none of them really emerged as a true threat throughout the year. And though this does have something to do with the way Oregon's offense operates, to take things to the next level the Ducks need to find a receiver that they can consistently rely on to help spread the field out even more so their agile players have even more space to work with. A likely candidate for this position is Huff, who has always had the potential to be one of the best in the Pac-12. And, when healthy, he has been relatively dominant. His further development and health will play huge dividends in helping the Ducks in yet another BCS National Championship chase. Find your Backup QB With Mariota establishing himself as one of the best quarterbacks in college football it was not too surprising to hear that Byan Bennett will be transferring to an FCS school where he will be able to showcase his talents as well as earn much more playing time. Mariota will be looking towards an even brighter 2013 (Photo: Oregon Football) The move leaves Oregon with four QBs on their roster: Mariota, RS Freshman Jake Rodrigues, Freshman Jeff Lockie, and Junior Dustin Haines. Though Rodrigues will likely step into the role of the second-stringer, it will be important for Helfrich to groom all of these quarterbacks as if they will see playing time, just in case Mariota should experience any unanticipated ailments in 2013. Fix the Lines Two of the units that the Ducks will be losing the most pieces will be on both the offensive and defensive lines. Though both units do return key pieces, significant losses also come with the need for revamped units to lead the Ducks forward in their next college football season. Most significant of the departures is not a player but a coach. After helping to change Oregon's defensive attack (especially on the line), Jerry Azzinaro will be heading to the NFL with Chip Kelly. His departure signals the need for Helfrich to find a coach with the same drive and passion that Azzinaro brought to the field each and every day. Not only that, Helfrich will also need to find a guy who can help to develop the young players along the line while helping Nick Aliotti forward Oregon's defensive momentum from 2012. Recruiting Success With Chip Kelly's departure coming so close to the end of recruiting season, many have worried that Oregon's haul of recruits in 2013 will not be as impressive as it has been in past years. Helfrich can change all that, however, by showing the nation that he and his assistants can close the jobs they set out to do and making his first recruits believe that he is the next great head coach of the Ducks. Though Oregon is still widely considered a young team, there are certain positions (WR, LB, DL, OL) that the Ducks will need to address in the next year or two, thus needing to bring in some top recruits if the program wants to continue to consistently be one of the best programs in the nation. A big recruiting class will help Helfrich prove to the nation that he has the right attitude and staff to continue to bring in top-level recruits and keep the Oregon machine rolling. Stick With What you Know One of the easiest things that Helfrich can do to further improve the Ducks in his first year as head coach is to stick with what the Ducks have been doing in recent years. As Kelly's offensive coordinator there is no doubting the fact that Helfrich has learned a great deal under his mentor while developing a few schemes himself. Sticking with the same offense and allowing Aliotti to continue building his defense should have the Ducks right in the thick of things when it comes to the Pac-12 and BCS National Championship. Oh, and he should probably try to stay away from any sanctions as well. CLICK HERE CHECK OUT THE DUCKS BLOG IN OUR CLUBHOUSE TODAY AT NWSB!
Original Story:
http://www.nwsportsbeat.com/oregon-sp...
THE BACKYARD
BEST OF MAXIM
RELATED ARTICLES
Remember when Spaz took over and he hired a bunch of guys with UNH connections? We never turned into "Oregon East" for variety of reasons, but it is interesting to see that Chip Kelly is collecting a bunch of BC guys on his NFL team. First it was McGovern, then Bob Bicknell, and now Mike Dawson.What's interesting about the Dawson hire is that he left big-time football...
E.J. Manuel cited Chip Kelly - and Oregon's Nike jerseys - as reason enough to consider going there when he was a prepster, except that it was 3000 miles away.The post E.J. Manuel Speaks The Gospel Of Nike, The Oregon Ducks And 17-Year-Olds appeared first on The Sports Fan Journal.
Super Bowl 47 is set...the 49ers and the Ravens... Harbaugh vs. Harbaugh...no such fairy tale ending for the Eagles, alas... But the wheel keeps turning. Bill McGovern of Boston College becomes the Eagles' next linebackers coach...           In a rather shocking move, former Boston College defensive coordinator and BC's current...
Oregon's new coach painted different strokes with different brushes than their last one. Mark Helfrich was formally introduced as the new Oregon Ducks head football coach Sunday afternoon in Eugene, leading off his era with a press conference in which the new main man on campus was personable, humble, friendly, affable and reasonable. In his opening salvo, Helfrich talked...
Perhaps Chip Kelly is all that he's cracked up to be? DK examines the circumstances surrounding the Oregon coach ending up as the Philadelphia Eagles head coach.
In the short time that offensive guru Chip Kelly was head coach at Oregon, his impact on the Ducks was staggering. With the help of Nike CEO Phil Knight's money, Kelly helped elevate UO from one of the country's better programs to one of its best.   Kelly has taken his talents to the NFL, leaving the Oregon job in the hands of offensive coordinator Mark Helfrich. Will...
Mark Helfrich met the media today as Oregon's new head coach, and made a strong impression with his sincerity and enthusiasm for the job. "This is the pinnacle for me," he said. Welcome words to an Oregon fan base and donor group after Chip Kelly's year-long flirtation with the NFL and double reverse departure this Wednesday. In the 39-year-old Helfrich the Ducks...
The news came in the middle of the departure of Chip Kelly and the formal announcement of the promotion of Mark Helfrich; the defensive coordinator, once again, sandwiched and forgotten in-between two brilliant offensive minds, in a region and conference where offense rules. Last Thursday, Nick Aliotti, Oregon's perennially under-appreciated defensive coordinator, finally...
Chip Kelly has been in Mobile, Alabama for the Senior Bowl only a few days and he's already flirting with the idea of bringing in a new quarterback.High on Kelly's wish list is Florida State quarterback EJ Manuel, who Kelly recruited heavily while at Oregon, narrowly losing him to Florida State (Manuel wanted to stay closer to home). The two met and discussed some things, and...
The hiring of Oregon head coach Chip Kelly came as quite a surprise. Kelly stated that he was going to remain at Oregon and suddenly, without warning, the Philadelphia Eagles announced his hiring as the team's head coach. Now comes an even more surprising potential hire for the Eagles organization. Former Cleveland Browns head coach Pat Shurmur as the team's offensive coordinator...
The Oregon Ducks only had one game in 2012 where they scored less than 35 points. Unfortunately, it was that game, a 17-14 overtime loss to Stanford, that kept the Ducks from playing for the BCS Championship. 2013 will be a time of transition for the Oregon Ducks, as former head coach Chip Kelly has left the program, taking his talents to the NFL and the Philadelphia Eagles....
  Future quarterbacks this is not how you slide especially when Ed Reed is coming to try and murder you. Oregon hired Mark Helfrich as their head coach to replace Chip Kelly. [College Football Section] Baylor, WTF are you doing with your helmets. All gold? Matted design. Are you the next Oregon? [Lost Lettermen] Saturday Night Live parodies Manti Te'o as a dumb jock. [Guyism]...
Ducks News

Delivered to your inbox

You'll also receive Yardbarker's daily Top 10, featuring the best sports stories from around the web. Customize your newsletter to get articles on your favorite sports and teams. And the best part? It's free!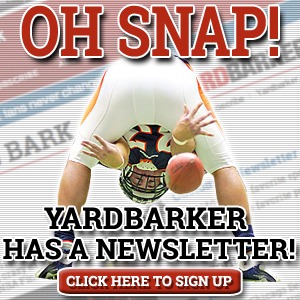 Latest Rumors
Best of Yardbarker

Today's Best Stuff

For Bloggers

Join the Yardbarker Network for more promotion, traffic, and money.

Company Info

Help

What is Yardbarker?

Yardbarker is the largest network of sports blogs and pro athlete blogs on the web. This site is the hub of the Yardbarker Network, where our editors and algorithms curate the best sports content from our network and beyond.