Found November 26, 2011 on isportsweb.com:
PLAYERS:
Braxton Miller
,
DeVier Posey
,
Andrew Sweat
,
Ryan Shazier
,
Orhian Johnson
,
Nathan Williams
,
Denard Robinson
,
Junior Hemingway
,
Drew Basil
,
Will Hagerup
,
Fitzgerald Toussaint
,
Terrelle Pryor
TEAMS:
Ohio State Buckeyes
,
Michigan Wolverines
For the first time in eight years, the Ohio State Buckeyes have lost to Michigan.  But the 2011 edition of The Game, expected to be a one-sided affair, was anything but.  And Michigan can thank a couple of Braxton Miller overthrows for their tenth win of the year.
Miller the runner was as dangerous as ever, but it was Miller the passer who stung the Michigan D for big plays (Shamus/ Getty)
Three times Miller had certain touchdowns in the making, and three times he threw long, barely missing his intended target.  The worst of these misses came on the game's final Ohio State possession when a streaking DeVier Posey pulled off a successful double move and left the Michigan defender in the dust.  With no one between him and the endzone, Posey was set to undo Michigan's six-point lead with mere minutes remaining on the clock.
Unfortunately, the ball sailed two yards out of reach.
What made the overthrows particularly disheartening is the way Miller played overall.  The season finale was, by far and away, his best game of the season.  He finished 14 of 25 passing for 235 yards and two touchdowns, tossing an interception on a desperation fourth and sixth to effectively end the game.
Clearly amped up for his first ever game against arch-rival Michigan, Miller had moments where his energy exceeded the passing route, and a handful of his incompletions simply flew too far.  In spite of those moments, his performance was outstanding, and his 335 total yards kept the Buckeyes in the game until the final whistle.
Missing opportunities on the road in a game of such magnitude can kill, especially when your defense is exposed by a versatile attack.  Ohio State was without linebacker Andrew Sweat, who dislocated an elbow in practice this week.  His replacement, Ryan Shazier, sustained a lower leg injury in the first half and spent much of the day limping.  Safety Orhian Johnson went down three times, requiring medical attention.  And the absence of Nathan Williams on the defensive line made it even more difficult to stop the talented Denard Robinson.
And yet for all their advantages, of personnel, of venue, of experience, the Wolverines could not pull away.
Recap
Ohio State struck first after Michigan deferred on the coin toss.  After gaining two quick first downs, Miller found a wide open Philly Brown behind the secondary; Michigan's safety bit on Posey's underneath route from the slot position and Brown kept running.  The 54-yard touchdown was the first of the year for Ohio State's young receiver.
After trading three-and-outs, the Ohio State defense suffered its first letdown as Michigan QB Denard Robinson raced for a game-tying 41-yard score.  With the stadium deafening, the Buckeyes had trouble executing on their next possession, and things went from bad to worse courtesy of a questionable holding call.
Three plays later, a far more legitimate hold in the endzone killed the drive and gave Michigan the safety.  Up 9-7, Robinson led the Wolverines on a 52-yard march keyed by a 26-yard strike to his big receiving target Junior Hemingway.
But down 16-7, the Buckeyes refused to let things get out of hand.
Another exchange of punts led to a 42-yard OSU drive and a 45-yard Drew Basil field goal that trimmed the lead to 16-10.  The defense then struck, forcing a Robinson fumble deep in UM territory.  Gifted with the short field, Miller made Michigan pay, rushing 19 yards to daylight and a 17-16 lead.
The game suddenly had the feeling of a true title fight, each side exchanging crushing blows.  Michigan drove 80 yards in just nine plays to regain the lead, but with less than two minutes remaining, Miller found Posey for a beatiful 43-yard touchdown strike that sent the visitors into halftime with a 24-23 lead.
The short-handed Buckeye defense struggled to stop Denard Robinson (Shamus/ Getty)
It wasn't supposed to go this way for Michigan.  The Wolverines were supposed to be the better team, with their crowd behind them.  The weakling Buckeyes weren't supposed to be putting up such a fight.
But as The Game has proven time and time again, all preconceptions must be left at the doorstep.
Michigan wasted no time as the third quarter began, marching another 80 yards to go ahead 30-24.  The drive consumed nearly six minutes off the clock, and when the Buckeyes were forced to punt it appeared that momentum was finally turning away from the underdogs.  But the defense managed to stifle the UM drive at midfield, and Michigan punter Will Hagerup was unable to corral a high snap.
Starting from the Wolverine 32, the Buckeyes went to work again, with Miller tearing off a 24-yard scramble to put his team in the red zone.  But a timely sack forced OSU to settle for three; unable to take full advantage of the ruined punt, the Bucks left themsevles trailing and in a worsening situation.
Robinson struck again, engineering a 75-yard scoring drive that looked far too effortless as the OSU defense seemed unable to stop the ground game.  Down 37-27, Ohio State had eight and half minutes left to try and mount a comeback.
It began well enough, with an 80-yard TD march that took just five plays.  Miller hit four different receivers including both of his tight ends as the offense rolled down the field as effectively as it had all season long.
But with the deficit trimmed to one score, the defense faltered yet again.  Michigan tore down the field in chunks, and with a little over two minutes left appeared to score the game-clinching touchdown.  But a review showed Fitzgerald Toussaint's knee touching down with the ball at the one foot line.
The next play would prove crucial; Robinson ran a bootleg for an easy score, but twin flags broke the offense's back.  Michigan was flagged for holding and for a dead ball personal foul, pushing the ball back to the OSU 26.  From there, the Wolverines were forced to kick a field goal, going up 40-34 and leaving the door open for some late-game Miller magic.
And for a few seconds, it looked like Ohio State would bring that magic to life and win its eighth rivalry game in a row.
Miller had DeVier Posey tear past the defense , running alone down the sideline.  Though his throw looked good coming off his hand, Miller couldn't find the range, overshooting Posey by a stride.
Still he didn't give up, converting a fourth-and-six by sheer will.  But the magic had officially run out as a tipped ball on an ensuring fourth down found its way into Michigan hands.
Buckeye Stickers
Corey "Philly" Brown (WR)- Though he later dropped what would have been a stellar catch, Brown earned his first touchdown and gave the Bucks a 7-0 lead.  He added another key grab later, finishing with 76 yards and the score.
DeVier Posey (WR)- Posey had a long score of his own in addition to drawing plenty of defensive attention all game long.  That helped keep the line of scrimmage open for Miller to work.
Drew Basil (K)- Basil hit a pair of field goals, including a 45-yarder that kept the game within reach early.  His leg gives the Buckeyes a long-range weapon that every struggling offense prizes.
And the Game Ball Goes to…
Braxton Miller.  Miller will regret the overthrows, especially the final miscue that would have given the Buckeyes a 41-40 lead with roughly a minute remaining.  That play will scar his memory, serving as a reminder of what can happen if he's not 100% on his game.  But it will also motivate him.  And other teams around the Big Ten ought to be very concerned.
Both DeVier Posey (left) and Philly Brown caught long TD passes, but overthrows will leave them both wishing for another chance (Shamus/ Getty)
Miller, with a little more practice and some chemistry with his wideouts, is going to be an excellent quarterback.  He has the mobility of Terrelle Pryor, but a better pocket presence and passing arm.  With time, he could become one of the program's best QBs ever.
Even in defeat, Miller is electric to watch, and his never-say-die attitude is critical in close games.
It was a tough loss to bear, but nothing like the blowout many expected.  Ohio State outplayed Michigan for much of the game, avoided the big mistake, and gave itself an excellent chance to win on the road.  It's hard to ask for anything more.  A few yards worth of execution was all that stood between the Bucks and victory.  And though that's an unfortunately familiar refrain this year, it shows just how competitive this team was despite all of its losses.
Ohio State was nowhere near full strength in this game, and the defense was impacted by that missing talent.  And yet the offense played the best it has all year to give OSU a shot.
It's not the way we wanted this season to end.  But these Buckeyes made themselves proud with this performance.  They made the fans proud.  And they served notice that Ohio State may be down this year.  But it won't be for long.
Original Story:
http://isportsweb.com/2011/11/26/ohio...
THE BACKYARD
BEST OF MAXIM
RELATED ARTICLES
COLUMBUS, Ohio Ohio State freshman quarterback Braxton Miller has earned Big Ten Freshman of the Week honors, the conference office announced Monday. The Huber Heights, Ohio, native posted career highs in total offense (335 yards), completions (14) and passing yards (235) in a 40-34 loss at Michigan Saturday. Miller ran for 100 yards with a touchdown on 16 carries while completing...
ANN ARBOR, MICHIGAN - As far as Ohio State was concerned, the 108th renewal of what is known simply as The Game boiled down to a little too much Denard Robinson and not quite enough Braxton Miller. The Michigan quarterback outdueled his freshman counterpart from OSU and rallied his team from a 24-23 halftime deficit for a 40-34 victory Saturday at Michigan Stadium. The win was the...
Michigan's Denard Robinson accounted for 337 yards and five touchdowns to lead his team to a 40-34 victory Saturday over Ohio State. Robinson's performance barely overshadowed that of OSU quarterback Braxton Miller, who totaled 335 yards and three TDs.
No. 15 Michigan (10-2, 6-2 Big Ten) 40, Ohio State (6-6, 3-5 Big Ten) 34 Attendance: 114,132 OHIO STATE POSTGAME NOTES Ohio State is 15-4 in November games since the start of the 2005 season, including 8-2 on the road that month (not including 2010). The loss snapped a six-game Ohio State win streak against the Wolverines (not including 2010). Seniors Mike Brewster, Dan Herron...
Each week after re-watching the Ohio State game I bring you my take-aways from the game in a little something I call the Buckeye 12-Pack… This week I will be doing a season-ending 12 pack, rather than just focusing on the Michigan game. No. 1- Let's start by giving some credit where it is due. The offensive gameplan against the Wolverines was great. The Buckeyes went against...
College Football News

Delivered to your inbox

You'll also receive Yardbarker's daily Top 10, featuring the best sports stories from around the web. Customize your newsletter to get articles on your favorite sports and teams. And the best part? It's free!
THE COLLEGE FOOTBALL HOT 10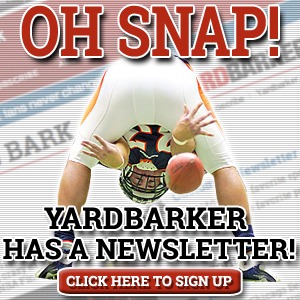 Latest Rumors
Best of Yardbarker

Today's Best Stuff

For Bloggers

Join the Yardbarker Network for more promotion, traffic, and money.

Company Info

Help

What is Yardbarker?

Yardbarker is the largest network of sports blogs and pro athlete blogs on the web. This site is the hub of the Yardbarker Network, where our editors and algorithms curate the best sports content from our network and beyond.