Posted September 15, 2013 on AP on Fox
Sean Mannion saved his best plays for the moments when Oregon State faced the most pressure. Mannion converted two crucial fourth downs in the fourth quarter and then threw a 6-yard touchdown pass to Brandin Cooks in overtime to push the Beavers past Utah 51-48 Saturday night. Mannion completed 27 of 44 passes for 443 yards and five touchdowns in a back-and-forth thriller. Cooks had nine receptions for 210 yards and three scores as the Beavers (2-1, 1-0 Pac-12) overcame the loss of Storm Woods to a frightening neck injury and opened conference play with a road win. The weary OSU defense, which gave up 539 yards, rallied in overtime and forced a 41-yard field goal by Andy Phillips on Utah's possession. Travis Wilson passed for 279 yards and ran for 142 and three touchdowns while rallying the Utes (2-1, 0-1 Pac-12) from 13 points down to tie the score at 45-45 on a 9-yard run with 21 seconds to play. James Poole had a career-high 117 yards rushing and Dres Anderson had 101 yards receiving but the Utes couldn't overcome Wilson's three interceptions. On fourth-and-nine from the OSU 22-yard-line, Mannion completed a 13-yard pass to Richard Mullaney. The drive culminated in an 18-yard touchdown reception by Cooks. A two-point conversion pass to Conner Hamlett gave OSU a 45-38 lead with 2:29 to play in regulation. Earlier in the quarter, on fourth-and-1 at their own 45, the Beavers used razzle-dazzle to keep their advantage. Mannion pitched the ball to Terron Ward, who threw it back across the field to the quarterback, who in turn launched it 48 yards to Brandin Cooks. The play led to Romaine's 20-yard field goal, his third of the game. With 8:12 remaining, Storm Woods launched himself awkwardly into the path of a Utah blitzer and looked as if he injured his neck. He didn't move for several minutes as both teams watched pensively on bended knees. Woods finally gestured positively with his right hand as he was loaded in an ambulance. There was no official word from OSU by early Sunday morning, but coach Mike Riley tweeted a photo of Woods waiting at the airport to make the flight home with his teammates. He's doing well #BeaverNation , making the trip home! @Storm34thetruth #GoBeavs pic.twitter.com/4aXXTosjCF -- Mike Riley (@Coach_Riley) September 15, 2013 Mannion needed every one of his pinpoint passes to overcome the emergent Utah offense and the stingy Ute run defense that allowed just 48 yards on 28 attempts. When Wilson's arm failed him, he became a running quarterback and a very effective one. The 6-foot-6, 240-pounder used his long stride to run and dive for a 24-yard touchdown - his fourth rush of the 85-yard drive - with 4:25 to play. He added another score on a quarterback draw with 21 seconds remaining to tie the score at 45-45 Sean Martin intercepted Wilson on the first drive of the second half and returned it 27 yards for a touchdown. The Utes didn't waste much time (1:17) on the ensuing possession, rolling up most their yardage on the ground and culminating on a 35-yard TD run by Wilson on the zone read - a play that had been stuffed most of the first half. The next time the Utes got the ball, they mixed the run and pass effectively and scored again on a 1-yard plunge by Poole. Utah was driving again in OSU territory and eyeing its first lead when Steven Nelson jumped a slant route and grabbed an acrobatic interception - the first of his two picks. The next play, Cooks turned a short reception into a 55-yard touchdown and OSU led 34-24. Cooks' 200-yard game is the eighth in OSU history and the first since Sammie Stoughter had 223 yards against Washington on Oct. 14, 2006. Lucky Radley scored on a 15-yard reception for Utah to trim the lead to 34-31. In the first quarter, the Utes mostly rushed just four down linemen giving Mannion time to scan the field. The junior connected with Mullaney on pair of long pass plays and then hit him just inside the far sideline for a 17-yard touchdown. Mullaney had a career-best seven receptions for 142 yards. Trevor Romaine kicked the second of two first-half field goals to put OSU up 13-0 early in the second quarter. The Utes, who rushed nine times for six yards in the first quarter, couldn't muster a first down until the second quarter but then Wilson found Anderson running free on a crossing route from 49 yards out to cut the lead to 13-7. Mannion lofted another TD pass along the back of the end zone to the outstretched arms of Hamlett. Utah then drove the length of the field but settled for Phillips' 27-yard field goal just before halftime to make it 20-10. The last time Oregon State won in Salt Lake City was a 24-21 victory in 1968. The Utes hadn't surrendered more than 50 points since TCU beat Utah 55-28 in 2009.
Original Story:
http://msn.foxsports.com/cfb/story/Ma...
THE BACKYARD
BEST OF MAXIM
RELATED ARTICLES
Sean Mannion's 6-yard touchdown pass to Brandin Cooks in overtime pushed Oregon State past Utah 51-48 Saturday night. Mannion completed 27 of 44 passes for 443 yards and five touchdowns in a back-and-forth thriller. Cooks had nine receptions for 210 yards and three scores as the Beavers overcame the loss of Storm Woods to a frightening neck injury and opened Pac-12 play with...
Good Read! Nice to see OSU getting some national love today. The Oregonian's Connor Letourneau breaks down how OSU's Sean Mannion is becoming a premier pocket passer. Oregon State Beavers rundown: Numbers suggest Mannion is developing into premier pocket passer www.oregonlive.com Mannion ranks in the top five nationally in several key statistical categories. Follow NWSB...
Hell of a game; thank God for a win Sometimes you watch your team play a game, and they don't do as well as expected. Usually in these games the score goes back and forth indefinitely, and every play is as tense as the next. At the end of a game like that, you're just happy if your team can walk away with a win. That sums up Oregon State's match against Utah Saturday night...
Take a listen OSU's Brandin Cooks joins 750 AM The Game in Portland to discuss the Beavers' Pac-12 opener this weekend. Cooks Gears Up Showdown in Salt Lake City www.750thegame.com Beavers Wide Receiver Brandin Cooks joins the show to preview the matchup versus the Utes. Follow NWSB on our Facebook page for live 24-7-365 updates of all our Northwest Sports Teams!!
Head Shot Oregon State's Storm Woods left Saturday's game with a scary head injury. Luckily for Beavers fans, The Oregonian's John Canzano posted a photo that should make fans breath easy. Nice hospital outfit Storm! Ow.ly – image uploaded by @JohnCanzanoBFT (John Canzano) ow.ly Follow NWSB on our Facebook page for live 24-7-365 updates of all our Northwest Sports Teams!!
OREGON STATE CAME out playing inspired football in the trenches against Utah, mauling the Utes in the first quarter on their way to a 20-10 halftime lead on the road. QB Sean Mannion was spot-on for stretches and Richard Mullaney and Connor Hamlett made some flat-out ridiculous grabs. But Utah fought back in the second quarter, and it's anyone's ball game still headed into the second half.
OREGON STATE FOUND a way. And the overtime thriller at Utah had a fitting conclusion, as Sean Mannion and Brandin Cooks hooked up on a 6-yard touchdown to end an epic struggle between the Beavs and the Utes.
UCLA linebacker Anthony Barr was named the Pac-12s defensive player of the week. Barr had 11 tackles and forced three fumbles in a 41-21 victory over Nebraska in Lincoln, Neb. He had two tackles for losses totaling 20 yards. Oregon State quarterback Sean Mannion was named the offensive player of the week and Oregon State kicker Trevor Romaine was named special teams player of the...
OREGON STATE'S 51-48 WIN at Utah in overtime should have been played in San Francisco. Because this one had more twists and turns than The Tasmanian Devil riding a whirlwind down Lombard Street.
OREGON STATE TOOK two of the three Pac-12 Players of the Week honors after their scintillating 51-48 win over Utah on Saturday.
After taking his first official visit of the year two weeks ago to Oregon State, Phoenix (Ariz.) Mountain Pointe receiver Jalen Brown was back in the NW to check out Oregon.
A "Voice of the Fan" Article by Jeff Newcomb Watching the first six minutes of this game was akin to having a root canal for fun. After that, Ducks cruised. Questions about The Helf and Scott have been resolved, kicking is improved, Mariota marched, and all is right in the world. Around the rest of the Pac-12, there were some interesting games that have quite the impact...
Beavers News

Delivered to your inbox

You'll also receive Yardbarker's daily Top 10, featuring the best sports stories from around the web. Customize your newsletter to get articles on your favorite sports and teams. And the best part? It's free!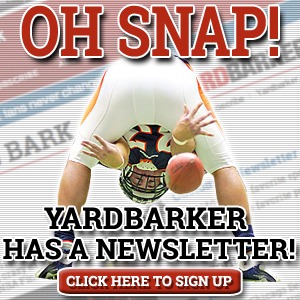 Latest Rumors
The Backyard

Today's Best Stuff

For Bloggers

Join the Yardbarker Network for more promotion, traffic, and money.

Company Info

Help

What is Yardbarker?

Yardbarker is the largest network of sports blogs and pro athlete blogs on the web. This site is the hub of the Yardbarker Network, where our editors and algorithms curate the best sports content from our network and beyond.