Found April 13, 2012 on The Herd's Word:
Get used to hearing these statements over the next few weeks: Ryan Tannehill started his college career as a wide receiver. Ryan Tannehill has only started 19 college football games as a quarterback. Ryan Tannehill's upside is superior to every quarterback in this year's NFL Draft not named Luck or RG3. But also prepare yourself to hear this: "With the (enter numbers 5-10th) pick in the NFL Draft the (enter franchise desperate for a QB) select Ryan Tannehill, quarterback, Texas A&M." Regardless of where Tannehill ranks among the best players in the 2012 NFL Draft class, there is an immeasurable amount of importance placed upon the quarterback position in the NFL, and because of that, names like Gabbert, Ponder and Locker flew off the Draft Board much earlier than expected last year. That trend won't end this year. If you told Ryan Tannehill that NFL teams would be comparing him to Ed McCaffery at this point in 2010 he probably would have blushed. Fast forward two years and Tannehill is drawing comparisons to the elite passers in the NFL. His rise isn't unprecedented but it's not something a team drafting in the top-10 should be completely comfortable with either. Joe Flacco entered his senior year at Delaware as a "player to watch" for the 2008 Draft. After leading his team to the 2007 D1-AA National Championship game, Flacco gained momentum toward the end of the season and solidified his status as the second best QB in his class behind USC's Mark Sanchez. The difference between Flacco and Tannehill is experience. Flacco realized he wasn't going to be given an opportunity to compete for the starting spot at Pittsburgh because coach Dave Wannstedt was enamored with incumbent Tyler Palko. He transferred to Delaware and almost instantly became an NFL prospect due to his size, arm strength and ability to make quick reads. The number of defenses Flacco had broken down before reaching the NFL wasn't an issue when Draft Day rolled around. Back to Tannehill. His physical attributes are obvious. He has the ideal size GMs are looking for with athletic ability to spare. He can "make every throw" necessary, one of the most overrated statements Draft pundits consistently make this time of year. (Show me an NFL quarterback that can't make every throw. Imagine an offensive coordinator calling a play, only to have the QB wave his arms up at the booth, screaming "No, no, no!!! I can't make that throw. Remember?") He played his college ball in a major conference but not necessarilly against the best defensive competition in the country. The best Big 12 defense in 2011 was arguably Oklahoma, who was nowhere near the top-25 nationally. Nebraska, who consistently paced the conference on the defensive side of the ball over the past five years, moved onto the Big Ten, leaving a physically noticable void within the Big 12. Tannehill's biggest win last season came against RG3 and Baylor, when he threw 6 TDs against 1 INT. That performance alone probably gave a few GMs enough confidence to select him with their first pick this April but what followed should give them reason for concern. Losses in four of his last five regular season college games should put doubt in the minds of any team in the mix for a QB in this year's Draft. His basic lack of experience against non-Swiss cheese defenses, along with relatively poor performances against Oklahoma State, Texas and Oklahoma, should also give any team looking to make Tannehill their franchise QB reason to second guess him. Generally only one -sometimes two- quarterbacks from a given Draft class prevail at the NFL level. Given the fact that Andrew Luck and Robert Griffin III have been labeled "can't-miss prospects" why would any NFL general manager basically put their job on the line and draft Ryan Tannehill, a 19-game starting project from a Texas A&M squad that had everything in place to win at least ten games during his final season? Your guess is as good as mine.
Original Story:
http://www.theherdsword.com/2012/04/1...
THE BACKYARD
BEST OF MAXIM
RELATED ARTICLES
Texas A&M quarterback Ryan Tannehill will arrive in Cleveland late Saturday night and will not be leaving until Monday as the the Cleveland Browns will play host to the draft hopeful in anticipation of the upcoming 2012 NFL Draft. Tannehill is one of the 30 players with whom the Browns selected to meet with face-to-face and this specific meeting will conclude their hosting, having...
Yesterday one of the weirdest pre-dreaft reports came out involving the Buffalo Bills.  It said that the Bills are having Texas A&M quarterback Ryan Tannehill in town for a visit next week. It's a move that has many people confused as to why they would have a sure top 10, top 15 quarterback in for a visit having just given Ryan Fitzpatrick a six-year extension.  If you think...
As many of you know, I have not been in favor of the Miami Dolphins drafting Texas A&M quarterback prospect Ryan Tannehill with their first round pick in the draft this year. Well, I have... Come here for the best Miami Dolphins blog on the web. We have all of the most up to date new and opinions on the Dolphins organization for its fans.
Brian Billick made an unfavorable comparison when asked about Texas A&M quarterback Ryan Tannehill on ESPN's "Mike and Mike" show. The NFL Network analyst and former league coach equated Tannehill's current hype with that of JaMarcus Russell, who rivals ex-San Diego Chargers quarterback Ryan Leaf as the biggest draft bust in league history. Why does Tannehill...
The draft is less than two weeks away and as expected, the talk is heating up between teams who are jockeying for position to grab the "best talent" available. The Cleveland Browns hold the No.4 pick and it is reported by league sources, from The Plain Dealer, that there is "a decent chance" the Browns would move down in the draft. Texas A&M quarterback Ryan Tannehill...
I will bring you all the first of my NFL Draft analysis, where I will look at some of the top college quarterbacks coming out of college and what they have to offer to an NFL team. Related posts: 2011 NFL Draft Preview – Top 5 Running Backs NFL Playoff Preview – Quarterbacks That Will Make a Difference This Weekend Very Early Fantasy Football – Top 25 Quarterbacks
// // When Will Ryan Tannehill's name get called. The 2012 NFL Draft is inching closer and closer every day,  therefore the time has come for us to reveal the 2012 Fantasy PPR Mock Draft. This is the first installment detailing picks 1-16 with part two to follow shortly with picks 17-32. Reminder: Do Not miss our live coverage and analysis of the 2012 NFL Draft right here...
Aggies News

Delivered to your inbox

You'll also receive Yardbarker's daily Top 10, featuring the best sports stories from around the web. Customize your newsletter to get articles on your favorite sports and teams. And the best part? It's free!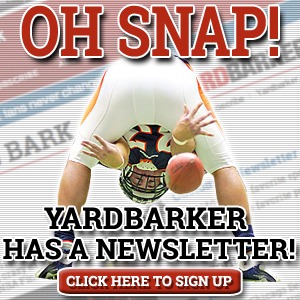 Latest Rumors
Best of Yardbarker

Today's Best Stuff

For Bloggers

Join the Yardbarker Network for more promotion, traffic, and money.

Company Info

Help

What is Yardbarker?

Yardbarker is the largest network of sports blogs and pro athlete blogs on the web. This site is the hub of the Yardbarker Network, where our editors and algorithms curate the best sports content from our network and beyond.