Found November 04, 2013 on Fox Sports:
Welcome to the first November edition of the Starting 11. 1. Florida is in real trouble Two crazy stats: Ron Zook is now guaranteed to have a better SEC record than Will Muschamp after three years as coach. Muschamp is now 0-7 in Cocktail Parties -- 0-4 as a Georgia player and 0-3 as a Florida coach. The Gators have been to 22 straight bowl games, but a 23rd is not a foregone conclusion. The Gators close with likely losses at South Carolina and at home against Florida State. That's six losses. Even this Gator offense can't lose to Georgia Southern, so that's the fifth win. That means the Vanderbilt game this weekend will determine whether or not the Gators get to six wins to qualify for a bowl game. 2. Why, again, can't we start the playoff now? I've been on this kick for a year now and wrote about it last week . It never made sense to me that college football finally did the right thing -- created a playoff -- but held back from starting it for a year. Why do this? It left open the possibility for BCS disaster in one last year, and BCS chaos looms. Big time. Right now if you seeded a playoff based on the BCS standings, No. 1 Alabama would play No. 4 Ohio State and No. 2 Oregon would play No. 3 Florida State. Would anyone -- aside from Baylor fans, who would still have a chance to make their case to be included in the playoff before the season is over -- have any problem at all with that? You could play the games on campus on Dec. 21 -- that's two weeks after the conference title games -- and still have two weeks to get ready for the BCS title game. TV isn't even an obstacle here since ESPN is already paying for the playoff. Don't you think ESPN would be willing to extend the playoff agreement an extra year and pay for two semifinal games a year early? Particularly when, as here, we're talking about four major TV draws that would produce massive ratings? Not to mention, eternal goodwill among college football fans. So why can't this happen? I'm going to keep banging this drum as long as the BCS mess continues to grow. 3. Florida State waxed Miami This managed to surprise only the people who pay no attention to college football and hence didn't know that the Seminoles were a 21-point favorite -- namely, the computers, which now have Florida State ranked as a unanimous No. 1. Newsflash: Miami is not that good. Some voters were impressed by the FSU win, but most maintained their top two rankings. 4. Oregon-Stanford and Oklahoma-Baylor is the best Thursday night slate we've ever seen But here's the deal -- Oregon and Baylor are both double-digit favorites. If we don't get an upset in these games, then you're talking about true BCS issues down the stretch. Oregon will be more than a two-touchdown favorite over every other team it plays. Given that FSU and Ohio State are also massive favorites, at least three undefeated teams becomes very likely. 5. The two most inexplicable losses this year: South Carolina at Tennessee and Oklahoma State at West Virginia Oklahoma State losing at West Virginia as a 19-point favorite is the biggest upset of the year. But I'd argue that South Carolina losing at Tennessee, while not as substantial of an upset on the number, is the second biggest. When you look at every other game South Carolina and Tennessee have played, it's hard to fathom how the Gamecocks lost to the Vols. As an honorable mention, I'd toss in LSU losing on the road at Ole Miss, which is one of the worst defeats of the Les Miles era. All three of these games are hard to reconcile with the rest of the college football games we've seen. 6. Ohio State needs Michigan State to win out so it can finally play a top-15 team Unfortunately for the Buckeyes, I think Michigan State will lose at Nebraska in two weeks. State could also lose at woeful Northwestern. It's almost as if the Big Ten has adopted a counterintuitive strategy to beat Urban Meyer -- not by actually beating him on the field, but by sucking so bad as a conference that Meyer can't win anything beyond a Big Ten title. 7. God bless you Homeland Last night's episode was truly spectacular. I'm praying they've finally written Dana Brody off the show. And if Saul doesn't win an Emmy this year, then there is no justice in the TV world. 8. Alabama is the only team that will play four top-15 teams in current BCS standings So can we stop with the "Alabama hasn't played anyone" griping? This week the Tide plays No. 13 LSU, the last week of the season Bama plays at No. 9 Auburn and in the SEC title game Bama will likely play either No. 8 Missouri or No. 12 South Carolina. Already Bama beat No. 15 Texas A&M on the road in College Station. The other undefeated teams against top 15 competition: Florida State will play two -- Clemson and Miami. Oregon will play one -- Stanford. Baylor will play two -- Oklahoma and Oklahoma State. Ohio State still hasn't played a top-15 team under Urban Meyer in two years. I don't believe that will change this year, but Michigan State would finally be in the top 15 if they ran the table. 9. Here are the SEC East tiebreak scenarios Mizzou wins the SEC if it wins out and goes 7-1. Mizzou also wins a three-team SEC 6-2 tiebreak between Georgia, Mizzou and South Carolina provided it beats Kentucky. (Mizzou would be 5-1 against the SEC East while the other two teams would be 4-2). Mizzou loses a two-way 6-2 tiebreak with South Carolina. South Carolina wins a two-way 6-2 tiebreak with Mizzou, so the Gamecocks need Georgia to lose to Auburn and Mizzou to lose at least one game as well. If Georgia beats Kentucky and Auburn and Mizzou beats Kentucky and Ole Miss, then Mizzou's final game against Texas A&M wouldn't matter -- the Tigers would clinch with a win at Ole Miss. Georgia wins the SEC East if the Bulldogs win out and if Mizzou loses two of its final three games. 10. My national top 10 (For analysis of this week's national and SEC rankings, click here .) 1. Alabama 2. Oregon 3. Florida State 4. Baylor 5. Stanford 6. Ohio State 7. Missouri 8. Auburn 9. South Carolina 10. Texas A&M 11. My SEC power rankings 1. Alabama 2. Mizzou 3. Auburn 4. South Carolina 5. Texas A&M 6. LSU 7. Georgia 8. Ole Miss 9. Florida 10. Vanderbilt 11. Tennessee 12. Mississippi State 13. Kentucky 14. Arkansas
Original Story:
http://msn.foxsports.com/cfb/story/fl...
THE BACKYARD
BEST OF MAXIM
RELATED ARTICLES
This Florida Gators fan is clearly nuts for football. In fact, he was so focused on the game (or camera) against Georgia that he didn't feel the peanut shells just casually sitting there on his head, courtesy of the fan behind him: Everyone behind him seems to notice the peanuts except the fan and his buddy standing next to him — tough luck. [Deadspin]
It was another tumultuous loss for the Florida Gators on Saturday. The Gators looked to hit rock bottom in the first half only to make a game of it and fall short. As bad as it was, the Gators seemed to make a few strides in the second half that may be a sliver of hope for things to come. We talk about that and the issues they are still having on the message boards at FightinGators.com.
During this weekend's Georgia-Florida matchup, the cameras caught this poor fan getting a head full of peanut shells. We approve. 
The feelings are natural and understandable. Any time a team that was projected to contend for a divisional title loses three in a row and hovers on the verge of missing a bowl game for the first time in almost a quarter century, frustration, disappointment and anger are going to spill out. But venting those feelings, while cathartic, never really accomplish much. So, with a homecoming...
My calm is my 15-month-old son. No, his name isn't Tim or Percy or Danny or Reggie, but he's awesome all the same. He's at the perfect age where he loves the Florida Gators, but also doesn't know they exist. I can say "Where's chomp chomp?" and he'll run to his playroom, find his football with the Florida Gators logo, run back to me, and point at the logo. He does...
Georgia Bulldogs quarterback Aaron Murray was spotted pointing to the scoreboard to remind the Gators that his team was enjoying a healthy lead.
The Florida Gators have been plagued by bad coaching decisions and foolish penalties all season. The loss to the Georgia Bulldogs was no different.
Billy Donovan has warned about it since before the Gators opened practice. This Florida team has a ways to go on the defensive end. The Gators ended last season third in the country, allowing just 54.4 points per game. Limited numbers in preseason practice has the Florida defense off to a slow start after allowing 88 points to Florida Southern in Friday's exhibition win.
At times, the Florida offense struggled getting down the field and making plays when it mattered the most. The 23-20 loss to Georgia knocks Florida out of the running for an SEC Championship, but quarterback Tyler Murphy has a lot to say about the loss and how to come back from it.
Tigers News

Delivered to your inbox

You'll also receive Yardbarker's daily Top 10, featuring the best sports stories from around the web. Customize your newsletter to get articles on your favorite sports and teams. And the best part? It's free!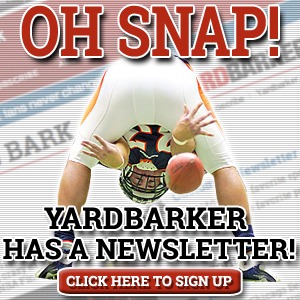 Latest Rumors
The Backyard

Today's Best Stuff

For Bloggers

Join the Yardbarker Network for more promotion, traffic, and money.

Company Info

Help

What is Yardbarker?

Yardbarker is the largest network of sports blogs and pro athlete blogs on the web. This site is the hub of the Yardbarker Network, where our editors and algorithms curate the best sports content from our network and beyond.