Found October 07, 2013 on Fox Sports Southwest:
The Sooners are 5-0, ranked No. 11 and a big favorite heading into Saturday's game against Texas in Dallas. But there are plenty of issues surrounding the team. Here are three take-aways from OU's Mondays press conference and practice. 1.Corey Nelson's loss has a lot of implications Not only is the senior captain out for the rest of the season, but the linebacker from Dallas won't get a chance to make it four in a row against Texas in his hometown. "He's upbeat," coach Bob Stoops said. "He's disappointed, too." Nelson, who had 27 tackles and an interception return for a touchdown this season, isn't just another player for the Sooners. He's a three-year starter who was having his best season. In his place comes inexperience. The Sooners are listing either Dominique Alexander or Aaron Franklin as the starter. Alexander is a freshman from Tulsa, Okla. He was the replacement for Nelson in the third quarter when Nelson went down with the torn pectoral muscle. Franklin is a redshirt junior from Marshall, Texas. He appeared in 12 games last year and has one tackle this year. Franklin has practiced as a quarterback, defensive end and slot receiver at OU before finding a spot at linebacker. "I'm just trying to take the production Corey was having and continue it," Franklin said. More on Nelson: He will not be having surgery this week so he can be around his teammates, coach Bob Stoops said. Nelson was at practice today and was said to be upbeat and helping his fellow linebackers prepare for the game against Texas. Also, Stoops said the school is looking into the possibility of a redshirt for the senior. Nelson has not redshirted, so there is a slight possibility he could earn one, although unlikely considering Nelson has played in all five games this year, which is more than than 30 percent of the team's games. "He's a big leader for us," defensive coordinator Mike Stoops said. "He's had a spectacular year. But other guys will have to pick up the slack. This will be a good test for us." 2. Bob Stoops was notably loose today Hard to say whether it's a good thing or not, but Stoops was chipper and more upbeat than usual for his Monday meeting with the media. Maybe it's because he knows his team is pretty good and certainly a lot better than Texas. Maybe it was just because it was a nice, sunny day. Either way, Stoops answered all the typical questions but also talked about his health, superstitions and a number of other things, including the fact he likes to swim and bike. He used to run, but now he says he can't. OK, well, good to know. But the best line of the day from Stoops was this: "When I got here, I was told that all anyone cares about was beating Texas. Just win that one. They were lying. You have to win them all. There was no one patting us on the back after what happened at the end of last season." 3. Sure, it was just TCU, but it's time to start believing in the OU defenseHey, all you folks praising Baylor and its offense, you better be doing the same for OU's defense. The Baylor offense has been the talk of the conference even the nation but the Bears haven't done it against a quality opponent. Meanwhile, tease all you want about the TCU offense the Frogs didn't get a first-half first down, but OU is now won five in a row and not allowed more than 21 points this season. The Sooners went 10 possessions in a row, dating back to the Notre Dame game, without allowing a first down and now leads the Big 12 in scoring defense (13), total defense (281) and pass defense (168). Also, OU has the fewest penalties (26) in the league. TCU had just 135 yards of total offense until deep into the fourth quarter. Follow Andrew Gilman on Twitter: @andrewgilmanOK
Original Story:
http://www.foxsportssouthwest.com/col...
THE BACKYARD
BEST OF MAXIM
RELATED ARTICLES
Oklahoma linebacker Corey Nelson suffered a partially torn pectoral muscle in Saturday's win over TCU and is likely to miss the remainder of the season, coach Bob Stoops announced on Sunday. Nelson, a native of Dallas, Texas, is scheduled to undergo surgery on Tuesday to repair the muscle. Nelson returned an interception for a touchdown in Oklahoma's win over Notre Dame...
Oklahoma linebacker Corey Nelson will likely miss the rest of the season because of a partially torn muscle in his chest. Sooners coach Bob Stoops said in a statement Sunday that Nelson is scheduled to have surgery Tuesday for the torn pectoral. Nelson was hurt Saturday against TCU. He is second on the team in tackles with 27. The senior team captain also had an interception return...
Oklahoma starting linebacker Corey Nelson might not play again this season, but the Sooners said Monday he'll continue to be a presence on the sidelines and in the locker room. Nelson tore a pectoral muscle in No. 12 Oklahoma's 20-17 win over TCU on Saturday. Nelson is scheduled to undergo surgery Tuesday, but Oklahoma coach Bob Stoops said Nelson is campaigning to delay...
We're coming up on the OU-Texas game Saturday in Dallas. Just another opportunity on Tuesday to learn more about the Sooners. Here's three more things you may not have known about Oklahoma: 1. Trey Millard probably won't be getting the ball. Again. I know, you've heard this one before, but it's looking like more of the same when it comes to Trey Millard and...
We just showed you the new gold-trim jerseys that both Texas and Oklahoma will be wearing for this weekend's Red River Rivalry game. Now we're getting a look at the gold gloves both squads will be wearing. Remember, all of this is in reference to the game's trophy – the Golden Hat. You guys have been asking for it & here it is with our GOLDen touch. #BeatTexas http:...
Uncle Phil's Misguided Children Nike is at it again. This time Uncle Phil's Misguided Children have convinced Texas and Oklahoma to add a third color to their unis for this weekend's Red River Shootout. The color in question? Gold. That's gold as in the Gold Hat trophy given to the winner of the Red River Shootout every year. Luckily for the Longhorn and...
I am all for some good-natured trash talk. It can make the game a little more fun and liven up the days leading up to the game making the anticipation for kickoff get bigger and bigger everyday until the whistle blows and the game begins. However, for it to really be effective it needs to be done in the right ways--or in this case the right spot. @Houston_Sooners/Twitter...
Oklahoma Sooners vs. Texas Longhorns football preview and predictions. Can the Horns earn a signature win in the Red River Rivalry?
Which team has the better 2013 Nike Pro Combat Red River Rivalry uniforms, the Texas Longhorns or Oklahoma Sooners?
Sooners News

Delivered to your inbox

You'll also receive Yardbarker's daily Top 10, featuring the best sports stories from around the web. Customize your newsletter to get articles on your favorite sports and teams. And the best part? It's free!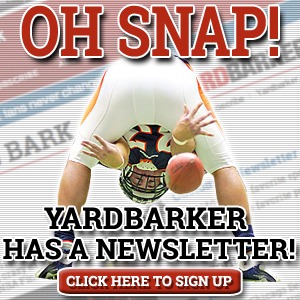 Latest Rumors
The Backyard

Today's Best Stuff

For Bloggers

Join the Yardbarker Network for more promotion, traffic, and money.

Company Info

Help

What is Yardbarker?

Yardbarker is the largest network of sports blogs and pro athlete blogs on the web. This site is the hub of the Yardbarker Network, where our editors and algorithms curate the best sports content from our network and beyond.