Justin Pugh had an impressive career at Syracuse University. Pugh was a three-year starter at Syracuse as the team's left tackle. In 2012, Pugh was one of the best offensive linemen in the nation in regards to fewest quarterback pressures. Coming off of a great Senior Bowl and combine, Pugh's draft stock is rising. He's a likely candidate to hear his name on day two of the NFL draft and I'm grateful that he took the time to answer some questions with me. Read on to gather insights from Pugh on his collegiate career and what he learned about running into a burning building! Photo Credit: SI.com 1. How many teams did you meet with at the NFL combine? Can you share which teams met with you? Justin Pugh: I met with every team's offensive line coach while at the combine. Formally I met with 15 teams. I don't want to get into all the teams I met with because some do not want to be mentioned, but roughly half the teams.     2. You and your fellow draft mates were the first group of players to be given an aptitude test at the combine. Which test did you think was easier, the Wonderlic or the aptitude test? Pugh: The aptitude test was easier than the Wonderlic test. The Wonderlic is just very fast paced and doesn't give you any time to correct a possible mistake. The aptitude test was more of a psychological testing which really has no right or wrong answers. 3. What was the most unusual question asked to you at the combine by a team? Pugh: The most unusual question that I got was "What would I get from my house if it was on fire?" He went on to say there were no people in the house.  Once I answered he asked again, "logically what would you get from your house if it was on fire." I answered the same thing, to which he responded "Why the hell would you ever run back into a burning house!?!" 4.What was the best experience you had at the NFL combine? Pugh: The on the field work was probably the best part because I got to show off my athleticism and work on the drills with NFL offensive line coaches. Also you're out there with all the other players and get to have a fun time with that. 5. In 2011, you had to block Chandler Jones on a regular basis in practice. What was that like and how much did it help you improve as an offensive lineman? Pugh: It was a great experience because you had to bring your A-game on an everyday basis. He is a great player and is playing well at the next level. It helped me out tremendously because I had to be one my best to be able to compete with him. I'm excited that he was able to help me and I could help him get better. 6. In terms of total pressures allowed, you were the third best offensive lineman in the nation this season. To what do you attribute your success? Pugh: Offensive line play is all about the entire offense. The 5 guys up front working together, the QB getting the ball out on time, the running backs picking up the right guys and the WR running the right routes. I never want to lose a one on one so I'm excited about keeping the defense off of Ryan and look forward to doing so at the next level. Dan Giordano, Justin Pugh's toughest opposition in 2012. Photo Credit: gobearcats.com   7. Syracuse played some impressive teams in 2012. Which defensive player gave you the most trouble this season? Pugh: In 2012 the best player that I played against was Dan Giordano #99 from Cincinnati. He had a good array of moves and a good overall player. 8. There has been talks of you moving inside to guard in the NFL. Do you have a preference of where you rather play? Have teams said anything to you about playing guard? Pugh: A lot of teams want me to be able to play all the offensive line positions. I think that I can play Left Tackle in the NFL and look forward to proving that in training camp. At the same time versatility is essential in this league and I need to be able to play all 5 offensive line positions. 9. Buffalo hired your former head coach Doug Marrone. What should Bills fans know about Marrone and his staff? Pugh: He is a great coach and is all about looking out for his players. Coach Marrone and his staff helped me out so much and was able to turn the program around. The fans should know they are getting a hard working coach that will do everything he can to produce a winner on and off the field. Photo Credit: AP/David Duprey 10. Doug Marrone said many NFL teams have asked him about you and other Syracuse players, but he's keeping the information to himself. Have you thought about what it'd be like to be drafted by your former head coach? How excited would you be to reunite with your former coach? Pugh: It would be amazing because I already know the system and would have an advantage right off the bat coming into training camp. I think it would be a great opportunity for myself and any of the other Syracuse guys that end up in Buffalo. 11. One question about your teammate and friend Ryan Nassib. If I'm a team looking for a QB, why should I draft Ryan Nassib? Pugh: He is a hard working guy that will put the team in front of himself. He is not a selfish player and has all the tools to succeed at the next level. He has great leadership skills and takes control when he comes into the huddle. He would be the type of quarterback an organization can build around. 12. Last question, what do you and your family plan on doing for the NFL draft? A big party with family and friends or a small get-together? Pugh: It will be a small get together most likely for me. I just want to be around the people that have been with me throughout this entire process. I like to keep my circle small especially at this point in my career. I look for to draft day and can't wait to hear my name be called! Justin Pugh can be followed on Twitter @justinpugh67 The post Syracuse OL Justin Pugh Answers 12 Questions with the 12th Man appeared first on Queen City Sports.
Original Story:
http://queencitysports.net/12-questio...
MORE FROM YARDBARKER
College Football News

Delivered to your inbox

You'll also receive Yardbarker's daily Top 10, featuring the best sports stories from around the web. Customize your newsletter to get articles on your favorite sports and teams. And the best part? It's free!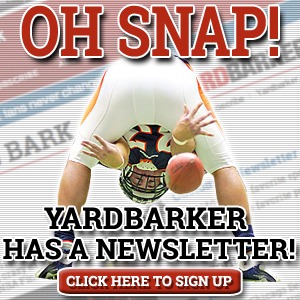 Latest Rumors
Best of Yardbarker

Today's Best Stuff

For Bloggers

Join the Yardbarker Network for more promotion, traffic, and money.

Company Info

Help

What is Yardbarker?

Yardbarker is the largest network of sports blogs and pro athlete blogs on the web. This site is the hub of the Yardbarker Network, where our editors and algorithms curate the best sports content from our network and beyond.