Found October 31, 2012 on MaizeAndGoBlue:
For about 25 minutes on Saturday, Michigan remained in prime position to sieze control of the Big Ten Legends division. The Wolverine defense had held Nebraska's high-powered offense to just seven points and 113 total yards of offense and was marching down the field to take the lead with time running short in the first half. On 2nd-and-7 from the Nebraska 15, Denard Robinson rushed to his left, cut back to his right just before the sideline, and picked up a first down inside the 'Husker 10-yard line setting up a 1st-and-goal. And then the world stopped. Denard injured a nerve in his elbow on this play (AP photo) Like he has done so often in his career, Denard didn't get right back up, and Michigan fans across the country held their collective breaths. This time, however, he stayed down and when backup Russell Bellomy took over, Denard didn't come right back in after a few plays. Bellomy proceeded to run for one yard and throw two incomplete passes, leading to a 24-yard field goal to pull within one. It was the closest Michigan would get. The second half became a show of offensive ineptitude as Bellomy threw an interception that was returned to the Michigan four on Michigan's first possession. The defense held strong, forcing a field goal. Two straight Michigan three-and-outs led to two more Nebraska field goals and Michigan's chances were slipping away. Michigan's lone scoring drive of the second half included 45 yards of Nebraska penalties  - a personal foul, unsportsmanlike conduct, and pass interference – while the Wolverines gained just 17. Michigan's defense held strong, forcing a punt and giving the ball back to the offense with a chance to tie the game, but Bellomy responded with another interception that led to Nebraska's final, game-sealing touchdown. In the immediate, it puts Nebraska in the driver's seat for the Legends division. Both teams have one loss in conference, but Nebraska holds the current tie-breaker because of their head-to-head win. If the 'Huskers win out, they'll advance to the Big Ten Championship game against the winner of the Leaders division. Michigan almost certainly has to win all of its remaining games against Minnesota, Northwestern, Iowa, and Ohio State and needs Nebraska to drop one of its remaining contests. In the broader context, this won't go down in history as a classic Michigan-Nebraska contest. The chances for that went out the window the moment Denard went down. As Katie discussed last week, the previous seven meetings between the two teams turned in some close contests including a 6-6 tie in 1911 and a 27-23 Michigan victory in the 1986 Fiesta Bowl. This one had the makings of an epic showdown until Denard went down, but Bellomy wasn't ready for primetime. His 3-for-16, 38-yard, three-interception performance was perhaps one of the worst in Michigan history. Taylor Lewan tried to settle Bellomy down after he was thrown into the fire (photo by the Ann Arbor News) So who is to blame for the letdown in Lincoln? Many are calling for Al Borges' firing and many others are pounding Bellomy for not being ready. In reality, it's a little of both, but not to that degree. There's not a team in the nation that has both the playmaking ability of Denard from its starter and a backup that could pick up right where he left off when thrown into the fire. Ohio State would be in trouble if Braxton Miller went down against a competent defense (read: not Purdue). Much has been made about how the only thing that could keep Alabama from running the table is losing A.J. McCarron. The list goes on. Many are blasting the coaching staff for not having Devin Gardner ready, but they're also the same ones that were clamoring for moving Gardner to receiver before the season started. The simple fact of the matter is that while Michigan has improved since Hoke took over, the roster is still thin at certain positions. Receiver is one of them, necessitating Gardner's move, and quarterback is the other since Tate Forcier flamed out. Hoke and Borges felt that Bellomy was the team's second best option at quarterback and Gardner's athleticism was too good to keep off the field. While Gardner hasn't exactly had a game-changing impact, he does lead the team with four touchdown catches, and the passing game as a whole is pretty bad. How much worse would it be without him? Bellomy, on the other hand, is likely better than his performance showed on Saturday, but like I mentioned above, he was thrown into about the worse possible scenario. As Chris discussed in his MMQ segment yesterday, once Bellomy came in, the Nebraska coaching staff unleashed the defense on him and Borges didn't adjust the game plan to sufficiently counter it. There was a fantastic diary on MGoBlog that broke down why Michigan's quarterback situation is the way it is, and I couldn't agree more. Of course the loss hurt and it leaves Michigan without control of its own destiny in its pursuit of winning the Big Ten. But let's be realistic. Most thought this was an 8-4 or 9-3 team before the season started. In fact, it has played out exactly how I thought it would so far, even though I changed my pick against both Notre Dame and Nebraska. There's a very good chance Michigan would have beaten Nebraska if Denard hadn't gotten hurt, but we'll never know. But don't give up on this team. We have four games and a bowl left to witness a player the likes of which we'll never see again in a winged helmet. Relish it. And then we can talk about who should be Michigan's next quarterback. ___________________________________________________________________________________ The Prilosec OTC Wildberry Wild American Flavor Tour was on hand in Lincoln for the game on Saturday. Now you have the chance to win trips to New Orleans, Atlanta, and Daytona Beach to see some of the top sporting events in person. Make sure to enter the Wildberry Flavor Sweepstakes for a chance to win. Yardbarker and frequent heartburn sufferers (and Prilosec OTC users!), Larry the Cable Guy and Former NFL running back Roger Craig, attended last Saturday's Nebraska v. Michigan showdown to promote the Prilosec OTC Wildberry Wild American Flavor Tour. Larry has been attending some of the most AWESOME sporting events across the country getting tailgaters excited for the new Prilosec OTC Wildberry product (now with a coating that gives you a burst of wildberry flavor) and a chance to enter and win the Wildberry Flavor Sweepstakes. Visit  WildberryFlavor.com for the chance to be the envy of all your friends and win three trips to experience the nation's most flavorful cities that also host the most incredible sporting events, courtesy of new Prilosec OTC Wildberry.
Original Story:
http://maizeandgoblue.com/2012/10/31/...
THE BACKYARD
BEST OF MAXIM
RELATED ARTICLES
Aside from the way that Greg Mattison's defense played and some good kicking by Brendan Gibbons, there weren't a lot of positives to take away from Saturday's game against Nebraska. The offense without Denard was stale at best and made a much-maligned Nebraska defense look like the Blackshirts of old. Even before Denard went out with an elbow injury, the offensive line looked...
Michigan Football Game Preview: at Minnesota Michigan Football (5-3, 3-1) will head to Minnesota (5-3, 1-3) looking to right the ship after losing on the road last week. Kick off is scheduled for 12:01 (EST) and the game will be televised on the Big Ten Network. The Gophers walloped Purdue at home last week 44-28. In that game true freshman Philip Nelson made his first career start...
Wilbert the Wolverine here—sorry I am late with this—I've been out wandering around the U of M Campus today.  I can count the students wearing Michigan sweatshirts on one paw.  Last Monday, practically everybody on campus had on a Michigan sweatshirt, and M Flags were still hanging from dorm room windows—none today. Why is that?  Last Monday people were going into to Moe's...
Big Tentacles Denard Robinson injury update.  Michigan head football  coach Brady Hoke says Wolverine quarterback Denard Robinson is probable for this coming Saturday's road game against Minnesota despite an arm injury in the loss to Nebraska. (The Detroit Free Press) It ain't over till it's over. Scott Dochternan looks at the chaotic state of the battles...
MINNEAPOLIS The University of Minnesota football team is preparing as if Michigan quarterback Denard Robinson will be healthy enough to play Saturday.In fact, the Gophers are hoping he does."As a team, we want him to play," safety Brock Vereen said. "You want to play a team when they're at their best."Robinson is the Wolverines' dual-threat quarterback...
Big Tentacles The Back-Up Plan.  Michigan ex-quarterback-turned-wide receiver Devin Gardner took "a lot" of QB snaps during a Tuesday practice session in the possibility he had to replace injured Wolverine starting QB Denard Robinson in this coming Saturday's game at Minnesota. (The Detroit Free Press) I know it sounds absurd, but please tell me who I am?...
ANN ARBOR -- Denard Robinson is expected to play Saturday as Michigan takes on Minnesota. Robinson missed the second half of last weekend's 23-9 loss to Nebraska after aggravating a nerve injury in his elbow. He was replaced by Russell Bellomy, who went 3-for-16 with three interceptions, allowing the Cornhuskers to pull away for the key LegendsDivision victory. "He should...
We previewed the Michigan – Nebraska game last week, so here's a review of that one, a 23-9 win for the Cornhuskers. The Cornhuskers beat the Wolverines, 23-9, on Saturday night and took control of the Big Ten's Legends Division in the process. The game was close until Michigan lost Denard Robinson to a right elbow injury. He was [...]
MINNEAPOLIS After beating Purdue in convincing fashion last weekend, the University of Minnesota football team is now 5-3 and just one win from becoming bowl eligible for the first time since 2009. The Gophers have four games remaining to try and secure that sixth win, and it begins Saturday with visiting Michigan. The Wolverines are also seeking their sixth win of the year after...
  Big Tentacles  -  The SWRT look at the Big Ten, and its sway over the college football landscape. Robinson injury update. Michigan head football coach Brady Hoke says quarterback Denard Robinson, who suffered a elbow injuryin last Saturday's loss to Nebraska, is expected to start this Saturday against Minnesota. (The Sporting News) Tebow Time! New York...
MINNEAPOLIS More than a year later, Minnesota's 58-0 loss to Michigan still stings.It was the most lopsided defeat the Gophers have suffered in years. In fact, it was the biggest blowout for either team in their series that dates back to 1892 and was the first time Minnesota had been shut out by Michigan since a 45-0 Wolverines win in 1976.The Gophers finished with just 177...
College Football News

Delivered to your inbox

You'll also receive Yardbarker's daily Top 10, featuring the best sports stories from around the web. Customize your newsletter to get articles on your favorite sports and teams. And the best part? It's free!
THE COLLEGE FOOTBALL HOT 10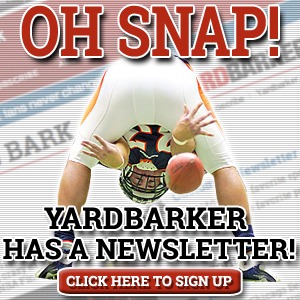 Latest Rumors
Best of Yardbarker

Today's Best Stuff

For Bloggers

Join the Yardbarker Network for more promotion, traffic, and money.

Company Info

Help

What is Yardbarker?

Yardbarker is the largest network of sports blogs and pro athlete blogs on the web. This site is the hub of the Yardbarker Network, where our editors and algorithms curate the best sports content from our network and beyond.