It's that sacred week that graces us with it's presence at the end of November. It usually greets us with a crisp autumn breeze, beautiful red, orange, and brown leaves, and maybe even a few snowflakes on the ground. The intense passion of two of college football's greatest programs seeps throughout the cities from which they hail. It goodness versus evil, in pigskin form. This week of intense rivalry is a week unlike any other. This year, finally, that passion and intense hatred for the other rival, returns to the banks of the Olentangy River. Finally, the rivalry is restored. We've all heard the stories. From Woody hiring policemen to keep Bo from lurking over the Ohio State practices, to Bo putting the number "50" on the helmets of each member of his football team to remind them of the dominance that occurred against them the year before. That history, that hatred, that utter sense of disgust for each other, was lost for quite a few years. In no way was it a "bad" thing for Buckeye fans, our dominance in the Rivalry for that 8 year period. Jim Tressel simply knew how to beat them. It gave us great pleasure watching the poundings take place year after year. With each pounding, however, there was less and less pride. For Ohio State, unfortunately, it was just another year, just another dominating performance. After 2006, the Rivalry lost a little bit of it's flavor. There then came a storm that brought about great change to the Game. A storm of sanctions flew through Buckeye Nation, disrupting everything it's path. A man with a cartoon-character doppleganger took the helm at the other side. Things, for a year, were seemingly flip-flopped. Ohio State lost. It hurt so badly. For the first time in 7 years, Ohio State was not a victor in the Game. An era was over, but there was a new era on the horizon. Urban Meyer gets it. Just as Woody got it. Just as Tressel got it. Urban gets it. If you haven't caught a glimpse of Ohio Stadium this season, maybe you can Google it. Have you seen the signs outside the Stadium? Notice that there are little pieces of tape that cover up a certain letter in it's every instance upon those signs. The only instance in which is not covered is in the name "Ohio Stadium". That was Urban's doing. If you watched "Training Days", you saw Urban Meyer point out a certain man on the practice field and tell him to change his shirt because, "we don't wear blue out here." He recently stated that the Game is all he's ever known. It's the Game, it's the rivalry, it's the intensity. It's not Cooper's "just another game". It's THE Game. Fred Flinstone understands it as well. He calls us "Ohio" and it gets under our skin. He knows what the Game stands for. He knows his team hasn't been prepared in the past, and last year, in his first year as the Head Coach, he got a win. He stated his case, and told the world that they are ready to renew the rivalry again. How amazing it is to see the rivalry come alive again. Out of the depths of despair in the Terrelle Pryor era, the Rivalry has begun anew. If only for a year, the stakes may be higher than they've ever been. For Urban Meyer and the Buckeyes, it's a chance to go undefeated. To start his era in a fashion that was not blemished. For the Wolverines, it's a chance to play spoiler and win two of the Games in a row for the first time since 1999 and 2000. It's the difference between a momentary lapse in the Buckeyes dominant run and a statement from Brady Hoke who is ready to prove that the rivalry is back on for good. The stories from players who have taken part of this rivalry are always legendary. The tales of the games they played, the Gold Pants they won or lost, or just the pure significance of the outcomes in their lives are always incredible to hear. The Game is not simply a career changer. It's a life changer. These men remember these games as if they were yesterday. The emotions are so real, the feelings so raw. That loss will stain your heart until the bitter end while the win cleanses your soul. It's this important. The last few years, however, maybe that fact was not so, thanks to the lousiness and lopsidedness that was this rivalry. Maybe the wins didn't mean as much. The losses didn't sting so badly. The Rivalry was fun, but not entirely right. The hope is that Urban Meyer and Brady Hoke make for another war. A war like Woody and Bo had. A true war. A sense of paranoia that the other side is always watching. Strategic moves like a chess game. Game planning for 364 days out of the year. Hopefully this War lasts longer than 10 years and hopefully it is dominated by Scarlet and Gray. The fun of the rivalry is not that you get to beat up a bad team every year. That's not the Rivalry at all. The Rivalry is beating your opponent, who is worthy of playing in the Game. The Rivalry is only a rivalry when both teams are wholeheartedly in the game. I'm glad the rivalry is back. I'm glad Ohio State can take the field against a worthy opponent and play the Game as it was meant to be played. With heart, vigor, vitality, and integrity. I'm glad the hatred has taken the place of the seeming sympathy that filled my heart for the last 10 or so years. For one week out of the year, it's ok to hate. Not to hate a person, but to hate an idea. It's ok to want to win so badly that you have utter disdain for your opponent. This is not football. This is war. For Ohio State, this war must be won. In a season with nothing else to play for, this is our National Championship. This is our chance to go 12-0. This is our chance to secure Urban Meyer's place in the Rivalry and his place in Buckeye lore. This is much more than a game. For a week, this is a way of life. I am so honored, blessed, and privileged to be your new Lead Writer and Editor at Buckeye Empire. I am excited for this journey and this chapter in my life, and I hope you will join me along the way. From the support I've seen throughout Buckeye Nation and the staff on this site, I can tell that this is a special place for Buckeye Fanatics! I hope you will enjoy what is to come from me and from all at the Buckeye Empire! Thank you all so much! Embrace the Hate! Hayden Grove
Original Story:
http://buckeyeempire.com/blog/2012/11...
MORE FROM YARDBARKER
College Football News

Delivered to your inbox

You'll also receive Yardbarker's daily Top 10, featuring the best sports stories from around the web. Customize your newsletter to get articles on your favorite sports and teams. And the best part? It's free!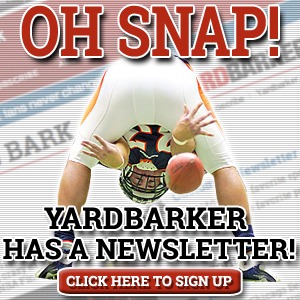 Latest Rumors
Best of Yardbarker

Today's Best Stuff

For Bloggers

Join the Yardbarker Network for more promotion, traffic, and money.

Company Info

Help

What is Yardbarker?

Yardbarker is the largest network of sports blogs and pro athlete blogs on the web. This site is the hub of the Yardbarker Network, where our editors and algorithms curate the best sports content from our network and beyond.